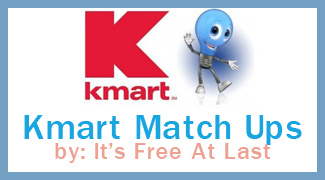 Deals are with your Kmart Shop Your Way Rewards Card
Kmart Coupon Policy:
Kmart can only accept print-at-home coupons if they scan properly at checkout.
Legitimate printable coupons are delivered using special software designed to print a properly rendered barcode on the coupon and limit the number of coupons printed. If the coupon dos not scan properly it cannot be accepted
Kmart will not accept coupons for more than about 75% of a product's value.
For example, a $2 off coupon for a product that sells for $2.25 is unlikely to be legitimate. If there are exceptions, Kmart is usually provided advance notice by the manufacturer.
Coupons will be rejected if they appear distorted or blurry, altered in any way, or are obvious duplicates.
Kmart will not accept " FREE product" (no purchase required) print-at-home coupons.
Some Kmart stores double All of the time if your transaction is over $25, some have select times when they double. Prices listed are BEFORE doubling coupon
Special Deals
Members Get Free Smart Sense Veggie Straws With $20 Or More Purchase (Grocery, Health, & Beauty)
Grocery
Quaker Cereal or Chewy Bars 5/$10
Coke 12pk 3/$9
Chef Boyardee 5 for $5
Gatorade 5 for $5
Nissin Chow Mein5 for $5
Folgers Coffee $8.99
Coke 2L 2/$3
Oscar Mayer Lunchables 5 for $5
$1/2 Oscar Mayer Lunchables or Deli Fresh Meats, exp. 9/30/12 (Kraft Foods Comida y Familia Booklet )
=$.50
Kraft Mac & Cheese 5 for $57
$1/3 Kraft Macaroni and Cheese, exp. 9/30/12 (Kraft Foods Comida y Familia Booklet )
=$.67
Brach's Candy Corn 2/$3 With Ad Coupon
Hershey, Mars, or Nestle Single Candy Bars $.49 With Ad Coupon
Lay's or Doritos 2/$5
$3/2 Lays (NLA)
$1/1 Lays (NLA)
=$1 Each WYB 2
Disclosure: It's Free At last receives products in order to conduct reviews. No monetary compensation was provided unless noted otherwise. All opinions are 100% my own. Some posts may contain affiliate links that I receive commission or payment from in exchange for referrals. In the event of a giveaway, the sponsor is responsible for deliver of the prize, unless otherwise noted in the posting. I only recommend products or services I personally use and believe will be a good fit for my readers. I am disclosing this in accordance with the Federal Trade Commission's 16 CFR, Part 225: "Guides Concerning the Use of Endorsements and Testimonials in Advertising"