7 House Cleaning Tips That Make Life Easier
This post may contain affiliate links or I may have received the product free in exchange for my honest review. See full disclosure for more information.
Keeping a clean home can often feel like a never-ending chore. However, following some simple tips can make the process much easier. In this guide, we will provide you with 7 practical house-cleaning tips that will make your life easier. So, let's get started!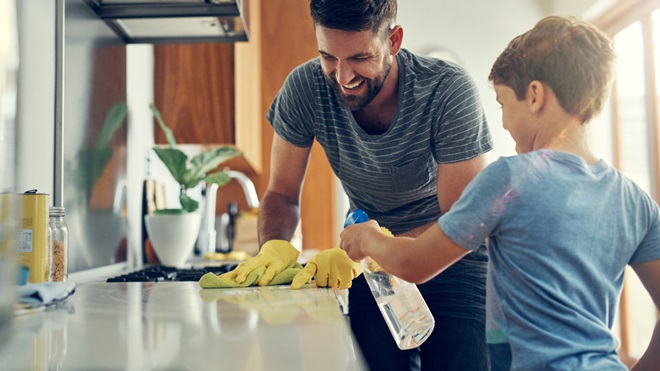 Set a Cleaning Routine
A cleaning routine helps to keep your house clean and organized. Make a list of cleaning tasks that need to be completed each week and assign a day to each task. It will help you stay on top of your cleaning and make it easier to stay organized.
It's much easier to stick to a cleaning schedule if you have one. Choose a day and time of the week to do a deep clean and stick to it.
Make a List
Create a list of all the tasks you need to do. This will help you stay focused and organized. You can also use this list to determine which tasks must be done first and which can wait.
Then gather all the supplies you need before you begin cleaning. Having everything in one place will save time and keep you organized.
Purge Regularly
Clutter is one of the biggest enemies of a clean home. Don't let clutter build up. Always make time to declutter and organize your home.
Make it a habit to go through your belongings regularly and get rid of anything you don't need or use. Make sure things have a designated spot. This will make keeping your home clean and free of clutter easier.
Use Natural Ingredients
Natural cleaners are a great way to keep your home clean and free of harsh chemicals. Skip the harsh chemicals and opt for natural cleaning products such as vinegar and baking soda to clean surfaces. They are all great natural cleaners that you can use to clean surfaces, floors, and even bathrooms.
Also, all of your cleaning supplies are in one place so that you can easily access them when you need them. Keep a caddy or bucket with all your cleaners so you can quickly grab what you need.
Clean from Top to Bottom
When cleaning, it's essential to start at the top and work your way down. Start by dusting and wiping down surfaces, then move on to vacuuming and mopping floors. It will ensure that dirt and dust from higher surfaces don't settle on freshly cleaned floors.
Pay attention to small details such as doorknobs, light switches, and window sills. These areas can easily be overlooked but quickly accumulate dirt and dust.
Use the Right Tools
Using the right cleaning tools for the job can make it much easier and faster. Invest in cleaning supplies to help you get the job done quickly and efficiently.
You can also invest in a robotic vacuum. These handy devices can help you keep your floors clean without lifting a finger.
Ask for Help
If it feels overwhelmed by the amount of cleaning needed, ask for help from family or friends. It will make a big difference in how quickly the task is completed.
Assign specific tasks to each family member to ensure everyone is doing their share. Consider hiring a housekeeper or professional cleaning service to help if you need intensive cleaning.