7 Ways to Keep Your Pet Safe and Happy
This post may contain affiliate links or I may have received the product free in exchange for my honest review. See full disclosure for more information.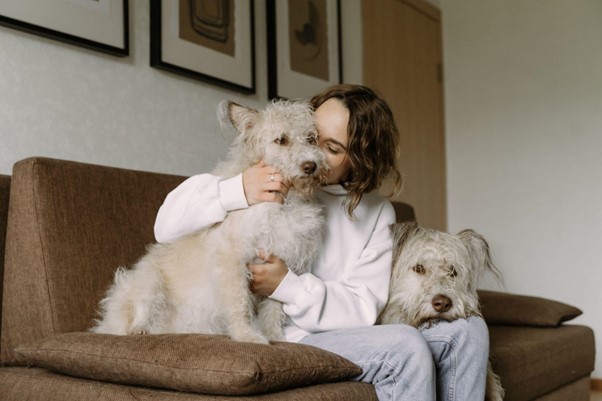 Image credit
Keeping pets safe and happy doesn't have to be complicated. In fact, it's often as simple as following a few straightforward tips that can significantly impact their day-to-day life. Keeping a pet happy and safe isn't just about giving them the best life possible; it's also about protecting them from potential problems in the future. After all, we won't always be there to look after our pets. Fortunately, with a bit of forward-thinking, it's easy to keep them safe and happy today while minimizing their risks tomorrow. Keeping your pet comfortable and safe requires action on your part at home, at work, or wherever you take your pet. Here are seven ways to keep your pet safe and happy:
Ensure your pet has an id tag
One of the first and most important ways to keep your pet safe is to ensure they have an id tag. In the event that your pet gets lost, the pet tag can help you get them back home safely. Make sure the tag has your pet's name and phone number. But pet tags can do more than help you get your pet back. They can also provide emergency services with important information about your pet's health. Make sure you have your pet's medical history and current medications written on the tag as well. Microchipping your pet is another simple yet significant way to keep them healthy. If your pet ever becomes lost, a microchip can help you get them back home much more quickly.
Secure your property boundary
Keeping your pet safe also means keeping unfriendly animals out of your yard. If your pet has run out of the yard, this isn't just a matter of keeping your pet safe. Sometimes, it's also a matter of keeping your neighbors' pets safe and happy. Whether you have a physical fence, an invisible fence, or an Invisible Fence Alternative, you must have something in place to avoid them running into the neighborhood and potentially being hurt. Having clear boundary lines and a fence can help your pet stay on your property, and you can be confident they are safe. Check out a nearby Brisbane fencing contractor for quality fence installation.
Also, be sure to remove anything poisonous from your year, such as plants or weeds that can be toxic to your pets, such as bluebells, crocus, and daffodils, to name a few.
Keep harmful foods and chemicals out of reach.
Almost every pet owner has had to deal with a pet who has gotten into something they shouldn't have at one point or another. Keeping harmful foods and chemicals out of reach can help protect your pet from serious health complications, whether a nibble of chocolate or something more serious. Did you know that bacteria like E. coli and salmonella can cause dangerous foodborne illnesses that can quickly grow in stagnant water, especially in warm and humid environments? This is especially common in indoor water bowls where air circulation is lower than outdoors. There are a few simple ways to prevent bacteria growth in your pet's water bowl. First, ensure the bowl is stainless steel or ceramic and not made from plastic. Plastic bowls are porous and can trap bacteria in the material.
Make sure they get enough physical and mental stimulation.
Healthy pets are happy pets. And happy pets are less likely to get into trouble. They are more likely to keep themselves occupied and out of trouble. They are also more likely to be healthy and happy long-term. There are a few ways to ensure your pet gets the proper physical stimulation. First, make sure they have enough space to run around. This can mean a yard or taking long walks or runs as required to ensure they are adequately exercised. Second, provide enough toys and other stimulation around the house. This can be via training for increased mental stimulation, slow feeders or puzzle toys, or being allowed to forage for treats using sniff mats, snuffle balls, or even hiding them in cardboard boxes, for example.
Check leashes and collars are in good condition.
Leashes and collars are a necessary part of the walking experience for pet owners. Make sure that both are in good condition and fit your pet properly. A frayed or loose collar or leash can pose a choking or sproing risk to your pet. In addition, a worn and damaged leash and collar could hamper your efforts to bring your pet back if they become lost. If your pet's collar or the leash has seen better days, replace it before it becomes a problem.
Have regular vet checkups to ensure they're healthy
Regular vet checkups are a great way to keep your pet healthy. Your pet can be vaccinated and/or microchipped during a vet visit. They can also be tested for certain diseases and given a general health checkup. This can help catch problems early on and keep your pet healthy. Vaccinations are the most obvious way to keep your pet healthy. By vaccinating against common diseases, you can help protect your pet from fatal illnesses. Your pet can receive many different vaccines and health checks during a general vet visit. Some common ones include general vaccines, flea, tick, heartworm medication, and fecal parasite testing.
Final Words
Keeping your pet safe and healthy is a big responsibility, but it comes with much love and enjoyment. With a little bit of forward thinking and effort, you can keep your pet safe and happy today while minimizing its risks tomorrow.