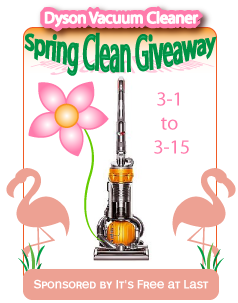 Kristin and I (Christi) from It's Free at Last!  Would like to round up some Bloggers 30 to be exact to give away a Dyson Vacuum to one Lucky Fan! See Dyson Here.
This Giveaway will run 3- 1 to 3-15. **NOTE** This is for FAMILY FRIENDLY BLOGS ONLY   The Fee will be $17 for Facebook and Twitter and $2 for each additional link i.e, Google +, RSS, Newsletter. The FB Likes and Twitter Likes will be coded on separate links so no 10 mile long RC's!!
If you are interested in Joining us Please Paypal the Fee to pinkangel9710@aol.com make sure you you list your Blog name in the comments and also send this as a gift. A group has been made for this event so please join http://www.facebook.com/groups/338014436217047/
Also After you Sign up Please Grab the Event Button and Place it on your Side Bar, you can link to this post or make your Own 🙂
BLOGGER Bonus!! Any Blog who refers the Most Bloggers to this Giveaway will Win a $50 Amazon Gift Code or Paypal!
*********SORRY THIS EVENT IS NOW FULL********

So Far these Blogs are Participating:
Mommy's Coupon Train
Saving in Sumner CO
Freetail Therapy
Freebies 4 Real
Embracing Beauty
Shopaholic Mommy
Mom Blog Society
Twin Sisters in the City