9 of the Cutest Easter Basket Ideas for Kids
This post may contain affiliate links or I may have received the product free in exchange for my honest review. See full disclosure for more information.
As spring comes around the corner, that means Easter is almost here! Typically known as a religious holiday for Christians, even non-Christians participate in Easter. In fact, a large majority of the American population celebrates Easter in some form or another. It's a popular holiday for kids, where many people send their kids on a hunt with their own personalized Easter baskets to be filled with goodies left behind for them from the Easter bunny (a mythical oversized creature that brings gifts and candy to good children every Easter morning). If you're searching for cute Easter basket ideas for kids, then you've come to the right place! Keep scrolling to see some of the best basket ideas for kids this Easter.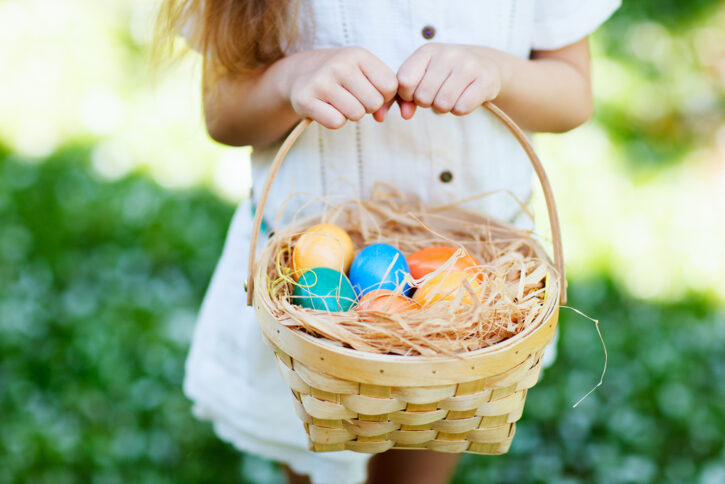 Source: BlueOrange Studio/Shutterstock.com
Easter Basket Ideas for Boys
While springtime is all about pastels, flowers and bunnies, that doesn't mean you can't find some fun and exciting Easter basket ideas for boys. Here are some great options to consider when putting together your boys' Easter baskets this year.
A sports-themed Easter basket

: Embrace the world of spring sports this Easter with a sports-themed Easter basket. Include a soccer ball, baseball and the necessary equipment for each, such as a bat, ball pump and a mitt. Your boy will be ecstatic to see that he's got some new sports gear to use this spring! Ideally, it'll last him through the summer, too. You can include other sports, such as tennis or golf, in the basket, too! Consider getting them some new sneakers or other athletic gear they can use while playing sports this season. It's a great way to encourage them to stay active, even as they grow older.

The cool Easter Bunny basket

: Fill a wooden basket with sunglasses, wireless headphones and other tech-related items that will make your kid feel like the coolest around. You don't have to go all out. Consider getting them accessories for their current devices instead of splurging thousands on brand new tablets, computers and phones. Sometimes, all your kid needs is a new case on their tablet to make it look brand new! Find some unique items to throw in there, too, like a Rubik's cube or another retro game that they can bring back to popularity this season.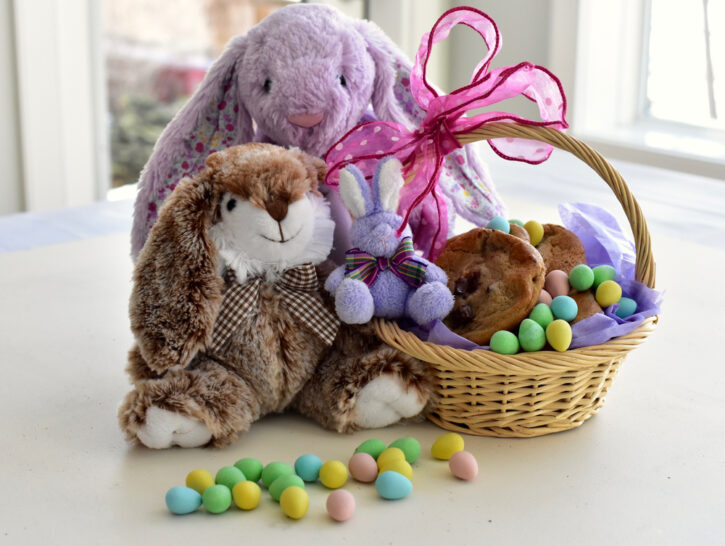 Source: Africa Studio/Shutterstock.com
Easter Basket Ideas for Girls
There are lots of unique Easter basket ideas out there for girls. Here are some of the best options!
Makeup bag Easter basket

: Who says your Easter basket has to be in a woven basket? Instead, consider alternative bags and containers for your Easter gifts. A makeup bag is perfect for that pre-teen who's experimenting with makeup nowadays. Include some makeup wipes, brushes, mascara, lip gloss, eyeshadow and any other makeup items you think they'll like. For teens who have their favorite makeup already picked out, consider getting them extra tools instead of makeup because you don't want to get them pieces they wouldn't actually use! This way, they'll 100 percent use the items you give to them for Easter.

Spa day Easter basket

: Take pampering to the next level with a spa day Easter basket. Include fuzzy socks, an eye mask, face masks, a quartz face roller, bubble bath and even lotion for your girls to enjoy. Everyone needs a self-care day at the home spa, no matter their age! You can add nail polish and mini back massagers to their baskets, too! Encourage them to prioritize their own skincare from a young age with a spa day Easter basket.
Other Easter Basket Ideas
There are lots of Easter basket ideas out there that are perfect for kids of all genders and ages! Here are some of the best.
Rain boots for Easter baskets

. Spring is the season of rain! Get your kiddos prepared for the springtime weather by giving them their Easter basket gifts in a new pair of rainboots. Fill them with fake grass, candy and anything else you think they'd like. They'll love getting to hunt for such a fun Easter gift. You can probably hide it right in plain sight!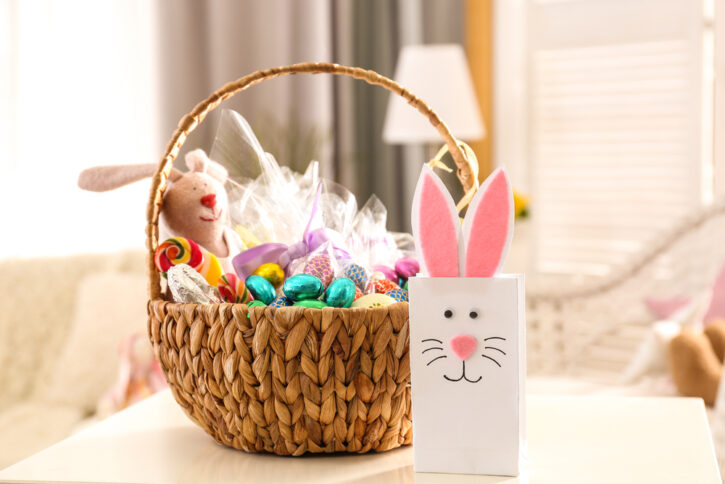 Source: Klem Mitch/Shutterstock.com
Attach their basket to a stuffed animal

. That's right — instead of giving them just a basket for the holiday, why not

get them a personalized Easter bunny

to hold their basket, too? Of course, you can get them a variety of Easter animals if they aren't the biggest fans of bunnies. Other popular stuffed animals for Easter include ducks, chicks, lions and dogs!

A healthy Easter basket

. Kids deserve healthy choices for Easter. Plus, not every child can have lots of candy or might be allergic to some of the most popular Easter candy items. Instead, consider giving your kiddos a healthy Easter basket that contains some delicious but allergy and diet friendly treats. The kids will love getting to participate in the holiday without worrying that they won't get some of the same fun treats and gifts that other kids do.

A gardening Easter basket.

Instead of using a basket here, consider using a child's wagon for this Easter gift! Fill their new wagon with a variety of gardening items, such as seeds, shovels, trowels, an apron and anything else you can think of that you'd like to put in their gardening basket (a chocolate bunny, perhaps?).

Gardening has a lot of benefits

for kids, especially when it comes to their brain development. An alternative basket option here is a gardening pail. Either way, it's a super cute Easter basket idea!

The family-fun Easter basket

. Who doesn't love a little family fun? Consider doing one Easter basket for the whole family that the kids hunt for together. Fill it with family-friendly board games and other things that you can use together as a family,

such as funny Easter t-shirts

. Get the whole family involved — Easter's a family holiday, after all!
Finding the right Easter basket for the kids doesn't mean that you have to use the same style year after year. Fill each basket with things they'll love and you're sure to knock Easter out of the park.