A Healthy Start to Your Holiday Season with Superior Source Vitamins
This post may contain affiliate links or I may have received the product free in exchange for my honest review. See full disclosure for more information.
As we are into the Fall season and heading into the colder months, now is the time to make sure you have all necessary items in your pantry to promote a healthier holiday season for yourself and your family!
Superior Source Vitamins are here to help! Superior Source MicroLingual® vitamins are easy to take and a must-have for keeping your entire family healthy!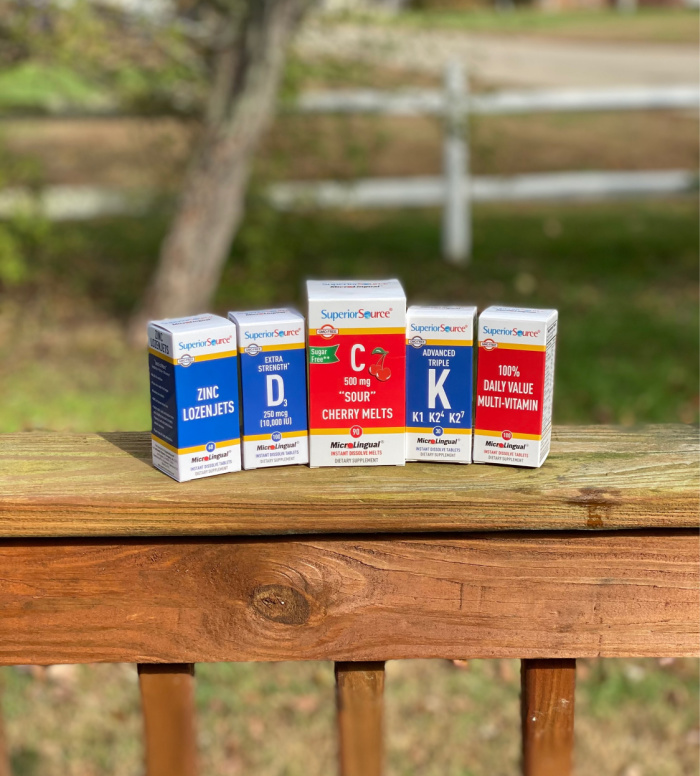 Your entire family will love Superior Source Vitamins! They are much easier for kids to take, as there are NO pills for little throats to swallow. Keep reading to learn more and check out the FREE offers from Superior Source!
Superior Source Vitamins are MicroLingual® – "Under the Tongue Technology". They work fast and are quickly absorbed into the body, dissolving in seconds – NO pills to swallow! Supplements that are swallowed lose as much as 50% of the potency in the high acid environment of the stomach.
No pills to swallow
GMO FREE and Sugar FREE
90% smaller than regular vitamins
No chemical binders or fillers
Join us in promoting a Healthy Holiday Season for everyone!
Keep your entire family's immune system healthy with this Cornucopia of Immune Health lineup of Superior Source Vitamins! Here is what we are excited to share with you this month:
Vitamin K
Vitamin K is needed for normal blood clotting, as it is necessary the formation of prothrombin. Superior Source "Instant Dissolve Micro Tabs" works well with Calcium and Vitamin D.
Vitamin D3
Vitamin D works in conjunction with calcium to promote the development and maintenance of strong bones and teeth. Our Vitamin D products are D3, the finest source of Vitamin D available.
Daily Multi-Vitamin
Our One Daily Value Multi-Vitamin contains 100% of 11 vitamins and nutrients your body needs for optimal health, including B vitamins for energy metabolism as well as Vitamin C and A for antioxidant protection and immune support.
Vitamin C – 500 mg
Vitamin C is an essential nutrient that cannot be produced by the body, therefore, it must be replenished daily. Vitamin C has several beneficial purposes including developing and maintaining healthy skin and bones, to form collagen and enhances the absorption of iron from plant-based foods we eat. Vitamin C also provides support to the body's immune system. "Superior Source" Vitamin C 500 mg, "Tangy Orange Melts" contains very little sodium (only 1% of the Daily Requirement), it is helpful in offsetting the natural acidity of Vitamin C, creating a smoother less acidic taste. NO sugar added; only sweetened with a little stevia. This is preferable to most "chewable" vitamin C products that typically are loaded with lots of sugar.
Zinc Lozenjets + Vitamin C
Zinc is an essential mineral required by more than 300 enzymes for the support of multiple systems and functions in the human body. In addition, studies have indicated that zinc promotes recovery from the common cold and related symptoms. Our Zinc Lozenjets are formulated with vitamin C and elderberry extract as added protection for your health. Current research indicates that elderberry extract stimulates antibody production during acute illness.
Where can you find Superior Source Vitamins & Supplements
Your entire family will love taking Superior Source MicroLingual® supplements and you will love knowing it is helping keep everyone healthy! You can find these MicroLingual® vitamins and all Superior Source Vitamins at major retailers includingCVC4Health.com, iHerb, Vitacost and Lucky Vitamins. Also be sure to use their handy store locator tool to find a retailer near you.
Be sure to check out the sitewide vitamin sale on CVC4Health.com: Up to 25% OFF All Vitamins!!
Superior Source Vitamins.
Be sure to check out these special deals on Superior Source Vitamins this month, exclusively on Facebook:
FREE Vitamin D – Any D product (baby, child, adult) (only pay $4.95 S&H)
Connect socially with Superior Source