This post may contain affiliate links or I may have received the product free in exchange for my honest review. See full disclosure for more information.

Not having much of a green thumb, I have been thinking of giving gardening a try for some time now.  My few attempts in the past have come with mixed results, some good, some bad.
I have always wanted to grow my own herbs for use in my cooking and recipes, and the cost of them at the local grocer can get expensive.  I have also wasted so many herbs that I have purchased, as I cannot use them fast enough when store bought.  When I was given the chance to review the AeroGarden ULTRA, I was excited.  I am now able to grow as much or as little as I need in the comfort and ease of my own home.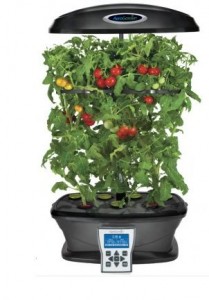 Having the option of growing up to 7 different plants at once, the AeroGarden ULTRA has allowed me to start my venture into gardening more and I am actively growing my own herbs.  I opted for Dill, Cilantro and Parsley.  I must say, I have somewhat of an indoor green-thumb.  They are growing quite rapidly and full, fresh and green.  Feeding it a simple pack of nutrients ever so often has given them the nourishment and feed they need to grow lively and full.
The AeroGarden ULTRA holds up to 7 pods, has a MyGarden control panel right on the front, comes equipped with MaxGrow Lights and aluminum reflectors.  Whether you live in an apartment or have a spacious piece of land to grow a large garden, AeroGarden is perfect for anyone.  You really can garden year-round in the comfort of your own home.
Benefits Include:
The Ultra germinates faster and more reliably, delivers more light to young plants, grows larger plants more easily and delivers greater yields and fruit sets than any other garden in our line. Features:
MyGarden Control Panel automatically controls all growing functions
Easy "QuickPlant" settings or complete customization of all critical garden functions
Our tallest garden yet – more than twice the height of the original AeroGarden 7 for growing bigger plants better. Still perfect for herbs and lettuce, too
On-screen clock makes changing light on/off settings easy.
Onboard "GardenCoach" displays timely tips that teach users to become better gardeners every time they grow
Twice the light of the AG7 and now with MaxGrow Grow Lights for even greater luminosity
Advanced users can easily customize all critical garden functions, including lights, nutrient cycle, and pump cycle
Germination mode increases seed germination rates
High Growth mode automatically increases oxygen and nutrient flow to fast-growing plants
Easy to set 24 hour light cycles for seedlings or enhanced vegetative growth
Includes new trellis system offering a wide variety of plant support options
Improved reminder system including audio alerts for nutrients and water
Detailed dashboard notes all critical garden info in one place
Improved lamp hood, reflectors and lamp arm for greater growth, easier adjustment
The Size is a nice 14″W x 11″D x 33.5″H and Includes:
3 MaxGrow Grow Lights
New, Improved Trellis
Free Seed Kit
This is the perfect addition to any home.  From the novice to most seasoned gardener, the AeroGarden ULTRA is perfect for anyone who wants to try their hand at indoor gardening.