Avoid Chaffing with Ballguard Liquid Powder by Ballsy
This post may contain affiliate links or I may have received the product free in exchange for my honest review. See full disclosure for more information.
Ballsy – the men's care brand behind breakout hit Ballwash – is getting even ballsy-er. The company has come up with yet another new grooming product for the pair down there.
Ballguard Liquid Powder goes on as a lotion and quickly dries to a protective powder that is more than a deodorant. Besides odor, it also fights sweat, chafing and irritation. The tagline for this unique product? "Stay dry behind your fly."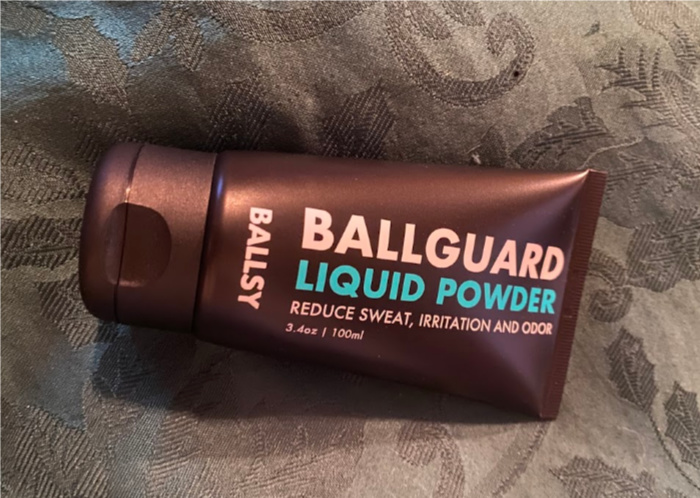 About Ballsy:
Ballsy founders Adam Hendle and Brock Cady were surprised at the lack of products available that address that particular niche, and decided to develop their own line of premium, natural ingredient-driven formulas. "Why use ordinary drugstore body wash on 'prime real estate'?" said Hendle. "We wanted to get away from harsh chemicals and overpowering colognes. And because our products are carefully crafted to do justice "down there," it stands to reason that they are great for the entire body."

When Ballsy launched its flagship product, Ballwash, in 2017, the initial run of 500 units sold out in just two days. Production was ramped up to meet demand, and product kept quickly selling out, posting record holiday and Valentine's Day sales in 2018 and 2019. Now, Ballsy's complete line, which also features an alcohol-free solid cologne and an on-the-go refresher spray, is available online. In addition to robust individual product sales, the company has built a loyal base of thousands of "ballscribers" who enjoy automatic monthly deliveries.
There are no harsh chemicals or colognes, parabens, talc or alcohol. Instead, the formulas uses safe ingredients (like aloe) to soothe and freshen when it counts. It's great for balls, inner thighs or any place you want to keep cool and dry. At just $12, Ballguard won't break the bank.
You can purchase this great set, or any of their other wonderful products through their website.
Stay socially connected to Ballsy for all their latest products: