After working all day, there is nothing I love more than coming home and pampering myself with a relaxing bath. I also love scented bath gels, soaps, and lotions. One of my favorite, and guilty pleasures, is Bath and Body Works products. They have so many delicious smelling items and I can never resist trying the new scents that come out. At the same time, I love getting great deals and not spending more than I need to. That is why I always search Dealspotr for Bath and Body Works promo codes before I place my order!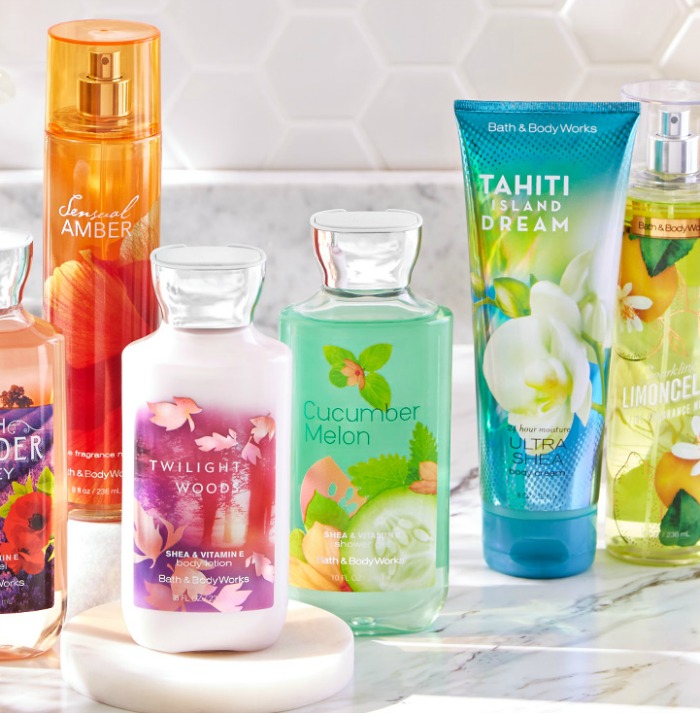 I hate leaving that promo code box empty and since I have been using Dealspotr I haven't had to! You may be thinking that hunting down promo codes is hard and complicated, but it's not and no one likes to pay full price if you can help it, right?
Looking for a Bath and Body Works Discount Code?
Most companies offer discount codes and Bath and Body Works is no different. You will love the savings Discount codes offer you! They may seem allusive, but they can be found. Let's take a look. I have prepared a step-by-step tutorial to make it easier for finding Bath & Body Works promo codes. The good news is, it works for other products and stores too!
Sign up for the Bath & Body Works email newsletter
Some retailers have instant discount codes they send you for signing up for their email newsletter. Bath and Body Works didn't have an instant discount code offer. However, they send emails with special offers, news, and you will be the first to know about special sales and offers.
To sign up for their newsletters, go to the Bath & Body Works homepage and in the bottom left corner, simply select "Get Email Offers and Latest News". Then, fill in your information.
Coupon Sites often share single-use codes
Yes, we are going to "google it"! To find a Bath and Body Works promo code on a coupon site, go to your search bar and type in "Bath and Body Works promo code".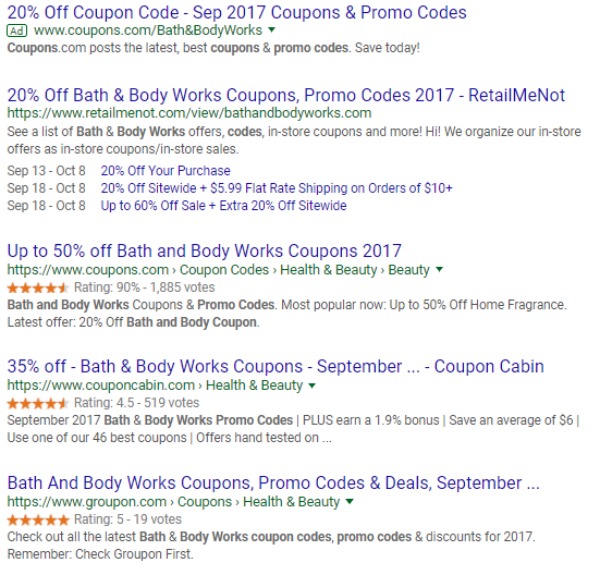 Your search will return several results – and, as you can see, they're all coupon sites. From here, I wanted to compare a few of the top results to my favorite tool, Dealspotr for the best deal.
For my comparison, I'm going to take a look at Coupons.com, RetailMeNot, Coupon Cabin, Groupon, and Dealspotr.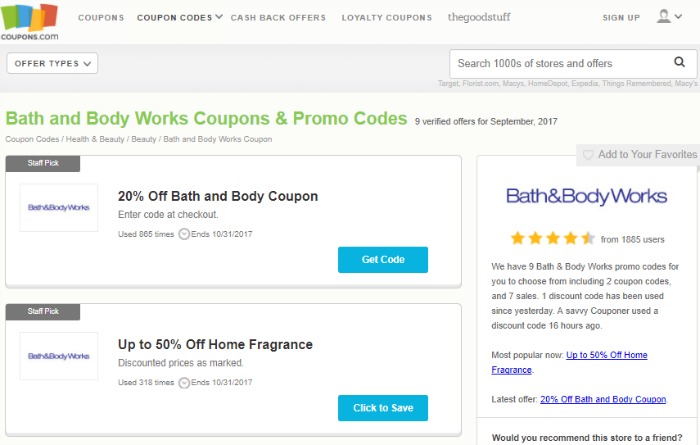 I start with Coupons.com by clicking on Coupon Codes. I type in Bath & Body and do a quick search and find a couple of interesting codes.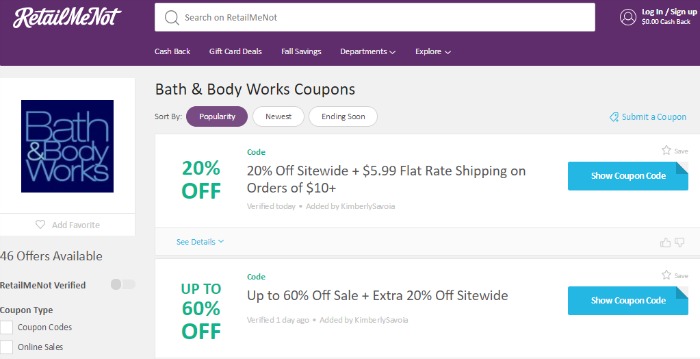 Next, I visit Retail Me Not to see what they may have. They also have a couple that look promising.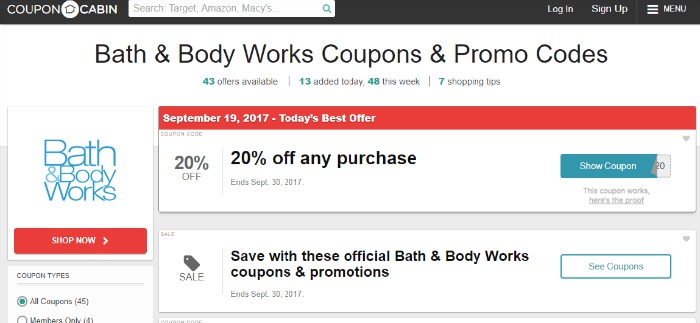 Continuing on in my comparison, I visit Coupon Cabin and search for Bath & Body Works. They also have a couple that are promising.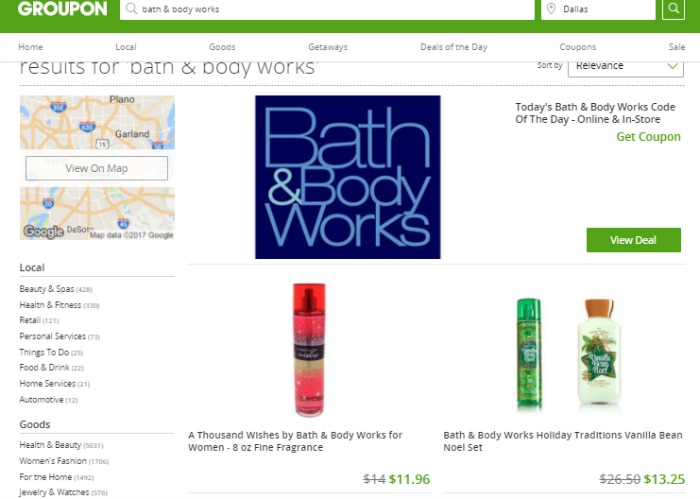 I then head over to Groupon to compare their offers. Their offers were so-so and more of the same.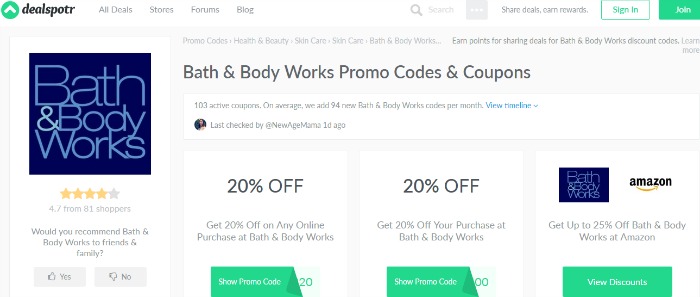 Finally, I check my favorite tool, Dealspotr.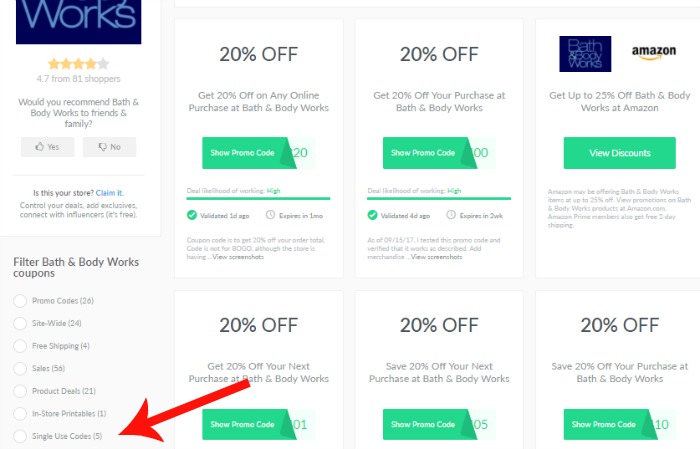 Filter Your Result for Single Use Codes
If I scroll down a tad on the Bath & Body Works page, I can see the option to filter by type of code. I select "Single Use Codes," and it filters the results for me.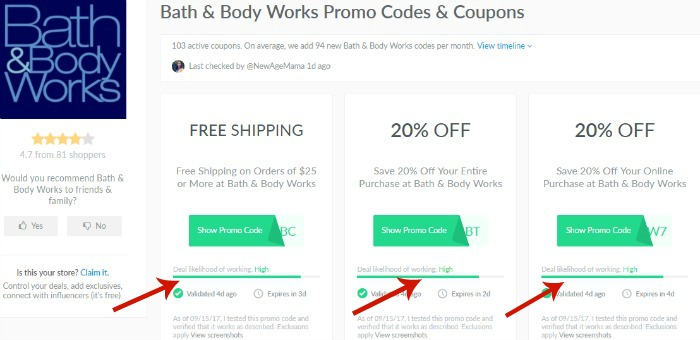 I love how Dealspotr validates the codes. The first three codes have high health bars, and look like good options. My order isn't $25 so I will leave that one for another day. I choose the one for 20% entire purchase.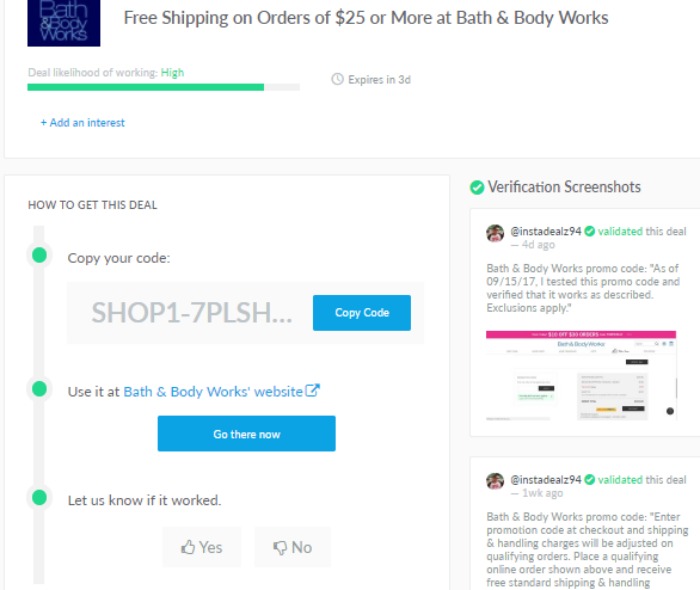 I can see on the right-hand side of the screen that another Dealspotr user has "validated" the deal. This means they have tested the code on the Bath and Body Works site to make sure it works. It is one of the many reasons I love using Dealspotr! Dealspotr users do this for every deal on the site! It makes for a very accurate database of codes for any store, any time.
This clinches the deal for me! With a simple click, I copy the code and head back to my cart on Bath & Body Works website.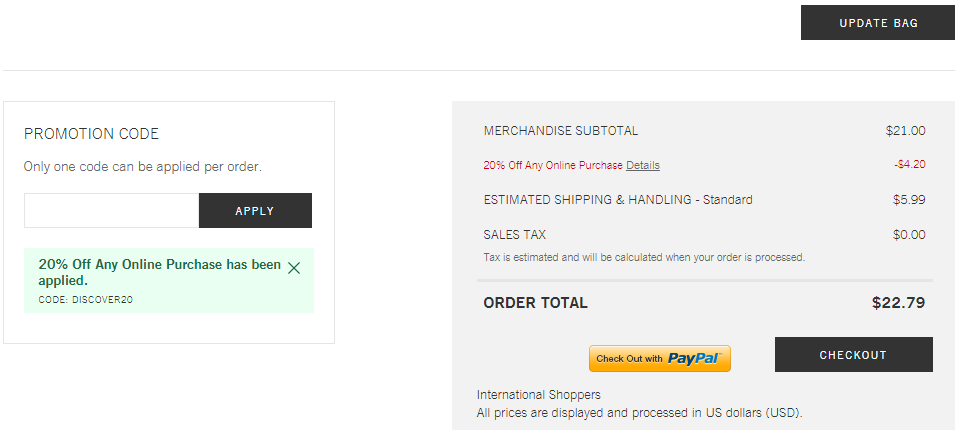 Once I am back in my cart, I simply paste in the promo code and click apply. It worked!
If I had gone to Dealspotr first, I would have found my code quickly and my purchase would already be on its way to me.
How to Look for deals at Third-Party Stores for Specific Brands
What happens when there aren't any discount codes to be found on the coupon sites, emails, etc? You don't want to leave that promo code box empty, right? There is another way to find good deals on specific products!
If another site sells Bath & Body products, I may be in luck. These sites are called "Third Party Stores". I can try searching for a discount code that works at that store.
The process for finding deals at stores that carry Bath & Body products can be a difficult process if you don't know where to look or what the name of another place is. However, I happen to know that Jet.com carries Bath & Body Works. So, I head back to the coupon sites to search out discount codes for Jet.com.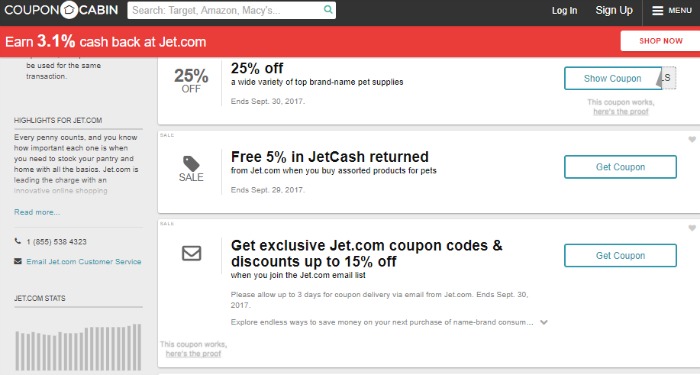 On the Coupon Cabin site, I found a discount code that I could use on Jet.com when ordering Bath & Body Works products. However, it would require signing up for the Jet.com email and waiting 3 days for it to be sent. Even then, it would be less of a discount than the Dealspotr code was offering.
The next time you place an order, don't leave that promo code box empty! Use these tips to help you save your hard-earned money! Shopping season is just around the corner! Be sure and bookmark Dealspotr so you will have it handy for all your purchases!