Berco Kitchen Ice Cream Scoop for Easy Scooping!
This post may contain affiliate links or I may have received the product free in exchange for my honest review. See full disclosure for more information.
Who loves ice cream? I bet everyone can answer yes to that question, right? After all, there is a flavor to match everyone's taste buds! I love ice cream as much as anyone, but one of my biggest pet peeves is not being able to scoop it. I'm sure you know the drill! You start thinking of digging into a nice yummy bowl of the creamy goodness. So, you head to the kitchen and take the ice cream from the freezer. Then, the fun begins. You wrestle with the scoop, or spoon, only to realize it's like digging out concrete! A little quick thinking has you placing it in the microwave to defrost a little. After trying the defrosting trick, it has thawed a little around the edges but the middle is still hard as a rock. Needless to say, by the time you get your ice cream, you feel like you have been through a wrestling match! Well, what if I told you about an ice cream scoop that scoops like a dream? Got your attention didn't I? Let me tell you about my latest find – the Berco Kitchen Ice Cream Scoop!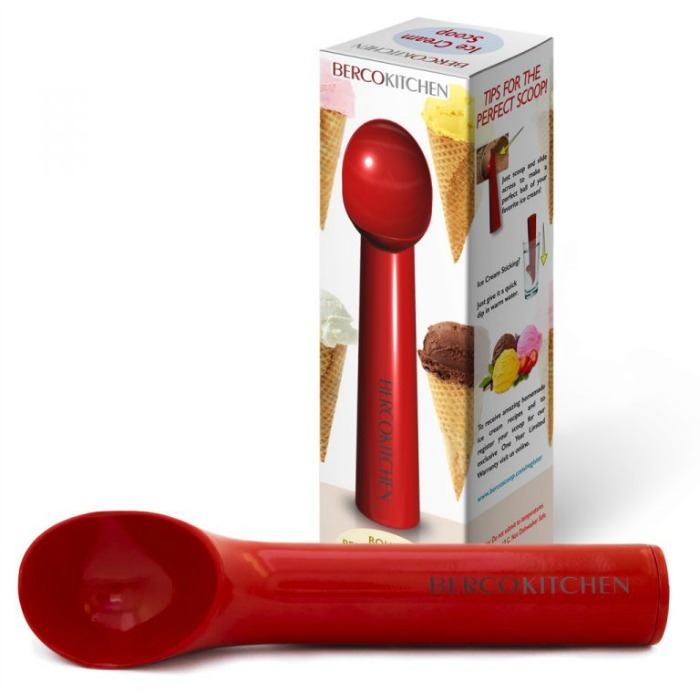 I am loving this fun ice cream scoop from Berco Kitchen! I love bright colored kitchen gadgets, so of course, it attracted my attention right off! However, there is more than meets the eye with this little jewel!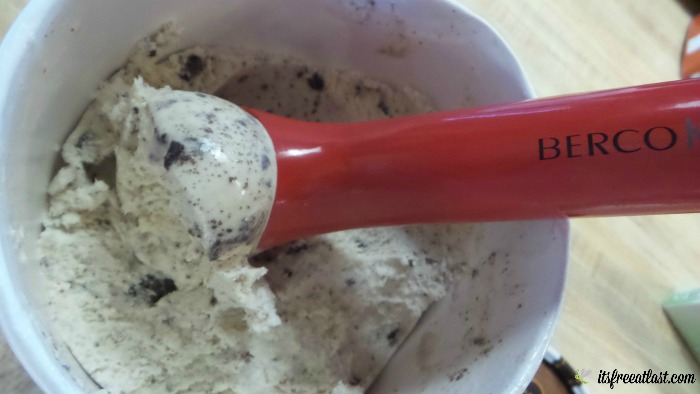 The Scoop on the Berco Kitchen Ice Cream Scoop
The Berco Kitchen Ice Cream Scoop is so much fun with it's bright red color! Best, and most importantly, it makes short work of scooping ice cream! This fun ice cream scoop has an unbreakable heat conducting aluminum handle. The handle conducts heat from your body allowing it to slide through the hardest frozen ice cream, sorbets, etc. No more struggling or defrosting the ice cream before scooping. Using it's heat conducting properties and curved dipper shape, scooping is as smooth as butter.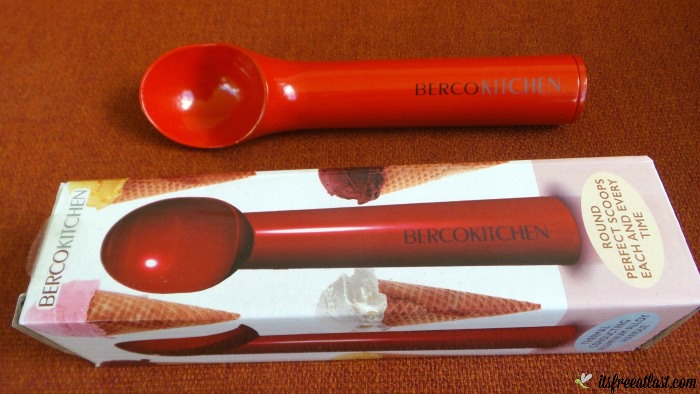 The Ice Cream Scoop is made of solid aluminum and coated in a durable red enamel. It will never corrode and will last a lifetime! It also has an ergonomic design which fits all hands comfortably, whether large or small. There is nothing sharp about it, so the kids will be thrilled to know they can enjoy scooping out their own ice cream – that is if you trust them not to get a triple scoop!
Berco Kitchen Ice Cream Scoop features in a nutshell:
Modern commercial-grade design never corrodes and is made of SOLID ALUMINUM coated in a durable red enamel that will last a lifetime.
Anti-freeze handle uses your own body heat to effortlessly slice through hard frozen ice cream, gelato, sorbet, Italian ices and healthy low fat frozen yogurt!
Comfort grip fit all hands big and small with no sharp metal corners so kids can scoop their own cone.
Curved dipper shape creates perfectly portioned scoops with no need to defrost your ice cream.
Limited lifetime manufacturers warranty means they will stand behind their kitchen products and their customer's satisfaction.
Using the Berco Kitchen Ice Cream Scoop is easy! You do not have to run it under water or warm it up and it doesn't clump up like other scoops. You will love how it feels in your hand and it is reasonably priced. It's definitely a must-have for anyone's kitchen!
Why not put a stop to the wrestling match with the ice cream? Get yours today by visiting Berco Kitchen online! You can also find them on Amazon.
Connect socially with Berco Kitchen