Best Ways to Use Non-Stick Grill Mats When Grilling BBQ
This post may contain affiliate links or I may have received the product free in exchange for my honest review. See full disclosure for more information.
Sweet-savory hamburger, steak, chicken wings, and more often make for the main attraction at social gatherings. Even vegans love a well-grilled veggie or two. But some foods can be plain hard to cook on a grill. And no one likes the cleaning after.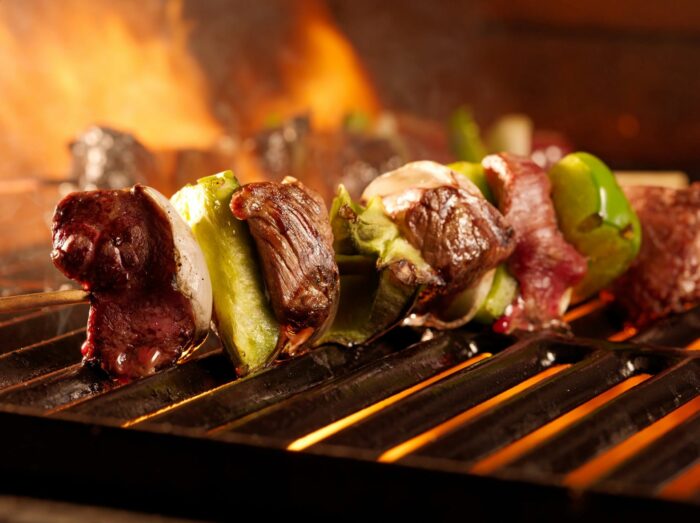 That's when grill mats come in handy.
How Exactly Do Grill Mats Work?
A grill mat is a sheet of non-stick, flexible material that you can place on your grill's cooking grid. It creates a flat cooking surface and prevent your food from getting burned.
Since these mats are made of polytetrafluoroethylene (PTFE), aka Teflon, they come with limitations:
You usually can't heat them above 500º F.
You can't use metal cooking utensils.
Despite share these in common, most grill mats differ in terms of key features. Let's discover what these features are.
What to Look for in BBQ Grill Mats?
It may seem there isn't much to BBQ grill mats. But they have several features you need to assess carefully to get the best product for your money.
They include:
Thickness A grill mat's thickness is measured in millimeters. A .25 mm grill mat is an ideal starting thickness. Many brands offer more or less depending on the quality of the grill mat. The thicker the grill mat, the better it works for long-term use.
Size You may want to pick a mat that fits your grill without any openings for leakage. Going for large grill mats makes cooking on the grill mess-free. And you can always trim the mats down to the size you need.
Capacity Grill mats are limited by a temperature range. An average grill mat works best in medium to low temperatures ranging between 375º F and 400º F. Max temperature is usually 500º F. And it's rare for a grill mats to allow for 600º F.
Coating Grill mats have one or two coats of PTFE. Double-coating makes the grill mat expensive but also makes it durable and effective at heating food evenly on the grill.
Top Smart Ways to Use Grills Mats Like a Pro
Below are some of the best ways to put grill mats to good use:
Hassle-free cleaning With a grill mat, you clean various cooking areas ten times easier. You can place these mats in the microwave, underneath gas stove burners, on your oven racks, in your microwave oven, and on the grill.
Ideal for lining baking pans and cookie sheets If you want a non-stick cooking pan then the grill mat can make it happen. You can either choose a grill mat that fits your pans or trim one down for easy baking.
Perfect for that campfire-style bacon, eggs, and pancakes A grill mat works similar to a griddle with its leak-proof, flat surface, so you can enjoy your bacon and eggs anywhere, at any time.
Cook your favorite kebabs, seafood, veggies, and fruit with ease Breakfast isn't the only meal and a grill mat can handle your lunch and dinner too. These mats make it very easy to cook small foods that would otherwise burn easily or slip through the grates of the grill.
Turn your grill into a make-shift pizza oven If you thought grilling was all a grill mat can offer, you would be amazed to know they can double as a way to turn your standard grill into a make-shift oven. Add some pizza to the menu for your next BBQ.
Give your burritos, quesadillas, fajitas, and sandwiches that extra grilled flavor Nothing tastes better than a freshly pressed sandwich or a nice, grill-marked quesadilla. Grill mats keep the surface even for cooking, protect the food from burning, and give your food that nice grilled look too.
Craft mat substitute Cooking isn't the only thing a grill mat can be used for. These mats can double as a craft mat for those who love to dabble in paint, glue, and all the things that glitter.
Protects your counter-tops and tables Grill mats can save more than just your food from getting scorched. These mats take in the heat and can protect your countertops from getting heat-marked by a hot pan.
At this point, you know all the key ways to make the most out of your grill mat. And with some practice, we've no doubt you can become the next grill mat guru.
We hope our guide has been of help.