Binge-Worthy Shows to Watch on Acorn TV
This post may contain affiliate links or I may have received the product free in exchange for my honest review. See full disclosure for more information.
While self-confined at home during this most difficult time, people can indulge for hours with Acorn TV's world-class, acclaimed mysteries, alluring dramas and witty comedies that rank among the best in British and international television.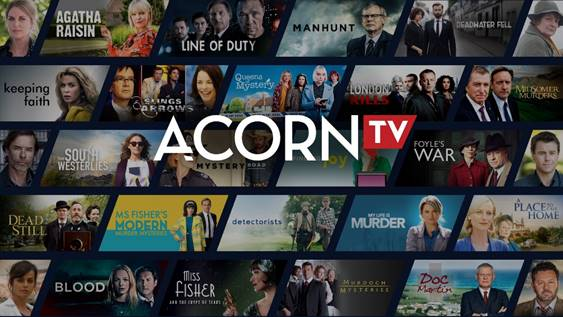 Acorn TV is the exclusive U.S. streaming home for many highly-in-demand series, including last year's #1 drama on ITV (Manhunt, starring Doc Martin's Martin Clunes), the most recent, highly-rated season 5 of BBC's top drama in 2019 (Line of Duty), as well as the complete series of the award-winning British WWII drama Foyle's War.
About Acorn TV:
Called a "glorious streaming service… an essential must-have" (The Hollywood Reporter) and "Netflix for the Anglophile" (NPR), AMC Networks' Acorn TV is North America's largest streaming service specializing in British and international television and is now serving more than one million paid subscribers in the U.S. and Canada. Acorn TV adds exclusive new programs every week with a deep library of mysteries, dramas, and comedies with no set end dates or commercials. Subscribers can stream many of their favorite international series and discover new and classic programs previously unavailable to U.S. audiences. It's like free money for no deposit requirement, when signing up. Coming up in 2020, Acorn TV will feature a record five commissioned series as well as several returning favorites, including Irish period mystery series Dead Still, British mystery Agatha Raisin, Irish comedy drama The South Westerlies, as well as the return of award-winning Australian drama Mystery Road, Irish thriller Blood, the #1 UK drama of 2019 Line of Duty, and Acorn TV's first feature film with Miss Fisher and the Crypt of Tears.
BRITISH VILLAGE MYSTERIES
DEADWATER FELL
"The new Broadchurch…but more irresistible… moving, compelling crime drama" – The Guardian
This darkly gripping and highly-rated UK miniseries' stellar ensemble cast features David Tennant (Broadchurch, Doctor Who, Good Omens), and Cush Jumbo (The Good Fight, Vera), When a seemingly perfect and happy family is murdered by someone they know and trust, the small Scottish community they call home becomes torn apart with mistrust and suspicion as those closest to the family begin to question everything they thought they knew about their friends. New series launches April 6, with new episodes through April 27. Episodes: 4 | Trailer
MIDSOMER MURDERS
"A must for British TV fans" —Los Angeles Times
Homicide, blackmail, greed, and betrayal are just a taste of what goes on behind the well-trimmed hedges of Midsomer County in this deliciously sinister, long-running UK series starring Neil Dudgeon. The suspense doesn't let up in the latest 21st season: things run awry at the annual "Paramount Dance Extravaganza," where there are deep running feuds and passions behind the sequins and smiles; in another episode, a prolific real estate agent is murdered in front of a crowd at the unveiling of a doll house collection at Midsomer Museum. Seasons: 21 (126 episodes) Trailer (season 21)
AGATHA RAISIN
"Miss Marple meets Absolutely Fabulous…breezily entertaining" -The Mail on Sunday (UK)
Award-nominated actress and comedienne Ashley Jensen (Extras, Catastrophe, Ugly Betty) stars in this quintessentially British village mystery based on the bestselling books by M.C. Beaton. Fulfilling a lifelong dream, Agatha Raisin retires early to a quaint village in the Cotswolds and soon finds a second career as an amateur detective investigating mischief, mayhem, and murder in her deceptively devious town. Also starring Mathew Horne (Gavin and Stacey) and Jason Merrells (Emmerdale). Seasons: 3 (16 episodes) Trailer (series 3)
QUEENS OF MYSTERY
"Those who like their TV mysteries tongue-in-cheek with a multitude of suspects will welcome creator-writer-showrunner Julian Unthank's proudly theatrical Queens of Mystery" – Weekend Australian
This "wickedly offbeat" (Parade), contemporary murder-mystery series follows the adventures of a perennially single detective and her three crime-writing aunts as they solve murders in the picturesque English region of Wildemarsh. Starring Olivia Vinall (The Woman in White, Maigret), Julie Graham (The Bletchley Circle, Shetland), Siobhan Redmond, and Sarah Woodward. Episodes: 6| Trailer
FEEL-GOOD UK FAVORITES
DETECTORISTS
"Lovely British gem… First-rate writing and superb, intimate performances" —The Hollywood Reporter
This "wistful, subtle" (Guardian, UK) BAFTA Award-winning comedy follows the eccentric members of the Danebury Metal Detecting Club as they search for treasure in the English countryside. Written and directed by star Mackenzie Crook (The Office), Detectorists also stars Toby Jones (The Hunger Games), Rachael Stirling (The Bletchley Circle), and Diana Rigg (Game of Thrones). Seasons: 3 (19 episodes)| Trailer
LOVEJOY
"One of television's most charming and appealing characters" —The Washington Post
Golden Globe® winner Ian McShane (Deadwood) exudes rakish charm as "the James Bond of antiques dealers" (New York Times) in these cult-favorite mysteries. Despite his knack for spotting rare finds among rubbish, Lovejoy can't stay out of trouble, often getting snared in the underbelly of the antiques industry. Phyllis Logan (Downton Abbey) costars as his partner in peddling, the lovely Lady Jane. Seasons: 4 (48 episodes)| Trailer
UK PERIOD DRAMAS
FOYLE'S WAR
"One of the best television shows in the history of television" – Los Angeles Times (March 2020)
Combining historical accuracy with compelling mysteries, this award winning British series is "a triumph from start to finish" (The Wall Street Journal). Michael Kitchen stars as Christopher Foyle, the upright, laconic detective tasked with investigating cases on the home front as WWII ravages the social fabric of his coastal community. Seasons: 9 (31 episodes, plus bonus clips)| Trailer
AND THEN THERE WERE NONE
"Astoundingly and almost absurdly entertaining…As addictive as anything likely to air on either side of the Atlantic this year." – Variety
On the brink of World War II, 10 troubled strangers are invited to an isolated island–and targeted for death, one by one. Based on the bestselling crime novel of all time by Agatha Christie, this "TV event of the year" (The Guardian, UK) boasts an all-star cast including Charles Dance, Sam Neill, Miranda Richardson, Anna Maxwell Martin, Toby Stephens, Burn Gorman, Noah Taylor, and Aidan Turner. Episodes: 3 | Trailer
I, CLAUDIUS
Winner of an Emmy and numerous other awards, this BBC epic is a tale of ambition, debauchery, and intrigue. Rated one of the "100 Best TV Shows of All Time" by Time Magazine, the series spans the history of the Roman Empire from Augustus through Claudius and stars Derek Jacobi, Patrick Stewart, Sian Phillips, Lindsay Duncan, John Hurt, and Brian Blessed. Episodes: 12| Trailer
Bonus recommendation: Recap podcast of I, Claudius series, hosted by John Hodgman and Elliott Kalan: https://maximumfun.org/podcasts/i-podius/
FOREIGN LANGUAGE DRAMAS (Full collection at https://acorn.tv/browse/foreign-language/)
THE TRUTH WILL OUT
Detective Peter Wendel wants to create an elite team of investigators to crack cold cases. When the police receive a tip that Sweden's most notorious serial killer is a fraud, and therefore eight killers might have gone free, Wendel gets his chance–but only the dregs of the force are available to work the case. Can his lowly group solve these high-profile crimes? Swedish with English subtitles. Episodes: 8 | Trailer
THE SCHOUWENDAM 12
Decades ago, teenagers Olaf and Alice disappeared from the Dutch village of Schouwendam without a trace. Then an unknown man suddenly turns up in town with no memories but a clear resemblance to Olaf. The residents are forced to confront the mysteries of the past, but who is lying and who is telling the truth? As new fatalities occur, the community is riven with fear in this Dutch-language drama.
Episodes: 10 | Trailer
SISTERS
In this Italian-language mystery, successful lawyer Chiara Silani (Anna Valle) returns to her hometown in southern Italy when her younger sister, Elena (Ana Caterina Morariu), goes missing. As Chiara investigates what happened to her sister, Elena's ex-husband–and Chiara's own former love–becomes the prime suspect, forcing Chiara to deal with the complicated relationships she left behind. Episodes: 6 |Trailer
BALTHAZAR
"Clever if not revolutionary drama " – TV Worth Watching
One of the top ten highest-rated French dramas of 2018, Balthazar introduces a forensic pathologist with an unusual talent. The brilliant yet unconventional Raphaël Balthazar (Tomer Sisley, Philharmonia) can make the dead speak like no one else to help solve Paris' most baffling crimes. New, tough-as-nails police commander Hélène Bach (Hélène de Fougerolles, Le Secret d'Elise, The Beach, VA Savoir) must learn to collaborate with Raphaël on these investigations. But there's one case that continues to haunt him–the murder of his wife over a decade ago. Series 2 to launch April 20. Episodes: 6 | Trailer
ARMCHAIR ESCAPES (Full collection at https://acorn.tv/browse/armchairescapes/)
1900 ISLAND
On a majestic but deserted island off the coast of Anglesey, Wales, four modern families embrace the chance to live as a small fishing village would have done more than 100 years ago. Braving bad weather, rough seas, hunger, and hardship for four weeks, they also discover the joys of community, hard work, and a simpler lifestyle in this BBC docuseries. Episodes: 4 | Trailer
HIDDEN BRITAIN BY DRONE
"Spellbinding footage" –The Guardian
Britain looms large in world history and culture, but the small island still holds many secrets that have stayed hidden from public view–until now. In this eye-opening series, Tony Robinson (Time Team) uses the latest aerial filming technology to snoop on military maneuvers, swoop over billionaires' private estates, and explore ancient and abandoned villages. Episodes: 7 | Trailer
COASTAL RAILWAYS WITH JULIE WALTERS
"Gorgeous vistas of cliffs and islands" – iNews
Presenter Julie Walters (Harry Potter films) beguiles with "charm, warmth, and wit" (Express, UK) in this travelogue of coastal railway journeys around Britain. From Scotland's Highlands and islands in the north to the western reaches of Cornwall and Wales, these delightful destinations offer spectacular scenery, fascinating history, and an abundance of local color. Episodes: 4 | Trailer
MARTIN CLUNES' ISLANDS OF AUSTRALIA
In this gorgeously shot documentary, Martin Clunes (Doc Martin) is on a quest to discover the islands of Australia. There are over 8,000 to choose from, and Martin visits 16 that offer a cross-section of island life. Along the way, he learns about the diversity, history, and challenges of island life Down Under. (Also available: Martin Clunes' Islands of America) Episodes: 3 | Trailer
Other highlights of Acorn TV's Armchairs Escapes collection:
Penelope Keith's Hidden Coastal Villages
Walks with My Dog
Monty Don's Paradise Gardens
Keeping the Castle
TRIED-AND-TRUE ACORN TV FAVORITES!
Finally, here are some evergreen, popular go-to titles on Acorn TV:
Miss Fisher's Murder Mysteries (Seasons: 3, including new movie Miss Fisher and the Crypt of Tears) Trailer
A sassy, seductive female sleuth (The Babadook's Essie Davis) sashays through the back lanes and jazz clubs of Melbourne in the late 1920s, fighting injustice with her pearl-handled pistol and her dagger-sharp wit.
A Place to Call Home (Seasons: 6) Trailer
Considered a "Down Under" Downton Abbey, this splendidly-acted and richly-produced award-winning Australian series explores the ties that hold families together and the betrayals that can tear them apart. Starring Marta Dusseldrop, Noni Hazlehurst and Brett Climo.
Doc Martin (Seasons: 9) Trailer
A London surgeon (Martin Clunes) moves to a charming Cornish village, where he clashes with the town's quirky inhabitants.
London Kills (Seasons: 2) Trailer
London's best detectives take on its worst crimes in this sleek mystery series from the creator of Suspects, starring Hugo Speer and Sharon Small.
Slings & Arrows (Seasons: 3) Trailer
Touted by The New Yorker "the single best TV show about theater ever made," it chronicles the outrageous fortunes and seas of troubles of a Canadian Shakespearian theater company. Starring Rachel McAdams. Luke Kirby, Stephen Ouimette and Mark McKinney.
AVAILABLE ANYTIME ANYWHERE: At Acorn.tv, plus Amazon Prime Video Channels, Apple TV, Roku, YouTube TV, Chromecast, Amazon Fire TV, Xfinity, iOS (iPhone/iPad), Android, Cox, various tablets.
Acorn TV offers a free 30 day trial right now on sign up (Use code FREE30) at check out and thereafter is just $5.99/month or $59.99/year. Facebook: OfficialAcornTV – Twitter @AcornTV