Blinky Bill: The Movie on Blu-ray & DVD October 11
This post may contain affiliate links or I may have received the product free in exchange for my honest review. See full disclosure for more information.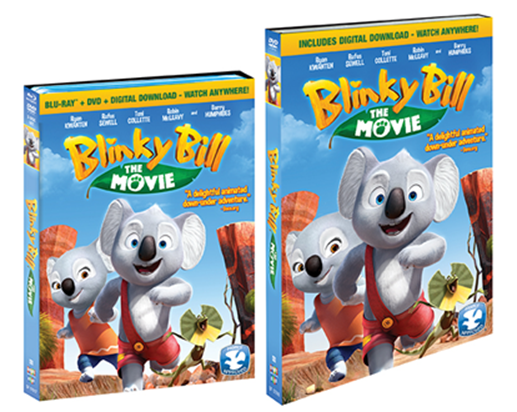 BRING HOME THIS FUN-FILLED MOVIE ADVENTURE ON DVD AND TWO-DISC BLU-RAY™ + DVD COMBO PACK (with Digital Copy) – Available everywhere on OCTOBER 11, 2016 
Get ready to venture across the exotic Australian outback with the world-famous Australian koala Blinky Bill when the highly anticipated animated feature BLINKY BILL: THE MOVIE arrives on two-disc Blu-ray™ + DVD Combo Pack (with digital copy), DVD, iTunes, and VOD  on October 11, 2016 fromShout! Factory Kids. The collectible Blu-ray+ DVD combo pack and DVD set come with bonus content, including music video, behind-the-scene interviews and featurettes!
Blinky Bill (voiced by Ryan Kwanten) is a little koala with a big imagination. An adventurer at heart, he dreams of leaving the little town of Green Patch and following in his missing father's footsteps.  Mr. Bill went missing in the Outback some time ago and Blinky is the only one who believes his father is still alive.  When Blinky discovers a mysterious marker that hints at his dad's whereabouts, he embarks on a journey that takes him beyond the boundary of Green Patch and into the wild and dangerous Outback. He quickly makes friends with Nutsy, a zoo koala, and Jacko, a nervous frill-necked lizard. Pursued relentlessly by a vengeful cat (voiced by Rufus Sewell) who has a personal score to settle with Blinky, the trio must learn to work together if they ever want to survive the rugged Australian landscape and find Blinky's father!
Blinky Bill is one of Australia's most recognized characters and a bona fide icon. The lovable antics of the mischievous koala have captured the hearts of millions since the release of The Adventures of Blinky Bill book series in 1933. In 1992, the first feature film Blinky Bill, The Mischievous Koala was released in major territories. This was followed by several successful TV series and movies which continue to air around the world today.