This post may contain affiliate links or I may have received the product free in exchange for my honest review. See full disclosure for more information.
Do you have a favorite place where you take your guests out to eat? I have a few that I like, but BRAVO! Cucina Italiana is one of the top ones I pick. They have so many choices besides their wonderful pasta, that no one leaves hungry. Let me tell you about my latest visit to the Rookwood Exchange location in Cincinnati, Ohio.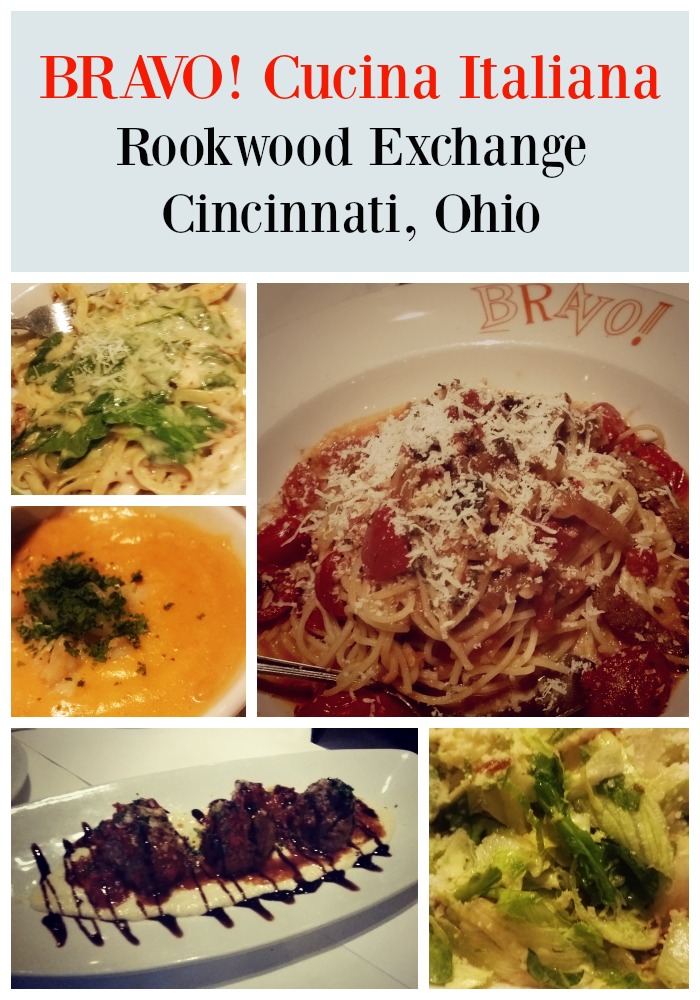 BRAVO! is proud to serve Italian classics with a twist made with authentic old world cooking techniques and the highest-quality ingredients – housemade pasta specialties, pizzas and flatbreads, steaks, chops and seafood. We invite you to come join our atmosphere under a fun, family-friendly Roman ruin decor.
I love Italian food. Whether it's pasta, pizza, seafood, you name it! So when I find a nice place where I can count on getting outstanding dishes, every single time, and get to enjoy the company of my friends, family and guests, then I will keep going back.
Recently, I was invited to the Rookwood Exchange location to sample a few new pasta dishes, created by 3 BRAVO! chefs, as they compete for a trip to Italy! Let me show you what we got to try and what we thought about them.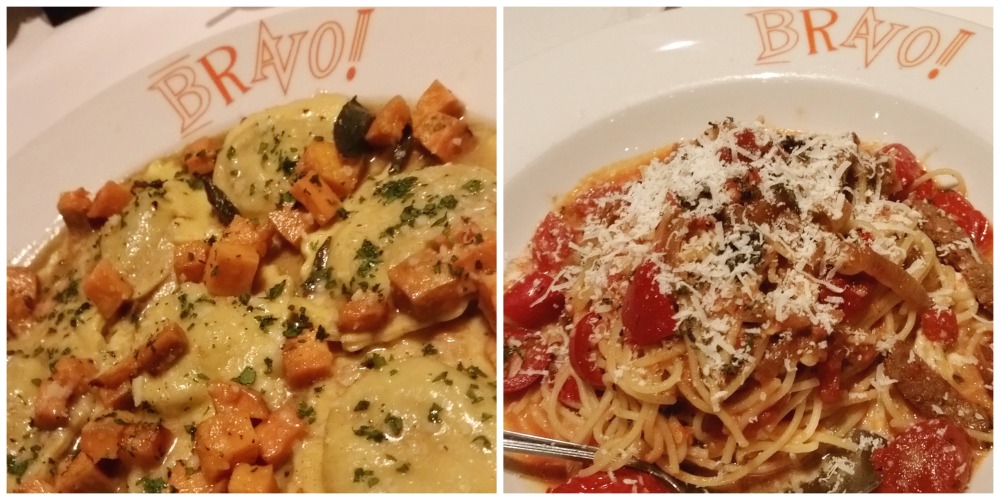 Sausage & Pepper Spaghettini

– Pasta, peppers and sweet Italian sausage. I'd say it was a medium spicy level but I loved the combination of the flavors, along with the basil and tomatoes.

Seafood Pasta

– If you like seafood with your pasta, then this is your dish. Shrimp, calamari, scallops, tomatoes, pasta and more! Plenty spicy but awesome if you love heat in your food.

Shrimp Piccante Spaghettini

– Spaghettini, shrimp, broccoli, and cilantro combined perfectly. A very mild heat, but the shrimp were cooked perfectly and all of the flavors shined through.
Now these are just a few of their dishes so if you want pizza, steak, chicken or a vegetarian plate, you've got it! I love the pizza and how it doesn't have a super thick crust. Plus they have grown-up pizza for those who want more than just cheese or pepperoni.
Speaking of specialty foods, I like the fact that BRAVO! offers children's menus as well as gluten free choices! You have to ask for them from your server but I feel like they try to make sure everyone can enjoy a good meal together, at the same place.
And my 2nd favorite part of the meal? The appetizers and desserts of course! Along with the terrific pasta dishes we tried, we also tried a few starter dishes and a number of sweet treats. From fried ravioli and a brussel sprout & almond salad, to lobster bisque and their awesome house bread and dipping sauce, you won't go home hungry (trust me).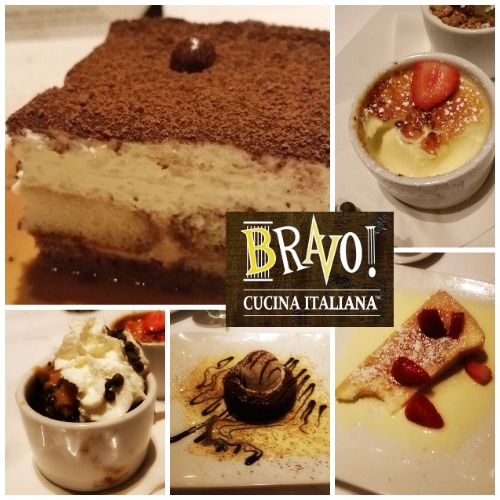 Did I mention the desserts? We enjoyed their cheesecake, chocolate lava cake, peanut butter brownie, tiramisu and vanilla creme brulee. You can't go wrong with any of their treats and they just put a delicious finishing touch on an outstanding meal.
So be sure to find your local BRAVO! Cucina Italiana to taste their chef's pasta dishes, steak, seafood, starters and desserts. And if you follow them on Facebook and Twitter, you'll learn about their latest news and current specials.