Breathe Easier with an AirFree Air Purifier #MegaChristmas19
This post may contain affiliate links or I may have received the product free in exchange for my honest review. See full disclosure for more information.
The winter season brings on so many viruses, and if you suffer from asthma you know that you want to make sure that you are breathing in the freshest air you can get. With using an air purifier it will help wipe out all those microorganisms out of the air. This will make for a great gift for the holidays for anyone!
Airfree  is the natural solution to asthma, respiratory allergies and mold. Eliminates dust mites, bacteria, fungi, virus, pollen, allergens of domestic animals and other microorganisms from the air. This patented Thermodynamic TSS Technology destroys mold, dust mites, bacteria, viruses, pollens, pet dander, tobacco and other organic allergens.
Airfree also reduces indoor harmful ozone levels. It is perfect for mold contaminated areas as well as asthma and allergy sufferers.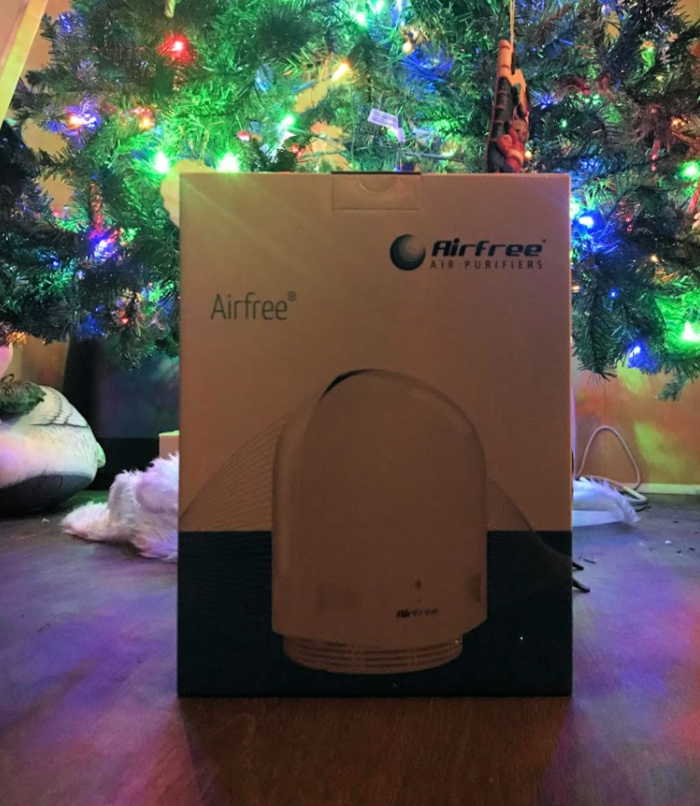 About Airfree:
Airfree's mission is to combine the best technology and design, to turn our clients' needs into innovative solutions for indoor atmospheres, whether for health reasons, comfort or to increase productivity. The technology began being developed thanks to the initiative and creativity of a Portuguese businessman in an effort to find an effective way to ease his son's allergy attacks. After successful testing at the INETI microbiological laboratory in Portugal, large-scale production of the devices began to take shape so that more families worldwide could be able to enjoy the benefits of a simple, effective concept. 

In 2004, after a few adjustments had been made to improve electronics and capacity, Airfree was born. This was marked by the launch of its P air purifier range, attractive and modern in design. Since then, Airfree has continued to grow, manufacturing a variety of models of air purifiers in Europe, intended for use not only in the home but also geared towards trade and industry. For more information please visit www.airfree.com.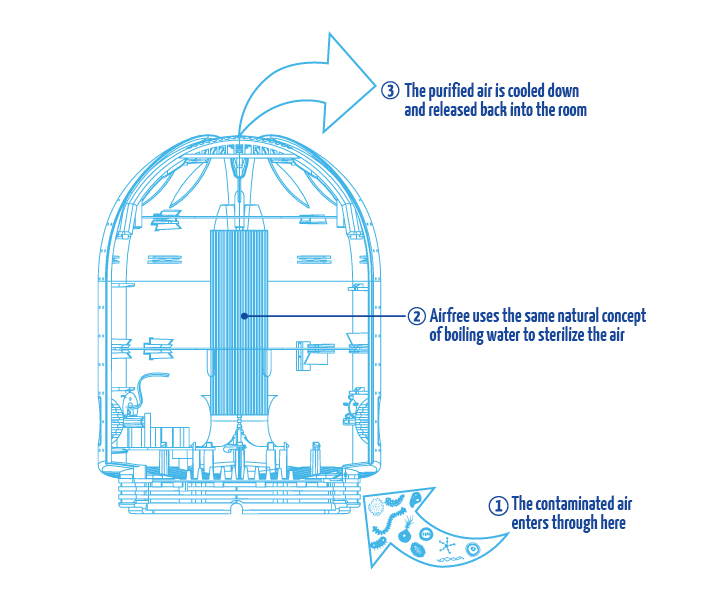 Airfree Air Purifiers reduce microbiological contamination in the air naturally, without using chemicals or filters.  Airfree's exclusive technology works by eliminating microorganisms as bacteria, viruses, mold, dust mist allergens, pet dander allergens, using heat, destroying them in a fraction of a second. Depending on the model, between 14,000 and 20,000 liters of air pass through the Airfree device every hour, treating all the air in the room in a very short space of time. The process works in much the same way as sterilizing water by boiling it; when water is boiled, the microorganisms it contains are eliminated.
Airfree continually draws in air from the room, heating it to over 400 ºF and instantly sterilizing it. The purified air is then cooled inside the device before being returned to the room. The entire process is completely silent and requires no maintenance, not even the occasional replacement of parts. All you have to do is switch the device on and leave it on to perform the task.
The Iris 3000 standalone model is recommended for rooms up to 650sqft., weighs only 3.3 pounds, is guaranteed for 2 years, has a low energy consumption of 51 watts, uses 120 volts of electricity and offers users exclusive multicolor light option.
You can purchase your new Airfree purifier from Amazon, Bed Bath & Beyond, or Home Depot.
Stay socially connected with Airfree for all their latest products:
________________________________________________________________________________________________
We have added Airfree Purifiers to our 2019 Holiday Gift Guide