This post may contain affiliate links or I may have received the product free in exchange for my honest review. See full disclosure for more information.

Card.com offers great prepaid cards in dozens of designs that you can choose from. It is simple to get the card up and no credit check is required to obtain this card.  You simply pre-load it with the amount(s) of money onto your card and spend as needed.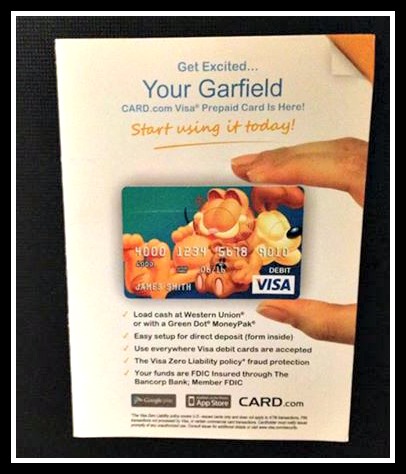 This is a debit card, similar to your bank, and you can use it EVERYWHERE Visa is accepted.  The best part is that you can get really cute or
cool designs
on your card and customize it to your personality.
Card.com features include:
Free to order, activate and load

Free app and check deposits from your smartphone

Free direct deposit

Free card-to-card transfers, any time, anywhere, in seconds

No overdraft fees — never goes negative!

Safer than cash – 24/7 support, Visa fraud protection and 100% FDIC insurance on funds

No debt, financially responsible, no interest/credit/APRs

No credit check and approval in seconds

22,000 in-network ATMs

Thousands of cool, unique card designs to choose from, including brands like: Garfield, Popeye, Betty Paige, James Dean, Care Bears, Walking Dead, Star Trek, Autism Awareness, Breast Cancer Research, Shark Week, Where's Waldo, Doodle Jump, THree Stooges, Nancy Drew, etc.
I found this card very simple to obtain and use.  Dining in a local restaurant, I was able to use the card with ease and no complications whatsoever.  The card purchase was approved and we even left a tip using the card.
I have a teenager who will be heading off to college in a year.  This card will be perfect for her when she is away.  I can load as much as I need to for her on here and she can make the purchases she needs.  Being a new, young adult with no credit, this is the perfect answer to allow her to get the things she needs without any credit checks.  I also like that she can't "spend what she doesn't have" like a credit card line of credit would allow.  This card allows you to spend whatever you add to it.
This card is not a gift card, so you can't give or receive the card as a gift – It's better than a gift card because you don't just use it once and toss it, but instead get to reuse it over and over again and spend what you need and not incur a large debt.
It is free for 30 days, a then $5.95 monthly fee.  If you have distressed credit or no credit, this card is perfect.  The monthly fee is waived when you direct deposit over $800 in the previous 30 days.  This fee is the same as the Walmart prepaid card and way less than many of it's competitors. It's also much less than overdrafting your bank account, paying for a checking account or using a credit card.
Be sure to stay connected with Card.com on social media:
Disclaimer: I received a pre-loaded card as a member of Sverve and thanks to Card.com.  Regardless, all opinions are 100% my own.