Celebrate National Healthy Aging Month with Superior Source Vitamins #SuperiorSource
This post may contain affiliate links or I may have received the product free in exchange for my honest review. See full disclosure for more information.
There is always something to be said about aging. But, getting older does not mean you can't live a healthy and full life. We can help ourselves age gracefully and, most importantly, healthy by practicing a healthy lifestyle. However, eating right and working in a little exercise may not be enough. Adding supplements to our daily regimen can help boost our health and immune systems and help us get the nutrients we may be needing. That is where Superior Source Vitamins can help! This year, why not celebrate National Healthy Aging Month by adding Superior Source to your daily regimen?!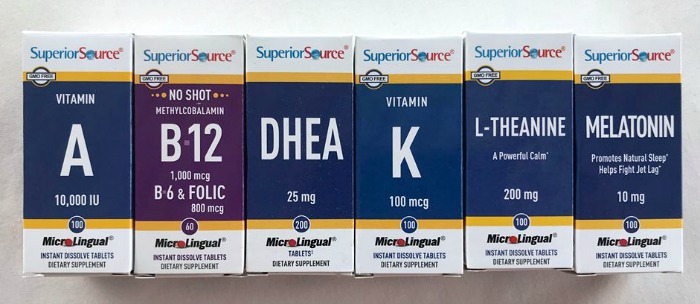 Super Source Vitamins are a must-have for keeping yourself in tip-top shape! We may not can erase the years, but we can fight against it by staying as healthy as possible! Superior Source Vitamins are easy to take, as there is NO pills to swallow. Read on to learn more and check out the FREE offers from Superior Source!
Superior Source Vitamins are MicroLingual® – "Under the Tongue Technology". They work fast and are quickly absorbed into the body, dissolving in seconds – NO pills to swallow! Supplements that are swallowed lose as much as 50% of the potency in the high acid environment of the stomach.
No pills to swallow
GMO FREE and Sugar FREE
90% smaller than regular vitamins
No chemical binders or fillers
Celebrate National Healthy Aging Month with the help of Superior Source Vitamins!
Let's look at the GREAT lineup of vitamins to keep you aging healthy!
DHEA
DHEA is a natural precursor to testosterone and estrogen and may support sexual energy and vitality. It also promotes bone strength. DHEA levels naturally decline with age, making Superior Source DHEA an excellent choice for supplementing this important hormone.
Vitamin K
Vitamin K is needed for normal blood clotting, as it is necessary in the formation of prothrombin.
Melatonin
Melatonin acts as a natural aid for healthy sleep regulation and the promotion of normal sleep cycles during travel. Chamomile is an herb that works together with melatonin to promote calmness and restfulness.
Vitamin A
Vitamin A supports eye health and the maintenance of healthy skin, teeth, and the surface linings for the respiratory, urinary and intestinal tracts. It also plays a vital role in the promotion of immune system health. GMO-Free!
Vitamin B12 w/ B6 & Folic Acid
The combination of Vitamin B-12, Vitamin B-6 and Folic Acid works synergistically to support healthy heart function and provide essential nutrients for the cardiovascular system. Other forms of Vitamin B-12 supplementation can result in a loss of as much as 50% of Vitamin B-12 potency in the high acid environment of the stomach.
L-Theanine
L-Theanine is an amino acid that is found in tea leaves. It was identified in tea by Japanese scientists in 1949. While tea is the most common dietary source for L-Theanine, this compound is also found in some types of mushrooms. L-Theanine promotes relaxation and facilitates sleep by contributing to a number of changes in the brain. L-Theanine elevates levels of GABA, as well as serotonin and dopamine. These chemicals are known as neurotransmitters, and they work in the brain to regulate emotions, mood, concentration, alertness, and sleep, as well as appetite, energy, and other cognitive skills. Increasing levels of these calming brain chemicals promote relaxation and can help with sleep.
Where can you find Superior Source Vitamins & Supplements
Celebrate National Healthy Aging Month with Superior Source MicroLingual® supplements! You can find these MicroLingual® vitamins and all Superior Source Vitamins at major retailers. Use their handy store locator tool to find a store near you. Or, you can purchase from online retailers!
Superior Source Vitamins.
Want a chance to try Superior Source Vitamins for FREE?
If you love "try before you buy", now is your chance! Take advantage of Superior Source's fabulous promotional offers! Simply like the Superior Source Facebook page and you can try these amazing vitamins free!
Connect socially with Superior Source