Chris Pratt on Guardians & Being "Starlord" Peter Quill #GuardiansoftheGalaxyEvent
This post may contain affiliate links or I may have received the product free in exchange for my honest review. See full disclosure for more information.
As part of my media coverage for Marvel's Guardians of the Galaxy, I had the chance to interview Chris Pratt for his role as, "Starlord" Peter Quill, in the upcoming summer blockbuster (in theaters 8/1/14).  Myself and a group of mom & dad bloggers sat down with Chris and talk more candidly with him about his role in the movie, upcoming projects and the what it was like to be the face of a new franchise.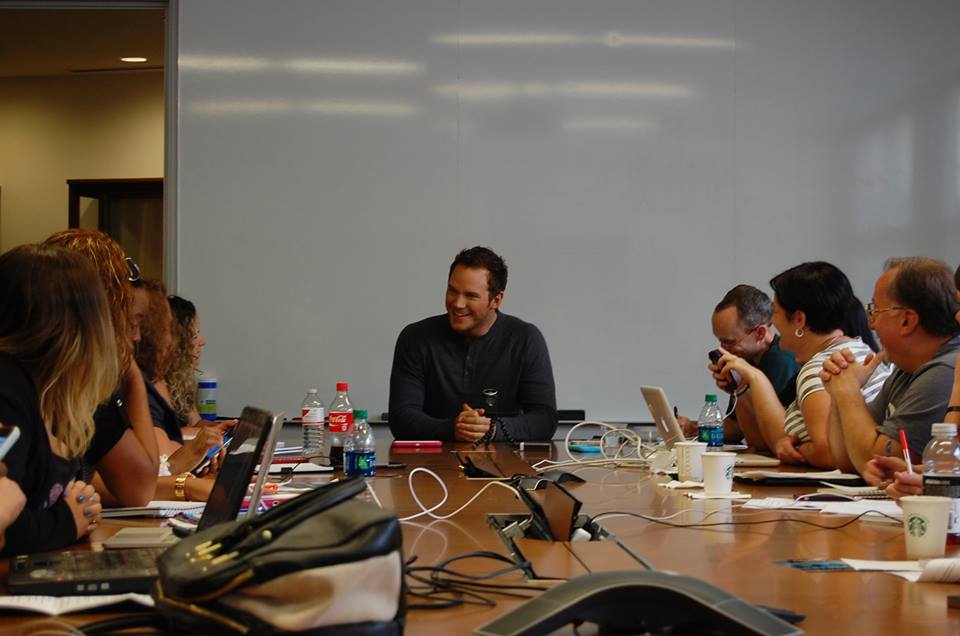 Chris walked in so casually and sat right down.  He started chatting us up and felt so at ease and comfortable talking with this small group of mommy (& daddy) bloggers.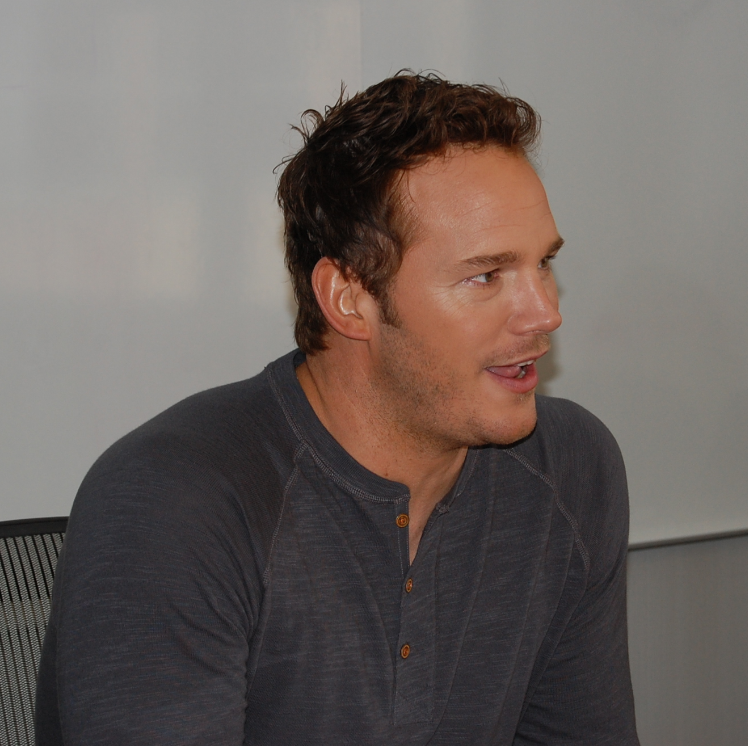 When asked how he really got involved in this movie and how he inevitably landed the role of Peter Quill, Chris responded:
"Ooh well I got involved early- probably like let's see, January (2013) when I auditioned, but, the year after I shot Zero Dark Thirty"
He further discussed the weight loss "roller coaster" be had been on nearly all the time, due to conflicting roles,but really wanted to lean towards the action roles and was ready to get into shape to tackle being the new face of a Marvel Empire! When asked if he felt any pressure about being the new face of a franchise versus an existing one (Jurassic World).  Chris was very candid and said:
"Oh, um, I guess if I was smart, I would feel pressure on both of them, but I kind of don't."  
It was really a nice element for me to hear him say this, as he was a really down-to-earth guy and loving the movie, but didn't let it seem to overwhelm or empower him in a way some can get. 
We all learned that Chris was a collector of comic books himself as a kid and really enjoyed the artsy element of them rather than the actual story line.  Noting that he came from a very artistic family and his passion for colors and drawing, he was drawn more to the graphics of comics.  He even told us that he once won $300 at Bingo with his mother and spent all of it on comics!  He had a diverse collection but really enjoyed the Punisher 2099 most of all.
What I liked most about my interview with Chris was how he described, in detail, his most memorable moment on shooting the movie: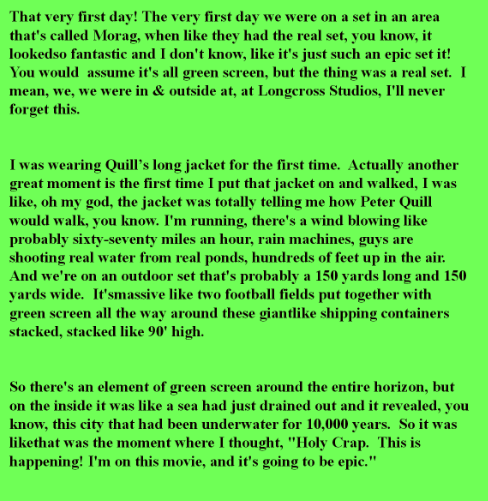 I really must say, Chris Pratt was such a fun, humbled guy and was really a pleasure talking with him.  We talked a bit more in detail about the fight scenes.  OH THE FIGHT SCENES!  Now let me preface this by saying you will not understand how intense and amazing the fight scenes really are until you SEE THIS MOVIE!!!  
Well, again, when asked how much training he did for those amazing fight scenes, he quickly replied with:
"Oh the fight scenes were pretty intensive, I mean, we had about six weeks of rehearsal before we even started shooting in London and we did stunt rehearsals every single day. A big part of that was learning, training, refining the fight scenes.  We would learn a fight scene for a couple of weeks and then it would end up changing, and we'd learn it again. I secretly think it was like a way for them to get me to lose even more weight, they're like, "Hey, Chris, even more stunt rehearsal, can you believe it this stunt is you running on a treadmill." We did a ton of training."
Guardians of the Galaxy has an incredible soundtrack and Chris' favorite song really was "O-H-H Child" by the The Five Stairsteps.  He noted that he would listen to the soundtrack to during training and workouts to get him "into the role" and motivated, but like most people who listen to the same songs over and over, he got weary of them towards the end of shooting.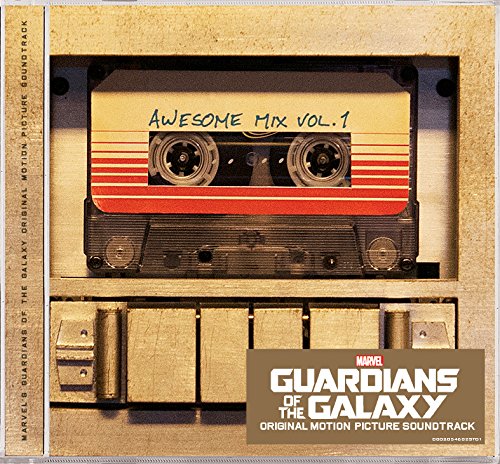 At the end of the interview, Chris was happy to pose with all of us for a fun group photo (that is me on his right)! All in all, this was one of my favorite interviews as Chris Pratt seemed like a guy fortunate enough to land the roll of a lifetime, but remained really grounded, focused and humble.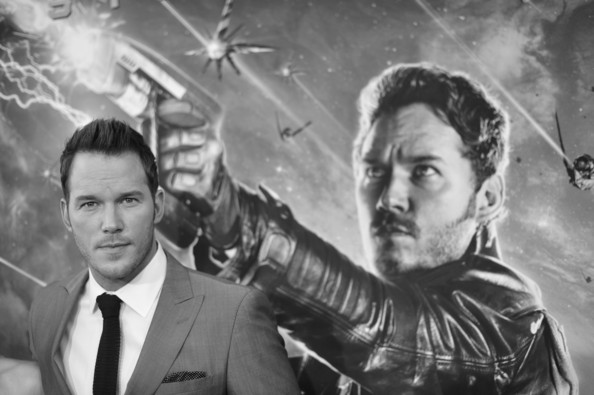 Remember to get social with GUARDIANS OF THE GALAXY 
and be sure to use #GuardiansoftheGalaxyEvent
GUARDIANS OF THE GALAXY opens in theaters everywhere on August 1st!
Disclosure: I was provided with an all-expense paid trip as part of a press Junket with Marvel to cover this and all Guardians of the Galaxy media.