CiPU Baby Diaper Bag Giveaway!
This post may contain affiliate links or I may have received the product free in exchange for my honest review. See full disclosure for more information.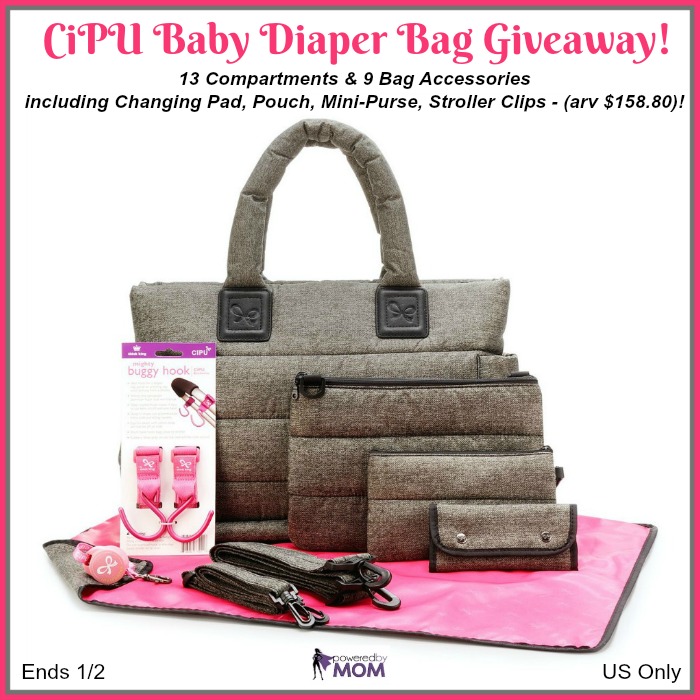 Sponsored by CiPU and Hosted by Powered by Mom
Leaving the house with a baby can sometimes feel like you are moving! The struggle is real! However, the right diaper bag can make all the difference in the world! Let us introduce you to the fabulous CiPU Baby Diaper Bag! With all the roomy compartments and accessories, it is like a dream come true! Check it out below and then we are excited to bring you an amazing giveaway for a chance to win your very own!
About CiPU
CiPU knows that being a mom is one of the best adventures we can have. And while we love to go out with our babies, we always end up with a dilemma of either bringing one heavy large bag or several small bags to keep all our babies stuff together. This always ends up a mess, leaving us struggling to keep these bags together while carrying our baby and worrying which part of the bag have the bottles gone in. That's why they came up with this perfect solution–a diaper bag made from a lightweight water-repellent material with 14 wide compartments to keep all your things together and organized!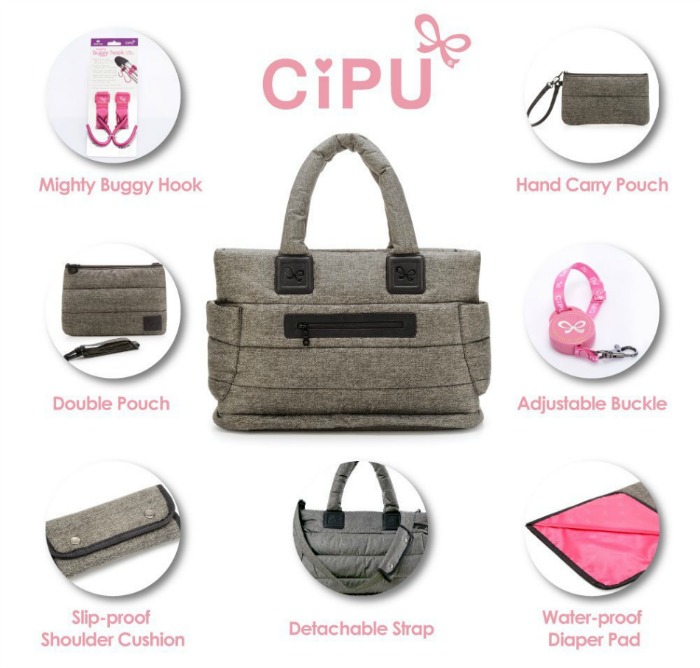 About the CiPU Baby Diaper Bag
Stylish functionality, lightweight material, plenty of compartments, and a spacious interior make the CiPU Diaper Bag the perfect companion for baby and parents on the go. And, it's easy to clean! With the choice of no-slip shoulder straps or an easy carrying handle, this is the only diaper bag you'll ever need for grab-and-go convenience. The grey color is perfect and for organization there is a large interior pocket which includes separate storage compartments and zip-close pockets to safely and simply store baby's toys, burp clothes, and extra changes of clothes. As if that weren't enough, it also includes multiple fashionable exterior zippered compartments, insulated bottle pockets, and a wipe dispenser so you have quick access to the items you need the most.

The CiPU Diaper Bag has SGS Certification and EU RoHS Certification, which guarantees that the bag is compliant with national and international regulations and standards, meaning no hazard substances and the highest production quality. When it's time for a diaper change, the portable changing pad makes it easy to keep baby dry and happy no matter where your adventure may take you. Zippered interior and exterior pockets keep your keys, cell phones, and wallets safe and secure.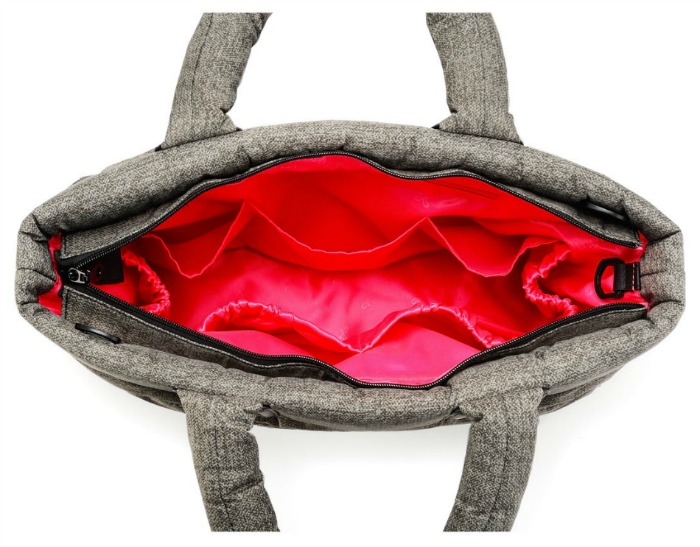 CiPU Baby Diaper Bag Features in a nutshell:
An optional cross body, adjustable detachable strap…so versatile!
Two elasticized mesh pockets inside fit most bottles!…Keep it warm or cold? Sure!
A secret compartment on the bottom of the bag, keep baby's dirty clothes and shoes away from clean necessities…bye-bye mess!
The main compartment has zip closure…Keeping everything inside safe and dry.
A stylish double-pocket pouch and a handy carrying pouch, you can store your necessities from all of the baby's important things…That totally matches your dress! (SIZE M has only hand carrying pouch, but still works just perfect!)
Special sturdy and slip-proof handle…The bag will always stay on your shoulder! (SIZE M not include)
An adjustable buckle makes your essentials, keys and favorite baby toys, effortlessly handy…never lose your keys!
A pair of aluminum stroller clips bears everything off the bag as you hang it from strollers and car handles…We don't trust any of the cheap plastic stuff! (SIZE M not include)
Changing pad included…Make a quick diaper change trip! (SIZE M not include)
It's no wonder that the new CiPU Baby Diaper Bag is a Powered by Mom Holiday Gift Guide Pick!
ENTER TO WIN!
One lucky reader will win their very own
CiPU Baby Diaper Bag (arv $158.80)!
Giveaway ends 1/2/17 at 11:59 pm ET! Open to US residents 18+ and older.
Enter using the Giveaway form below.
Be sure to return tomorrow to complete the daily entries!
Good Luck!