Coupon Ethics: Coupon BarCode Decoding
This post may contain affiliate links or I may have received the product free in exchange for my honest review. See full disclosure for more information.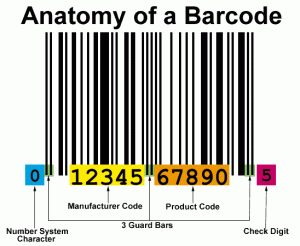 This is an Awesome Article written by Mindi over at Moms Need to Know….
Back when I was a child (when dinosaurs roamed the Earth), coupons had no expiration date, groceries were individually priced and everything had to be done  (including the redemption of coupons) by a cashier manually.  Then they started doing everything by UPC codes and people have been trying to figure out new ways to scam the system ever since!
First things first:   BarCodes are pretty standard:
The first 5 digits of the bar code are the manufacturer ID
The next 3 numbers are the "family" code
The last 2 numbers are the value code
So what is "BarCode Decoding"?  Simply put, it is deciphering the bar code on a coupon to see if it will work on different (preferably less expensive) items.
Those who decode coupons will match up the first 5 numbers with other products made by the same manufacturer, thus enabling them (in many cases) to take advantage of a "glitch" in the bar code that will allow the use of a coupon on an item other than what is described on the coupon.
Why is this wrong?
Despite what many people think, the bar code is not the intent of the coupon.  The bar code is merely a way to speed up the processing of the coupon.  The coupon is based on the wording of the coupon; the text is the "offer".  If the wording of a coupon is "$1 off Product X", then the coupon should only be used for "Product X" even if a glitch in the coupon will allow it to be used for "Product Y".  Similarly, if the wording of the coupon is "$.50 off 4″ and a glitch in the value code will allow it to be used for only 2 items, then it is still wrong to use it on only 2 items.
In a nutshell:  no matter what the bar code says, it is the text of the coupon that is the offer. Taking advantage of a glitch in the bar code to get around the text of the coupon is fraud.  It's not fraud on the level of your Bernie Madoffs of the world, but it is still fraud nonetheless.
All that being said, there is some confusion as to what is and isn't bar code decoding.
You can read the rest of this article over at Moms Need to Know………Thanks!