CraveRight Cookies Guest Giveaway ~~ YUM!!! (Ends 1/13/14)
This post may contain affiliate links or I may have received the product free in exchange for my honest review. See full disclosure for more information.
CraveRight Review and Giveaway
I was contacted by CraveRight to try some new flour less cookies that are gluten-free, dairy-free, soy-free, nut-free, corn-free and egg-free! I thought to myself how can a cookie without any of those even taste good? So I had to check it out for myself!
CraveRight makes 3 varieties of cookies that are packaged individually in Cookie Packs that contain 6 cookies. The varieties they have available are Brownie Chocolate Chip, Sesame and Chocolate Chip. They also make individual Jumbo Singles and Mini Packs. These cookies are also Vegan and 100% Kosher certified! These cookies are available in Whole Foods stores in Va, MD, NY, NJ, Washington DC, CT, PA, OH and KY and other east coast independent health food stores. You can also order them online.
This is what CraveRight says about their cookies:
"we source and minimally process (without chemicals!) only the finest ingredients from the earth closest to their natural states, our cookies are free of contaminants. To ensure the pristine nature of our cookies, we bake and prepare them in a dedicated gluten-and nut-free environment so you never need to worry cross-contamination. Each cookie we create is rich in antioxidants, and packed with essential amino acids. But the wholesome goodness doesn't stop there. Our cookies do not contain empty-calorie ingredients; there are no flours, starches or fillers in our cookies; every ounce propels you forward without weighing you down."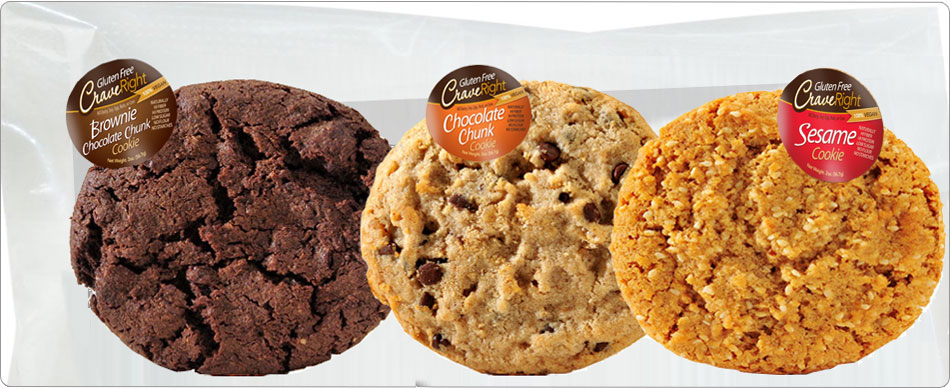 My husband and I tried one of each and I was amazed how yummy they were! The Chocolate Chip were my favorite and the Sesame was my husbands favorite. The Brownie Chocolate Chip were very chocolatey and dense. The sesame crumbled a bit more than the others but if you love Sesame then you will love these cookies! I love the fact that each cookie is individually wrapped inside the Cookie Pack! I will taking the rest of the cookies to Florida this month where my grandchildren and I will be playing! With my grandson having dairy, soy, nut and egg allergies it will be so nice to have some "good for you cookies" he can eat and snack on!
CraveRight is a very small husband and wife team dedicated to cooking crave-worthy cookies that don't sabotage wellness goals! And they are offering to one lucky reader a sampling of their cookies! One reader will receive 3 Cookie Packs! 6 Brownie Chocolate Chip, 6 Sesame and 6 Chocolate Chip Cookies!
This giveaway is open to the US only and ends Monday January 13 at 12AM EST
Enter on the Rafflecopter below: