Creators Dan Povenmire and "Swampy" Marsh Speak Lovingly of Phineas and Ferb Series Finale
This post may contain affiliate links or I may have received the product free in exchange for my honest review. See full disclosure for more information.
For years, these dynamic brothers have brought joy and laughter in to the homes and hearts of millions.  The creators of Phineas and Ferb have poured their heart and souls into this mad-cap cartoon and that feeling really resonated in their loving talk about the show.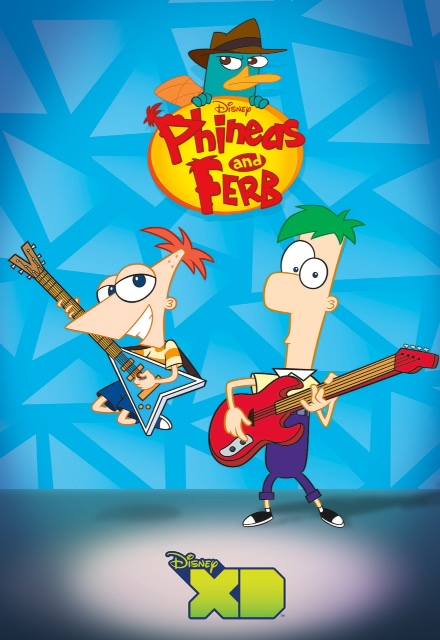 I recently sat down with Dan Povenmire and Jeff "Swampy" Marsh to discuss the final episode of Phineas and Ferb, Last Day of Summer. To say that it was their job is truly an understatement.  Phineas and Ferb WERE Dan and Jeff in many ways.  Bringing entertainment, laughter and the lighter side of learning to homes everywhere is just what Dan and Jeff set out to do.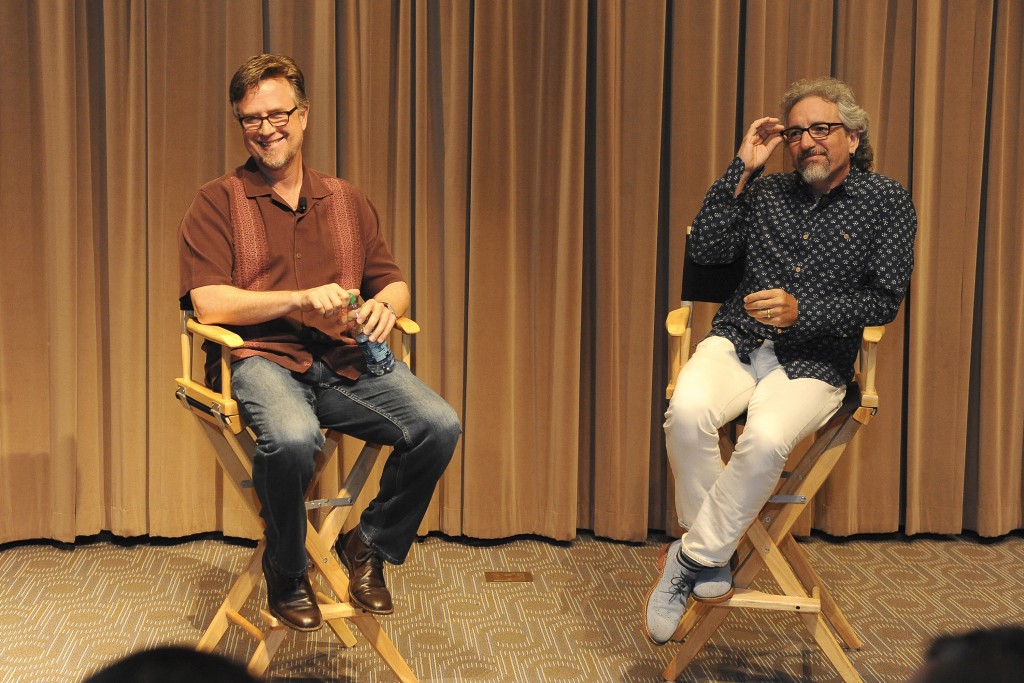 Photo Credit: Disney XD/Valerie Macon
Phineas and Ferb has aired on Disney Channel longer than any other animated series of its type.  What most don't know is that this dynamic, creative duo have been working side by side for over 2 decades and created their character's before most of today's fans were born.  Starting in 1990, the pair created the crazy combo of science loving brothers.  They pitched the idea to various networks and companies until it was finally picked by by Disney Channel in 2006.  Since the first show aired in 2007, the smart step-brothers have brought science and education to the forefront and really engaged children everywhere, which is what Dan and Jeff loved most.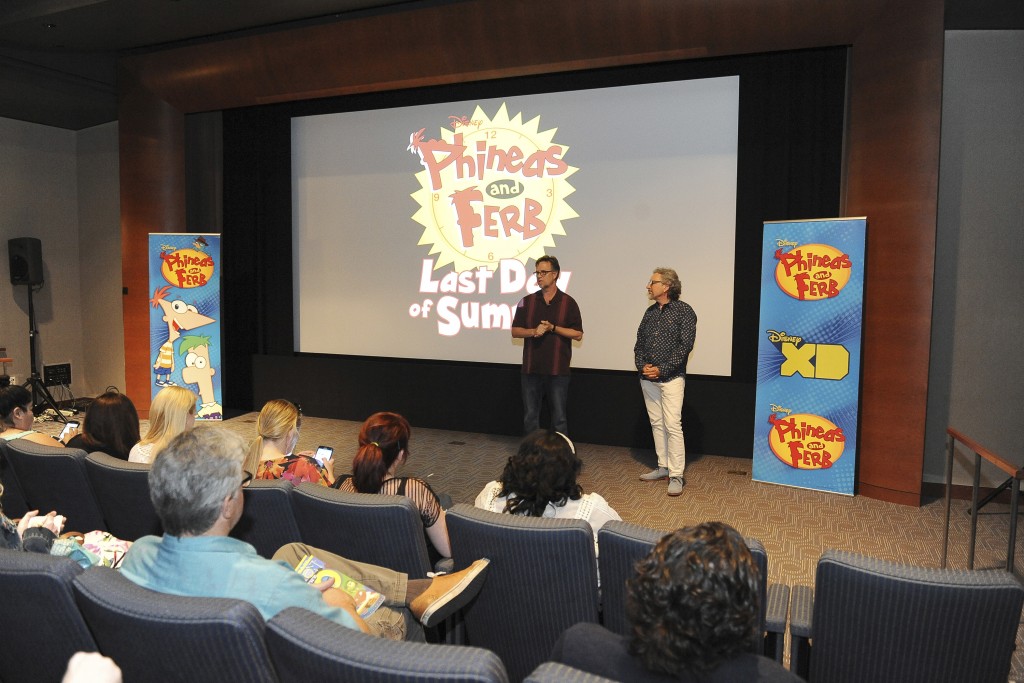 Photo Credit: Disney XD/Valerie Macon
Dan and Jeff got candid and emotional when talking about their creation.  When the time had come for their show contract to end, they really wanted to give the show the finale that it deserved.  Dan and Jeff commented that not many animated series get to have a true finale and when received the go-ahead, they put a lot of thought and love into how to bring this amazing series to an end. The true emotion and love of this show is well-seen in the finale.  It is the "Last Day of Summer" and what the crew is in store for is truly amazing.
Photo Credit: Disney XD/Valerie Macon
We did ask them what the future holds for them as a creative duo and they stated they have already started working on a new project, Mikey Murphy's Law, and it is currently in the works of being picked up for a new series.  When asked if we will ever see Phineas and Ferb make a special appearance somewhere or even a movie, Swampy replied "Never say never!"
The best part about my time with Dan and Swampy is that they really, truly connect with their fans. They read what fans write, they relate to what they say and they emotionally take to heart each and every kind word and story they are told.  From helping someone get through severe PTSD to sick little ones, Phineas and Ferb have changed the hearts and minds of millions of fans around the world.  Jeff and Swampy were both emotional and weepy with each story of how their creation has shaped and helped so many lives.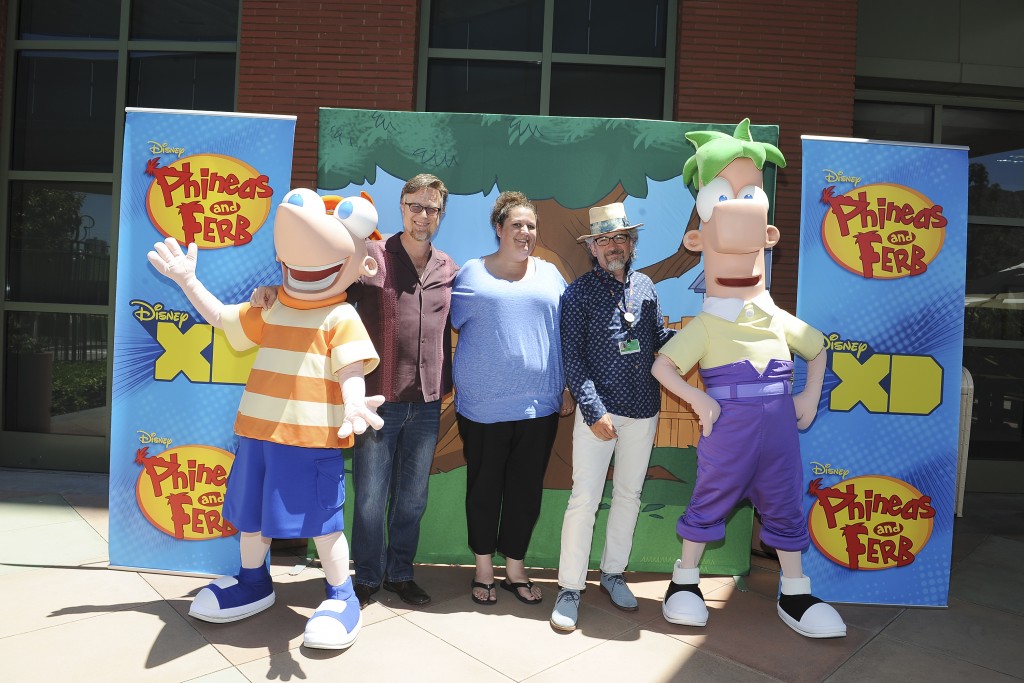 Photo Credit: Disney XD/Valerie Macon
Once we were through chatting with them and watching the finale episode, we had the chance to have a beautiful outdoor picnic lunch with Dan and Swampy, where the conversation continued.  I showed Swampy that one fan of theirs called them "Legends" on Twitter and he became very humbled and emotional.  He noted that being seen as a "legend" in the animation creative world is something he never dreamed would happened, and is truly honored so many people love them and their work.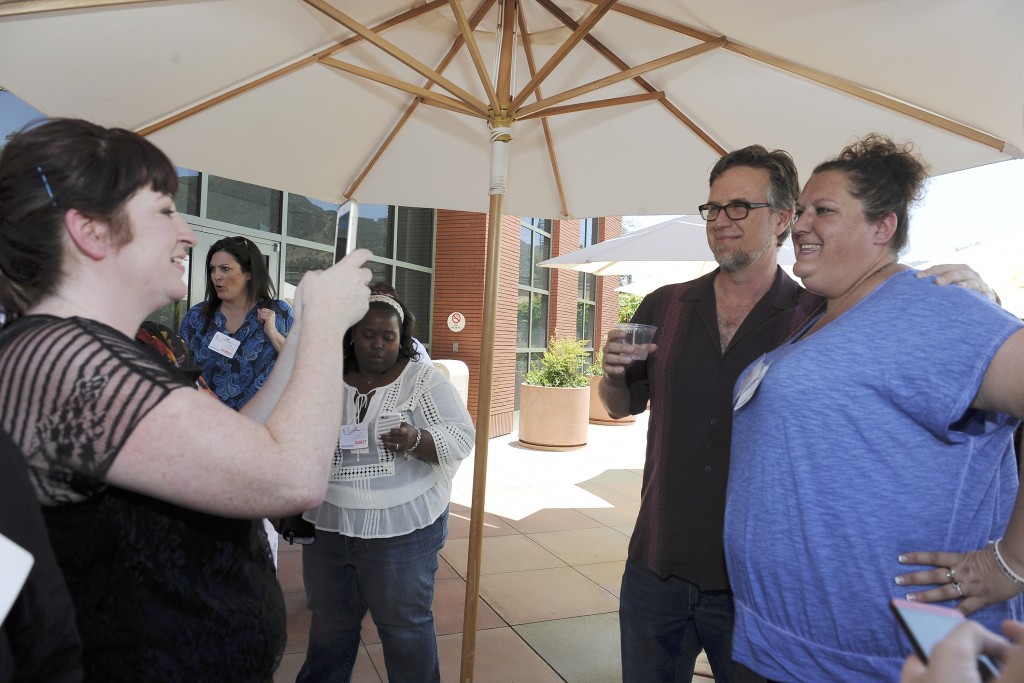 Photo Credits: Disney XD/Valerie Macon
While I won't tell you all that happened in the final episode, I will tell you that it is a MUST-SEE for your entire family.  You will laugh, you will cry as a legendary series comes to an end and you will want to watch it again and again.
The summer season is coming to a close and it's Candace's last chance to bust her brothers. She is quickly foiled, but is presented with an opportunity to redo the day when she sets off Dr. Doofenshmirtz's Do-Over-Inator, which results in other consequences like rips in the space-time continuum, the shortening of days and the disappearance of her brothers.
The one-hour special, Phineas and Ferb "Last Day of Summer" airs on Disney Channel on Friday, June 12th at 10 PM ET.  (Rated TV-G/viewable for all ages).
Want to know how the "Last Day of Summer" turns out?  Be sure to tune in with the whole family to find out!