Enjoy Easter Fun with Calico Critters
This post may contain affiliate links or I may have received the product free in exchange for my honest review. See full disclosure for more information.
Calico Critters has released some very cute new items for Easter to add to your growing collection. These cute sets and surprise bags would make great items to place in that Easter basket this year for that special collector. They do not disappoint with the quality and cuteness of the designs of these pieces. Collect them all!
Calico Critters have delighted children around the world with their beautiful, richly detailed animal figures that live like humans with a focus on "Nature, Family, and Love".
Calico Critters is a unique and adorable range of distinctive animal characters with charming and beautifully detailed homes, furniture and accessories. They live, work and play in an idyllic and wonderful place called Calico Village. These timeless, classic toys promote wholesome family values.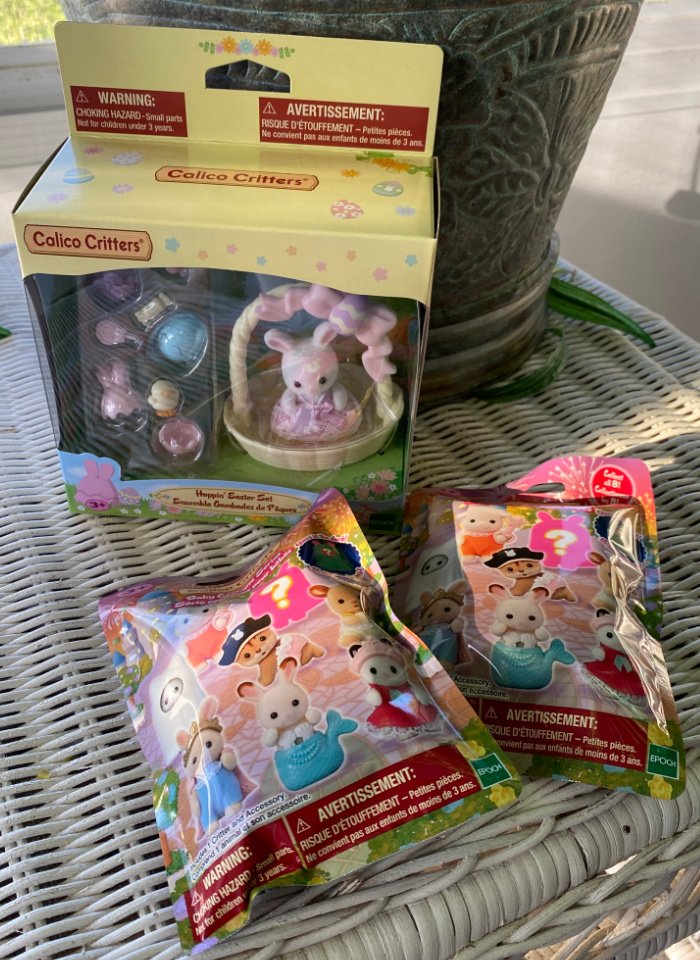 About Calico Critters:
Calico Critters of Calico Village are timeless, classic toys that delight children and promote wholesome family values. These award-winning miniature animals and their life-like environments have inspired the imagination and creativity of countless children all over the world.

Calico Critters is a line of miniature animal figures, with homes, furniture and accessories. The animal figures are unique because they are made of a special flocked material that gives them an endearing quality. They were introduced in Japan in 1985 and are distributed worldwide. Calico Critters are sold as families, with Mothers and Fathers, sisters, brothers and babies. The homes and furniture are quite life-like are have incredible detail. The Critters live in the community of Calico Village. All the citizens in Calico Village have hobbies and jobs. The underlying theme is giving, friendship and happiness. Calico Critters are wholesome, never trendy.
The Hoppin' Easter Set comes with a posable Snow Bunny Rabbit Baby figurine dressed in her Easter best elegant dress! Included are 11 different Easter themed accessories including eggs, candy, chick, and a large basket, perfect for any spring celebration!
Snow Rabbit Baby, Basket, Rabbit egg (top), Rabbit egg (bottom), Egg (blue, top), Egg (blue, bottom) Egg (purple, top), Egg (purple, bottom), Candy A, Candy B, Candy C, Chick figure (a total of 12 pieces)
*Seasonal exclusive product.
*Set includes the Snow Rabbit Baby, a big basket, Easter eggs, and an accessory.
*Enjoy Easter egg hunts.
*Stimulates imaginative role-playing by children.
*Suitable for ages three years and above.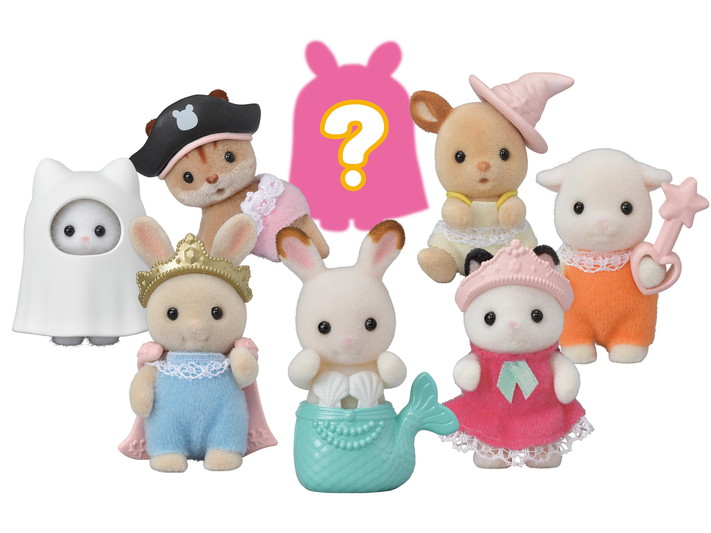 Baby Costume Collectible series includes eight adorably posable standing, sitting or crawling baby figures, each with their own costume or dress up accessory. Collect all eight and a ninth "secret" critter with a secret style!
Hopscotch Rabbit baby and mermaid costume, Hazelnut Chipmunk baby and pirate hat, Tuxedo Cat baby (princess costume) and tiara, Sweetpea Rabbit baby and crown & cape, Brightfield Goat baby and fairy wand, Buckley Deer baby and witch's hat, Persian Cat cradled baby and ghost costume, Secret (a total of 2~3 parts each)
*This product is a surprise bag with a baby figure and a fun costume in it.
*Each bag contains one baby figure.
*Eight different types, including one secret type.
*Stimulates imaginative role-playing by children.
*Suitable for ages three years and above.
You can purchase Calico Critters products on Epoch Everlasting Play's Website and Amazon.
Stay socially connected with Calico Critters for all their latest product releases: