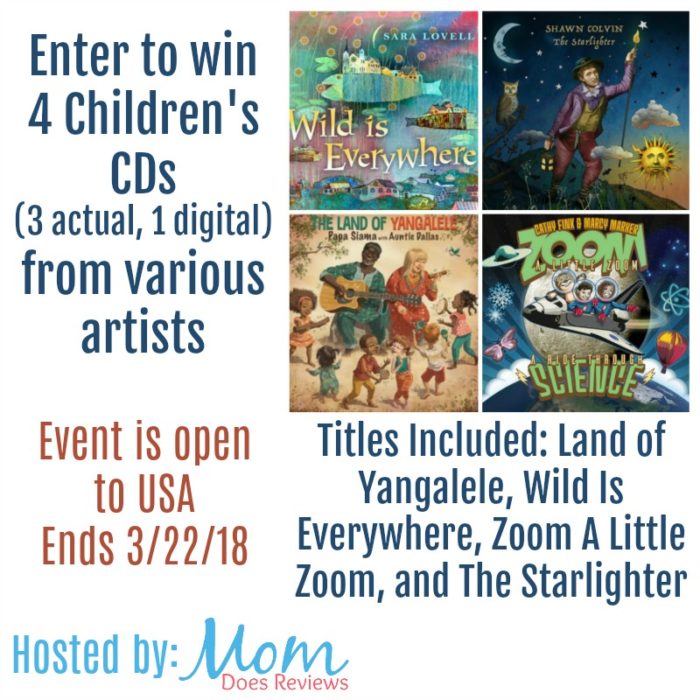 This giveaway is sponsored by Sugar Mountain PR and hosted by Mom Does Reviews.
About the prize:
Land of Yangalele
Siama has a brand new kids' CD. These new songs, inspired by traditional Congolese music and rumba, will take you on a journey to, "The Land of Yangalele". (Yawn-gah-LAY-lay = Happiness in Kikongo)
Zoom a Little Zoom
Great music comes first with the "Constellation Jig", a Klezmer treatment to the hibernating "Bobo the Bear" and western swing of "Why Does the Sun Shine?". Boogie-woogie to "What Makes the Lightning?" or learn how to sound like a cricket with "What Is An Insect?"
The Starlighter
The latest release from Shawn Colvin is The Starlighter, a new album of songs adapted from the children's music book "Lullabies and Night Songs."
Wild Is Everywhere
The latest release from Sara Lovell is Wild Is Everywhere, a CD packed with children's song that will encourage and entertain all ages.
Be sure to read Sherryl's review on Mom Does Reviews HERE.
ENTER TO WIN!
One lucky reader will win a set of 4 CDs for Children by Various Artists
The giveaway is open to USA
The giveaway ends 3/22/18 at 1159 PM EST
Be sure to come back daily for more chances to win!