ERA Organics Tea Tree Oil Giveaway #ERAOrganics
This post may contain affiliate links or I may have received the product free in exchange for my honest review. See full disclosure for more information.
Disclosure: Reviewer may have received product and/or compensation to assist in facilitating the review; however, all opinions are my own.
Tea Tree Oil has been know to be very beneficial. It well-known for its powerful antiseptic properties and ability to treat wounds. And for over seven decades, it's been documented in numerous medical studies to kill many strains of bacteria, viruses and fungi. (Source)
It is becoming popular to help things like acne, clean your scalp, a household cleaner, and more. Era Organics has created a face cleaner and cream that is balanced, healthier and can clear your skin without harsh chemicals.
Introducing Era Organics Tea Tree Oil Cleanser made for oily, acne prone skin with 7 natural acne-fighting ingredients in one bottle.
Their pH balanced face and body wash is made for men, women and teens looking to fight pimples, back acne and oily skin with natural and organic ingredients proven to cleanse pores, reduce blemishes, soothe inflammation and reduce redness.
How It Works:
Wash away excess oils, dirt, build-up and dead skin cells while nourishing the skin.
Naturally antimicrobial to kill acne-cause bacteria.
Moisturize to the base of the skin while boosting its ability to heal and recover.
Soothe inflammation and redness while promoting healthy blood flow
Open clogged pores and shed dead skin cells to fight blackheads
Soften your skin while improving skin texture for balanced, more supple complexion.
Get Clearer, Healthier Skin You Can Be Proud Of or Your Money Back!
As a family owned company, results are everything. They take customer service and satisfaction quite seriously. That's why they have a "Love Your Skin or Your Money Back" 60-day money back guarantee. Buy now with confidence and see what nature can do for you.
Whether You're Fighting Acne, Oily Skin, Rosacea or Chronic Dry Skin – get healthier, smoother skin thanks to one of the most robust natural facial cleanser formulas on the market. Don't Just Wash Your Face & Body – cleanse, soothe and nourish your skin thanks to powerful ingredients your skin will love, including: tea tree oil, goldenseal, burdock root, aloe vera, pomegranate seed oil, st. john's wort and dandelion root.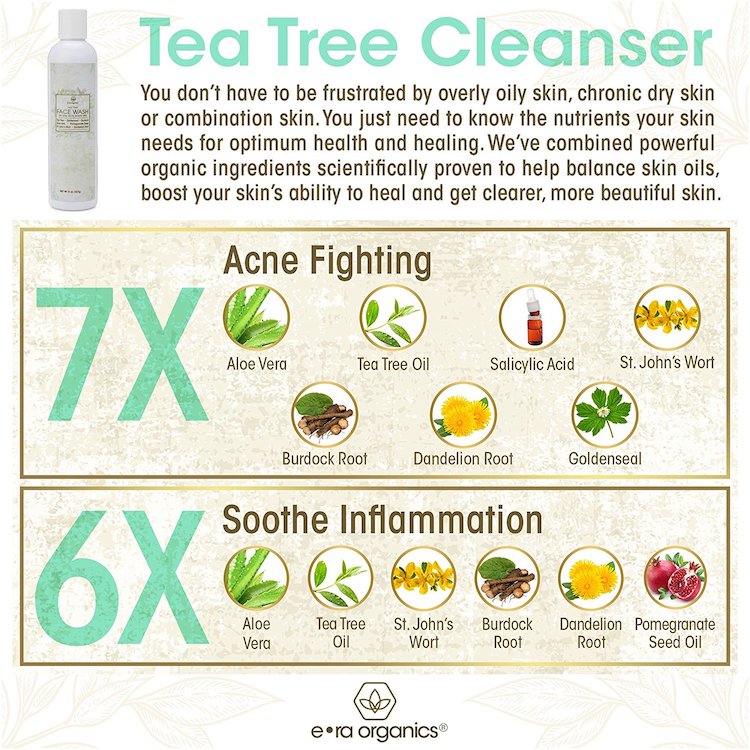 It is safe and effective. The sulfate free cleanser is made with natural and organic, food-grade ingredients. Wash with confidence without chemicals, toxins, paraben free, perfume free and SLS free. Cruelty free, made in the USA.
Fight pimples, blackheads and breakouts in minutes a day. ERA Organics Tea Tree Oil Face Cleanser moisturizing facial cleanser is made for all skin types to help balance oils, reduce redness, nourish to the base of your skin and help fight acne causing bacteria.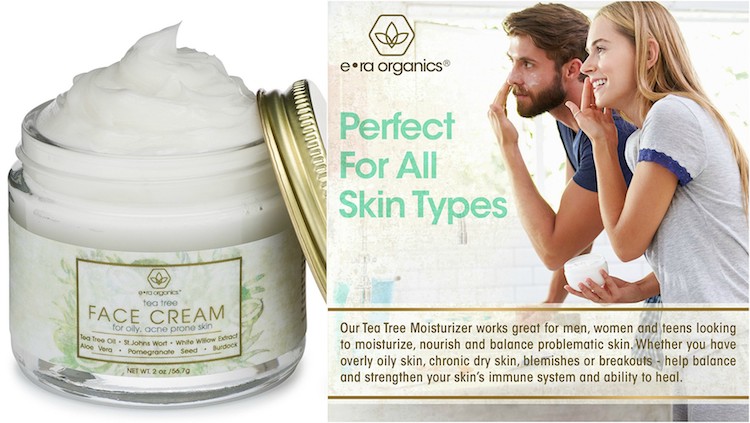 Extra Strength Nourishing Formula- Most acne treatments are too harsh on the skin, leading to irritation, redness or dry skin. This facial cream is formulated to soothe, nourish and hydrate oily skin, dry skin or combination skin. Perfect for men, women and teens!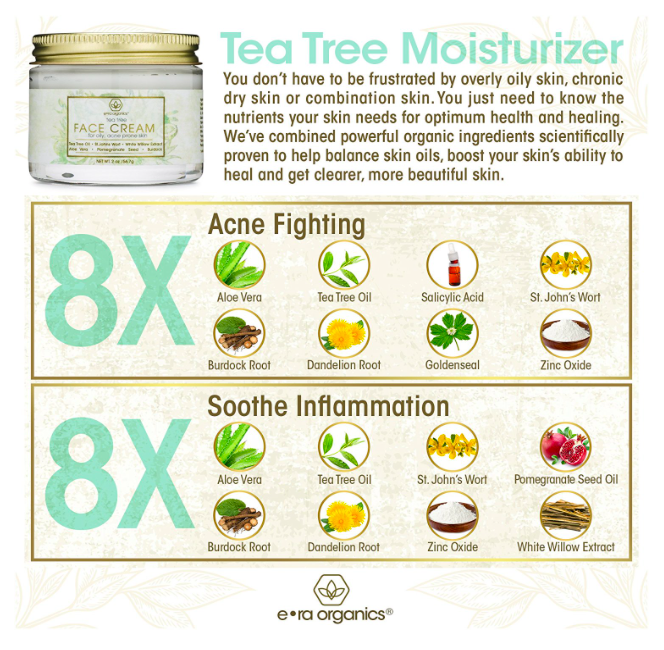 It has ingredients your skin will love. They combine powerful natural and organic ingredients to nourish and balance the skin, including: St. John's Wort, Pomegranate Seed Oil, Salicylic, Zinc, Burdock Root, Dandelion Root & Goldenseal.
The natural face moisturizer is non comedogenic, cruelty free and vegan friendly. To make sure people with sensitive skin can use it, it's also paraben free, non-toxic, no hormone disruptors and gentle – yet effective.
You can purchase many different products from ERA Organics on Amazon. The more you buy, the more you save:
Save 20% on Qualifying items offered by Era Organics when you purchase 2 or more. Enter code ERA20VAL at checkout. Here's how (restrictions apply)
Save 25% on Qualifying items offered by Era Organics when you purchase 3 or more. Enter code ERA25VAL at checkout. Here's how (restrictions apply)
Now for the giveaway! There will be 2 winners – each winner will receive the ERA Organics Tea Tree Oil Face Cleanser and Face Cream. This giveaway is open to residents of the US only. It will end on 3/1/18 at 1159pm EST. Good Luck!
Enter below:
ERA Organics is responsible for fulfilling the prize.