Essentials for Packing an Allergy-Friendly Lunchbox
This post may contain affiliate links or I may have received the product free in exchange for my honest review. See full disclosure for more information.
According to food allergy statistics, approximately 32 million Americans suffer from food allergies, and there are around 200,000 visits to the emergency room every year due to food allergies. With children heading back into the classrom now, as well as in the Fall, considering those with food allergies is extremely important.
Here are 5 incredible, allergy-friendly food brands that make it a breeze to include allergy-friendly, top 8 free snacks and foods in your child's lunchbox!
Without a Trace Foods: The delicious, awesome snacks you crave… but free from the top 8 allergens! Developed by a mom whose children have severe food allergies, Without a Trace offers a mouthwatering variety of plant-based, gluten-free Chewy Granola Bars, Power Bites and Cookies.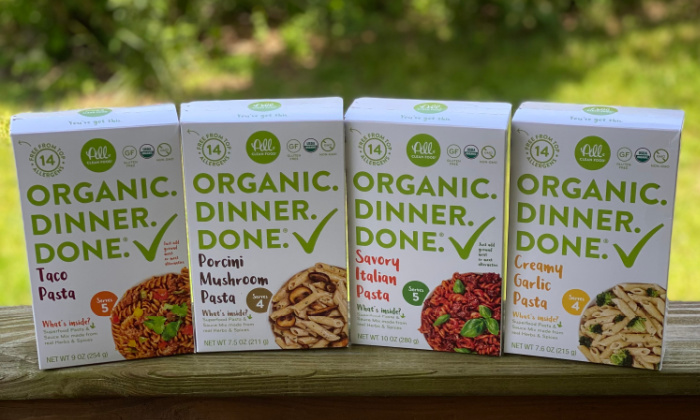 All Clean Food: Organic. Dinner. Done. Finally – a boxed pasta meal free from the top 14 allergens! Easy-to-make and done in 12 minutes, All Clean Food offers the only organic and clean ingredient boxed pasta meals on the market. Laura created these recipes in her kitchen when she could not find simple meal solutions for her kids with allergies. Vegan-Friendly, Plant-Based, Gluten-Free and Non-GMO. Available in 4 varieties, including Taco Pasta, Creamy Garlic Pasta, Savory Italian Pasta, and Porcini Mushroom Pasta.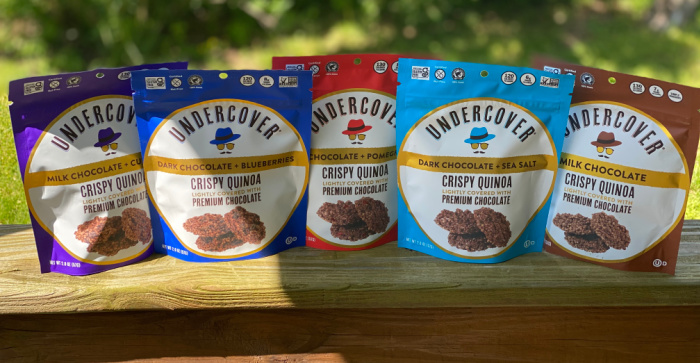 Undercover Snacks: Healthy ingredients… in disguise! Developed by a mom whose two daughters were diagnosed with celiac disease, all Undercover Snacks are made with carefully sourced all-natural, gluten-free, non-GMO, simple ingredients and Rain Forest Alliance Certified chocolate. Undercover Snacks are made with crispy quinoa, which is naturally gluten-free, packed with protein, fiber and nutrients, and has an incredible crunchy texture. Certified Nut-Free, Certified Gluten-Free and Kosher. Comes in 8 decadent varieties.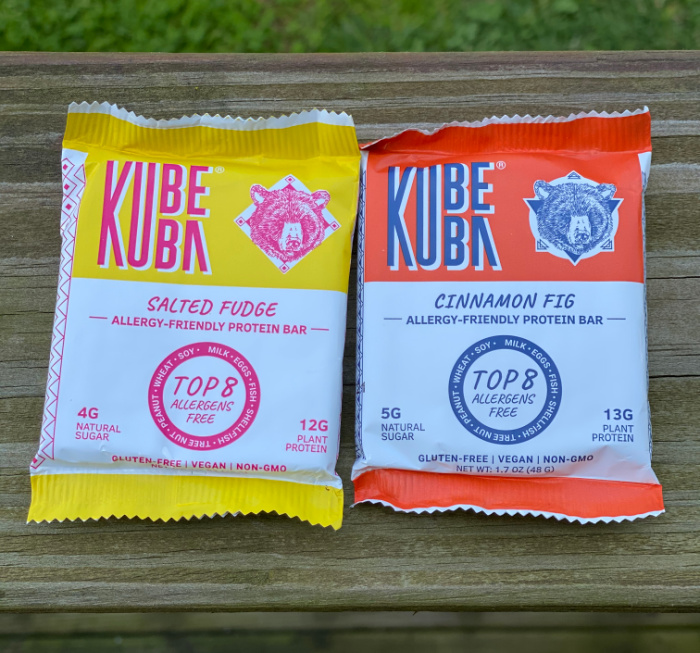 Kubeba Life: Allergy-friendly protein bars for wherever life takes you! Kubeba Life bars are top 8 allergy-free, packed with 5g of fiber and 12-13g of plant-based protein to fuel all of your adventures. This fierce woman-owned business is on a mission to help people with dietary restrictions eat freely and live courageously. Available in three savory and unique flavors, including Cinnamon Fig, Salted Fudge and Blueberry Ginger. Gluten-free, Vegan, and Non-GMO.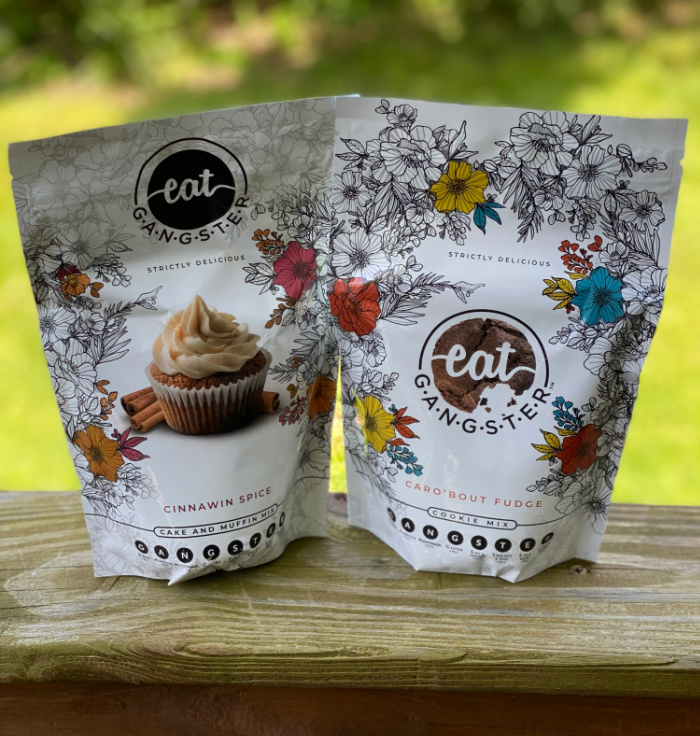 Eat G.A.N.G.S.T.E.R. Cookie & Cake Mixes: Without grains, eggs, dairy or nuts, Eat G.A.N.G.S.T.E.R cookie and cake mixes are delicious and kid-friendly. What does G.A.N.G.S.T.E.R stand for? Grain-free, Additive-free, Nightshade-free, Gluten-free, Soy & Legume-free, Tree-nut & Seed-free, Egg & Dairy-free, and Refined Sugar-free. Cake mixes include Choconot Fudge and Cinnawin Spice, and Cookie Mixes include Oatmeal Schmoatmeal, 'Cut-Out' Sugar Cookie, and Caro'Bout Fudge Cookie.
Don't Forget to Clean Your Hands!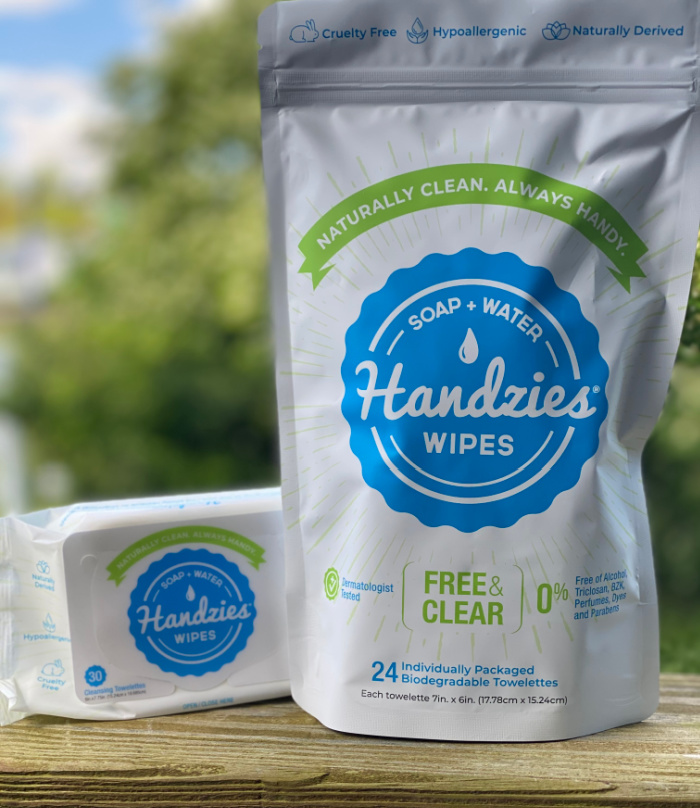 Handzies individually packaged wipes are perfect for tucking in a lunchbox, giving your child fresh, clean hands using only natural castile soap, water and essential oils. Handzies do not contain alcohol, BZK, triclosan, artificial perfumes or dyes. Gentle for use by those with allergies, the wipes are compostable and biodegradable. Non-GMO. Available in NEW Free + Clear or Tangerine scent in a convenient 30-count soft pack (Free + Clear only), 24-count individual towelettes or 100-count individual towelettes.