February Degustabox was Loaded with Mouth-Watering Surprises! #DegustaboxUSA
This post may contain affiliate links or I may have received the product free in exchange for my honest review. See full disclosure for more information.
The year is already off to a fast start! Can you believe how fast January went by? Now, we are already past Valentine's Day and the end of February is right around the corner. Although, one thing is for certain, I love when the day rolls around and my monthly Degustabox shows up on my doorstep! My February Degustabox is no exception! It was loaded with truly mouth-watering surprises such as snacks, drinks, chips, and sauces!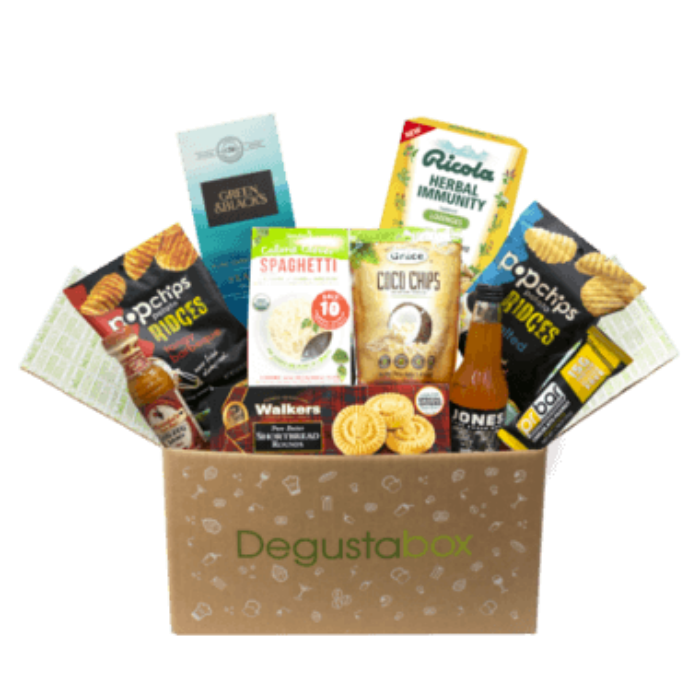 February Degustabox held Mouth-Watering Surprises!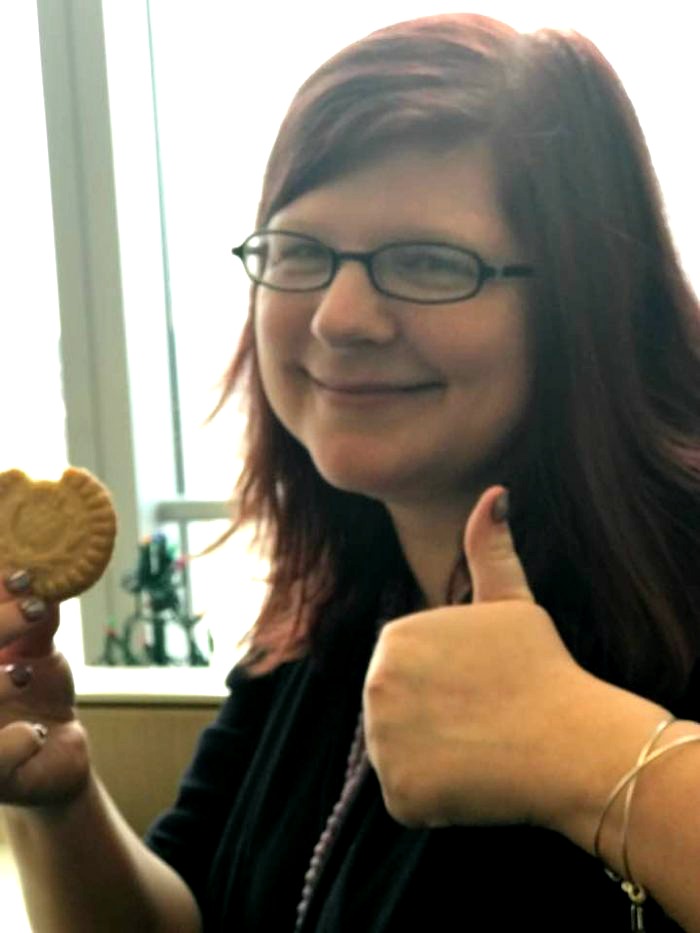 The Walker's Pure butter Shortbread Rounds were to yummy to wait for! We had to sample them while we looked through the rest of our surprises in the box!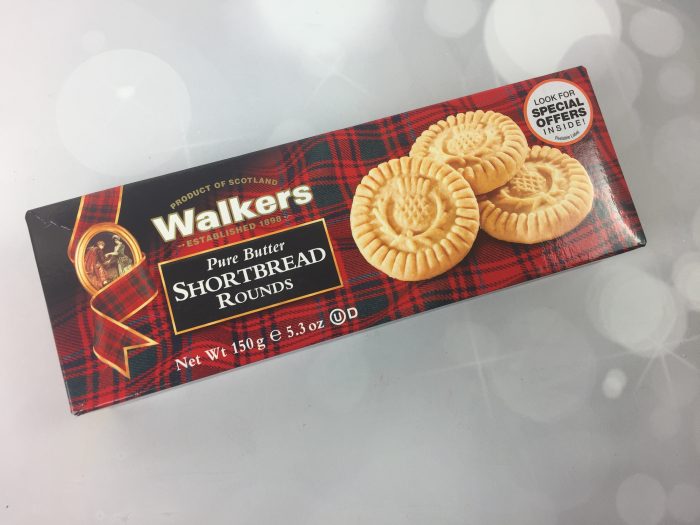 Walker's Pure butter Shortbread Rounds are the perfect afternoon snack. Pair them with a hot cup of coffee and it rejuvenates the body and mind! These delicious shortbread cookies are made with rich creamery butter and the finest ingredients possible and I love that they contain no artificial colors, flavorings or additives.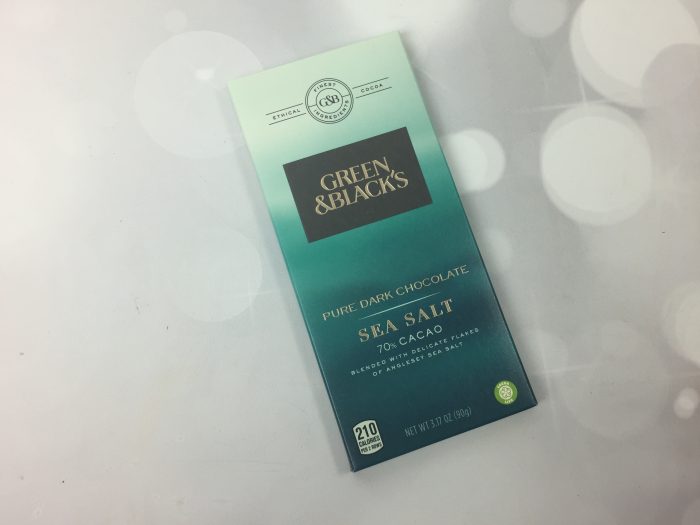 You may get the idea that I like to snack a lot! Who knows? I'll never tell! But, I will tell you about the Green & Black's Pure Dark Chocolate with Sea Salt! Green symbolizes our commitment to always sourcing ethical cocoa. Black stands for our high quality and the delicious intensity of our chocolate. These delicious candies combine the smooth richness of their signature dark chocolate with flakes of Anglesey sea salt, for a delightful flavor combination and delicate crunch.
The new Green & Black's signature line includes 7 flavors of Pure Dark and Pure Milk chocolates. All of them are made using the finest ingredients and have no artificial flavors, colors, or preservatives.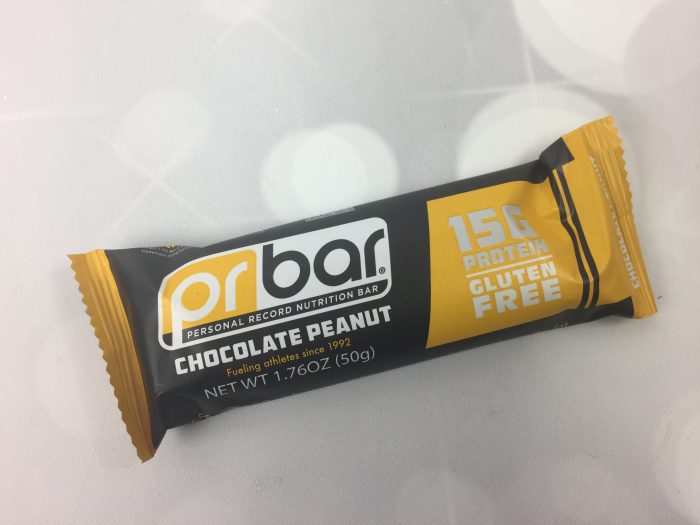 PR Bars – Chocolate Peanut (arv $2.07)
PR Bars are a favorite of mine for a quick natural energy boost! These yummy bars have all-natural protein and are certified gluten-free. They are loaded with the perfect blend of carbs and vitamins to boost energy and endurance when you need it most.
Each bar contains the PR Bar tri-blend protein mixture, including three different proteins for maximum absorption and optimal recovery. Whey protein provides the building blocks for muscle growth, releasing anabolic hormones, including insulin. Casein protein provides a lasting flow of amino acids to the bloodstream, while being high in calcium for enhanced fat loss. Soy protein provides increased cardiovascular health and essential amino acids.

PR Bars are free of trans fats and sugar alcohols, which help control blood sugar levels and provide a steady source of energy for your life. Their protein bars are proudly made in the USA and are the perfect solution for the everyday athlete and keeping your on-the-go life going.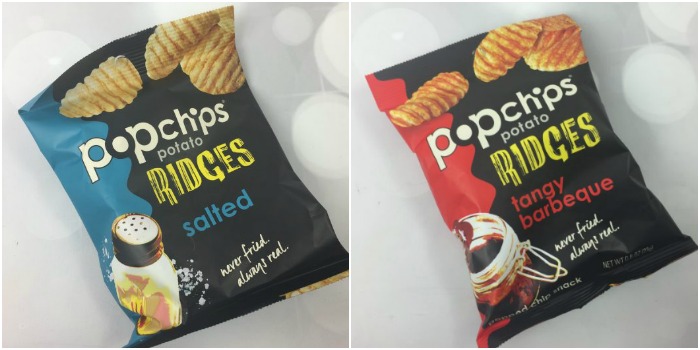 Of course, we can't forget the Popchips! Popchips Potato Ridges have bold flavors, with a big crunch, and are healthier than grease laden chips! Popchips ridges contain 72% less fat and 55% less calories than the leading ridged chip brand. They are also gluten-free, kosher, contain no artificial preservatives, no synthetic colors, no cholesterol and zero grams of trans fat.
In addition, the tasty Popchips Potato Ridges come in four yummy flavors: Tangy BBQ, Perfectly Salted, Cheddar & Sour Cream and Chili Cheese. They are the perfect snack by themselves, or pair them with a sandwich and/or dip for a light meal!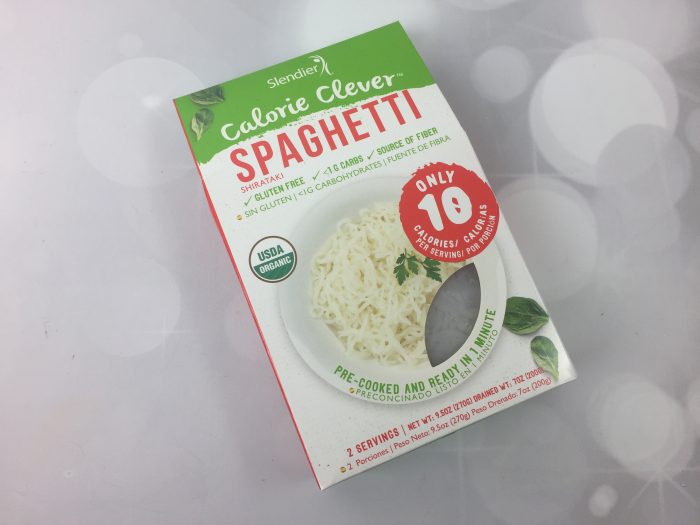 I had never heard of the Slendier Calorie Clever Spaghetti, even though it is world known. Sometimes, I think I live under a rock 🙂 Anyway, I was excited to give it a try! I received the spaghetti, but they also have vermicelli, fettuccine, noodles, and rice in the product line. The products are sold at organic stores and retailers.
Slendier is an Australian brand in Organic Konjac Pasta, Rice and Noodles. It is a great alternative for people who want to lose weight, have food allergies or are diabetic or just want a quick healthy meal prepare. It is low in energy, fat free, gluten free and a source of soluble fiber called Glucomannan. The products are certified, Vegan, Gluten free, Kosher, Halal, and Organic.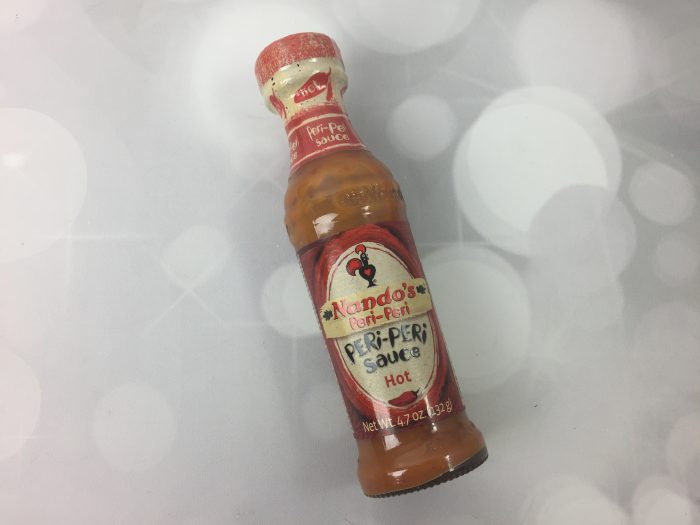 I love spicy foods! So, the Nando's Peri-peri Sauce was my cup of tea! This delicious sauce is made with African Bird's Eye Chili and a blend of ingredients – sun-ripened lemons, onion, garlic and spices. The "Hot" is particularly hot and fiery, packing a whole lot of flavor! This yummy sauce goes with just about anything, but is especially good on meats, chicken, fish, and veggies.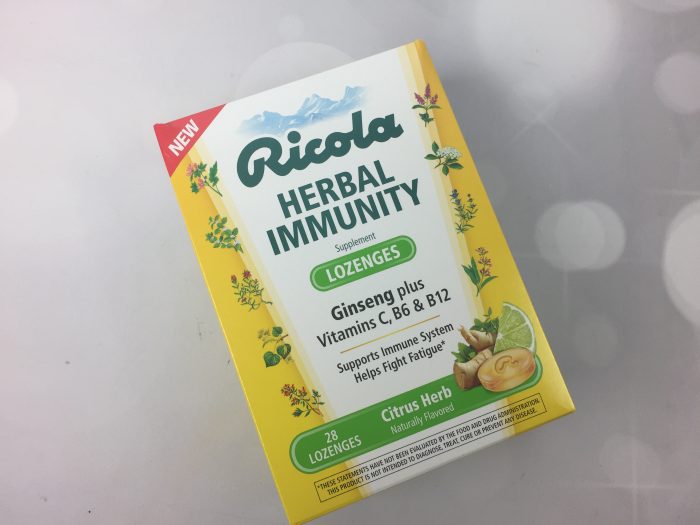 Oh gosh! It seems there have been an abundance of sniffles, colds, and coughs going around this year! I have no fear! I have my trusty Herbal Immunity Citrus Herb Supplement Lozenges! Ricola Herbal Immunity Lozenges are made with ginseng, vitamins C, B6 and B12, which all work together to help support the immune system and fight fatigue. The best part is – they are a delicious citrus herb flavor!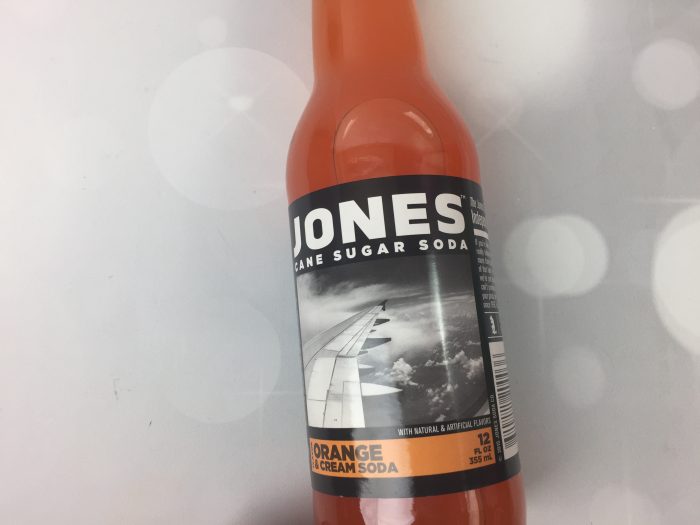 How many of you love the flavor of orange and cream? I loved orange cream-sickles as a child. Well, I might as well fess up – I still love them! Jones Cane Sugar Soda has bottled that flavor and it is the perfect treat to unwind after a long day!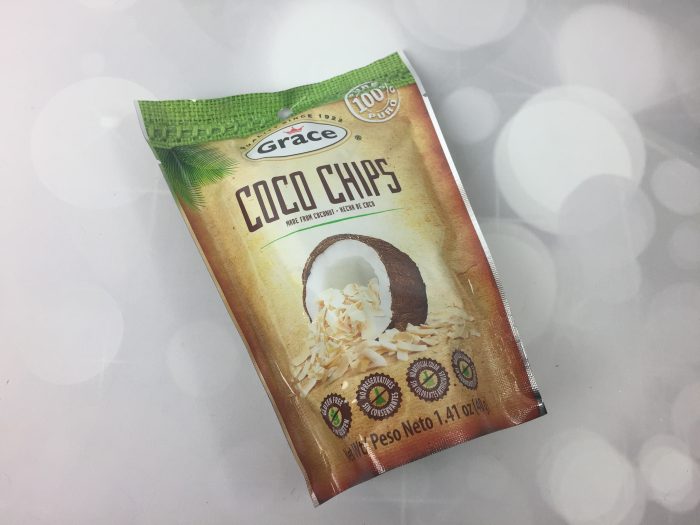 The Grace Coco Chips is another new item that I was thrilled to try. If you love coconut, you will fall in love! These all-natural Coconut Chips are made from the meat of mature coconuts. The coconut meat is gently sliced and roasted under low temperature until it turns into crispy chips. Are you dreaming yet? YUM! This super food is high in lauric acid, low in sugar and contains zero cholesterol. It has a bit of cane sugar added to enhance the flavor. I love having these as a snack and I have found several ways to use them in desserts! Sprinkle them on ice cream, yogurt, or what about a chocolate desert – YUMMY!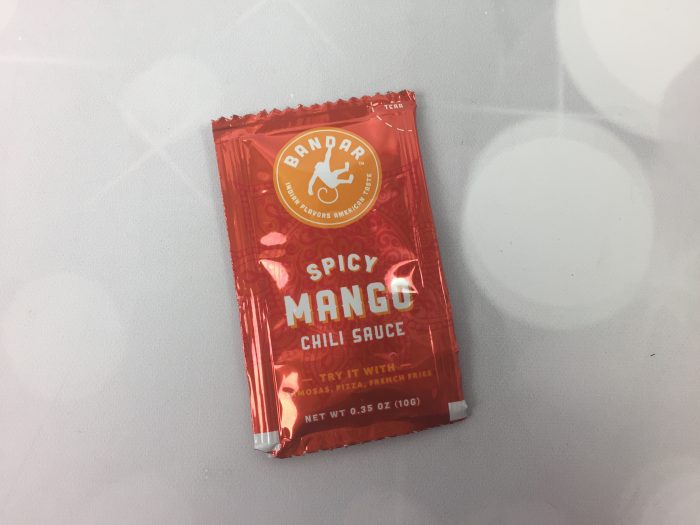 I also received a packet of Bandar Spicy Mango Chili Sauce to sample. It's it has a bold flavor that is perfect for mixing in soups, rice, pizza, hot dogs and any other dishes that may need a little tang.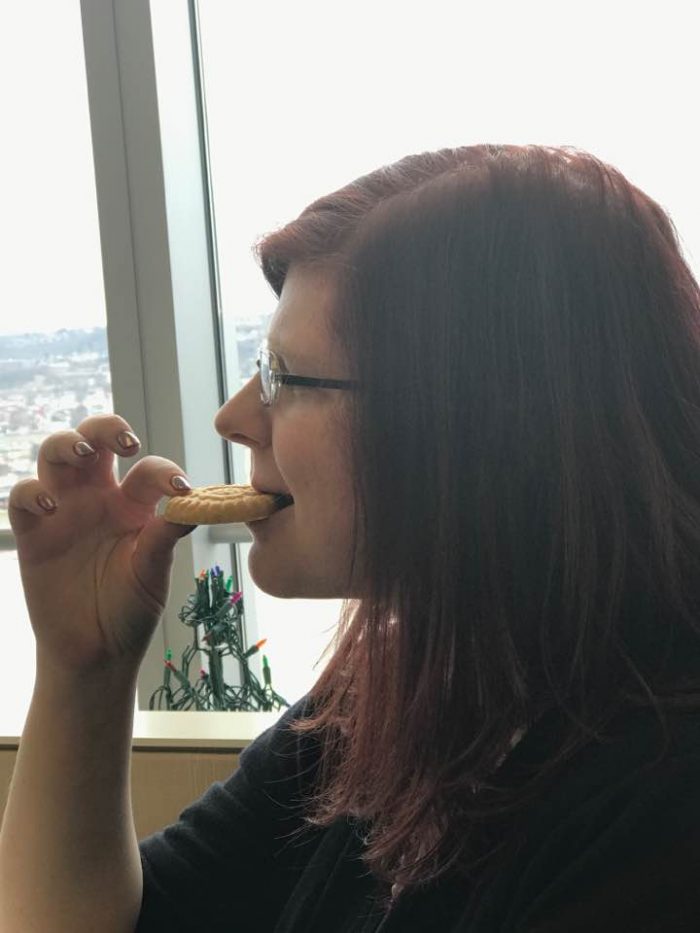 My February Degustabox had several new items I had not tried before. I was thrilled to have the chance and loved them all! It is the very reason I love getting my monthly subscription box! I love trying the new products each month and enjoy my other favorites! The February Degustabox was loaded in products, value (over $40 worth!), and must-haves for my grocery list!
Are you ready to Sign Up for a Degustabox Subscription?
Sign up for a monthly subscription with Degustabox for only $19.99, which includes delivery. Receive your Degustabox every month filled with goodies (10-15 surprise products, many new to the market)! And, at this price, it is much less than you would pay in stores! It is a great value and a great way to try before you buy! If you decide it isn't for you, that's alright too! There is no commitment necessary. To cancel, just let them know before the 15th of the month. So, what are you waiting for? Go ahead and give Degustabox a try today!