Foodie Fun — 5 Tips to Make Cooking at Home More Enjoyable
This post may contain affiliate links or I may have received the product free in exchange for my honest review. See full disclosure for more information.
Do you find cooking at home a chore? Ordering takeaways and eating out are enjoyable and convenient, but they do nothing for your waistline or bank balance.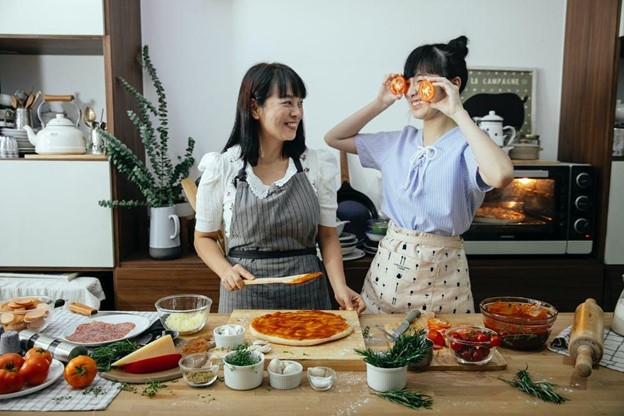 Image: Katerina Holmes/Pexels
Cooking at home doesn't have to be a time-consuming chore. Advances in kitchen technology – like speedy induction hobs and induction pans – mean you can whip up tasty delights quickly and easily.
Add these five magic "ingredients" to your cooking routine, and you'll soon be a culinary genius crafting delicious, home-cooked meals on your own.
Cooking with friends or your partner is more fun than cooking alone. Time passes in the happiest of flashes when enjoying a catch-up with someone you love. What's more, you'll have your very own sous chef — perfect for speeding up the meal prep. The chopping and slicing will be sorted in a jiffy when you work together.
Once you've finished cooking, you can share recipes and pass on your top tips while enjoying the delicious meal you created together.
Who doesn't love eating out and being in awe of beautiful food presentation? Why not try to recreate some restaurant-style magic in your kitchen with top-chef-style plating?
Have some fun with your food. Play around and see what shapes you can create. Go for swirls, beautiful colors, or impressive shapes. From avocado fans to tomato roses, anything is possible when you use your imagination. Have fun in the kitchen, and challenge yourself to plate up some posh-looking nosh.
You can't beat a boogie around the kitchen. Liven up your meal prep by turning up your favorite tunes and enjoying the music while you cook. Choose some upbeat songs, and sing along while you chop. A kitchen disco adds a pinch of fun to your cooking routine.
If music isn't your thing, consider listening to a podcast or audiobook. Or, if you prefer visual entertainment, tune into Netflix and watch a film while you cook up a storm.
Are you tired of eating the same meals on repeat? Perhaps it's time to shake up your diet and level up your cooking skills. A fabulous way to do this is by discovering new recipes.
Try challenging yourself to cook at least one dish from a different country each week. With over 195 countries in the world, many with world-class cuisine, you'll never be short of inspiration.
Make the most of the fantastic variety of foods you can find in your local supermarket or shops, and find recipes that use foods you haven't tried before to tickle your tastebuds. Experiment but also keep it simple. Sometimes, you want to curl up with a warming bowl of comfort food. So, keep your cupboards stocked with your favorite ingredients to ensure you're always ready to whip up a much-loved recipe.
A Heap of Helpful Cookware
Cooking is much easier and more enjoyable when you have the right cookware. Sharp knives, food processors, and chopping boards are just a few of the utensils and appliances that make all the difference to your kitchen experience.
If you're short of time, investing in an induction hob and induction pans can transform your cooking experience. Induction hobs use magnetic currents to heat your pans. This is quicker, simpler, and safer – no more burning yourself if you accidentally touch the stovetop!
Cooking can be a great stress buster. Using a variety of fresh flavors and ingredients is also an excellent way to improve your diet and health. Shake up your kitchen routine, and you'll soon discover that cooking can be an enjoyable way to chill out and unwind.