Game Day Traditions made easier with Walmart and P&G #GameDayTraditions
This post may contain affiliate links or I may have received the product free in exchange for my honest review. See full disclosure for more information.
Disclosure: This is a sponsored post on behalf of SheSpeaks and P&G. Regardless, all opinions expressed are 100% my own.
Football season is in full form and my household becomes a booming hub of activity each and every weekend. From clean clothes to clean dishes, I have lots to do to prepare for the inundation of food, frolic and frivolity that goes along with hosting a weekly football viewing party.
I am thankful that just up the road is a Walmart that carries all of the essentials I need to keep my Game Day Traditions going and at the cleanest way possible.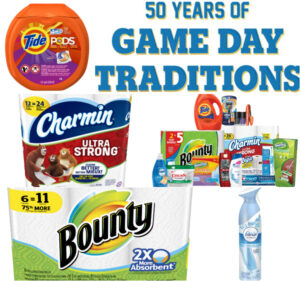 Thanks to Walmart and P&G, I have all of the essentials I need to keep my house and my team clean from the first coin toss to the final buzzer. We all gather around the kitchen, dining room and living room and laugh, cheer, yell and more. Sometimes things can get messy. From wings and nachos to a hearty bowl of chili, the menu can get thick and sometimes messy.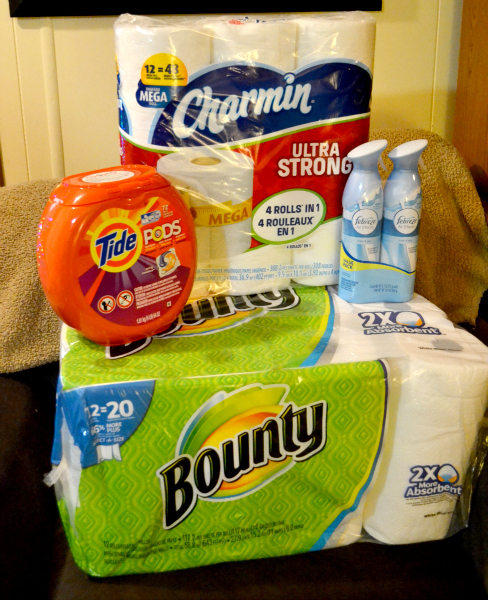 I like to keep plenty of Bounty Select-A-Size Rolls on hand. This helps to give me quick, super-absorbent cleaning power quickly. Bounty has that unique, signature "Trap & Lock" technology that I adore. It cleans up the dirtiest of spills in a few swipes and then quickly goes to the trash can…no muss, no fuss!
Another thing that can get messy are our clothes. My family seems to be a mess-magnet when it comes to wings and pizza. As most know, you cannot easily clean some of those sauces. Well I really have no worries about what they spill on their shirts, thanks to Tide PODS! These ingenious little PODS have taken the stress and hassle out of laundering for me. I am able to have our favorite jeans and jersey's clean and ready for wear each week. Tide PODS offer 6x's more clean that standard detergent. The 3-in-1 POD has detergent, stain remover and brighter all in one! It is best to put into your washer before you add the clothes for best washing results. It dissolves quickly weather my load is in hot or cold water and works on both standard and HE machines…I LOVE TIDE PODS!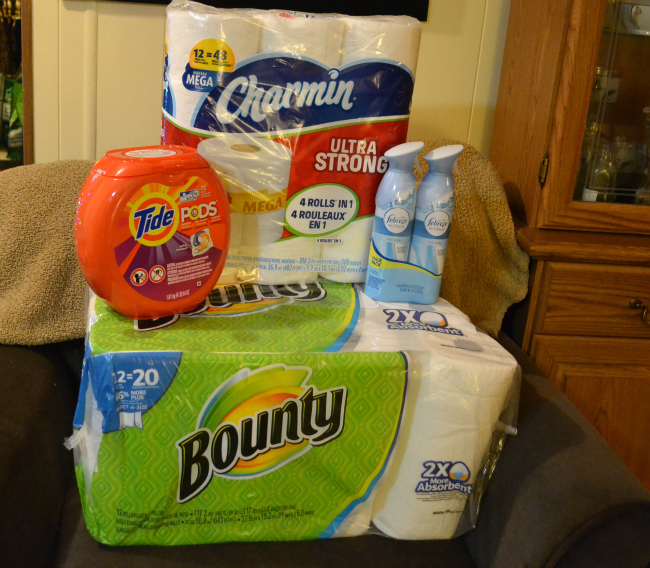 With all of the traffic that comes in and out of my house, you can imagine how much toilet tissue paper we can go through in a week. I am sure you can also imagine the various smells between food, people, the bathroom and more. With items like Charmin Ultra Strong and Febreze Air Effects, you can rest assured that our bums and our noses are clean and fresh.
Charmin Ultra Strong comes in various sizes. I prefer the Mega Roll 12 pack. It is 4x's stronger than other brands, is clog-safe, it is soft and cleans thoroughly. This has always been my product of choice.
I also like to keep a can of Febreze Air Effects on the back of the toilet, and in the family room. This gives an easy access and quick ability to give fresh scent with just a squeeze of the handle. The best part about Febreze is that it has a clean, fresh scent, but is not overpowering and giving an obvious, short burst of smell.
Walmart is my one-stop-shop for all of my favorite P&G products. They offer great varieties and the prices are the best you will find. Comment below and tell me what some of your favorite Game Day Traditions are!
Be sure to stay fully connected with Walmart and P&G for all of the latest news, product release and savings.