Garde Coffee Table in White Gloss with Diamante Inserts
This post may contain affiliate links or I may have received the product free in exchange for my honest review. See full disclosure for more information.
A coffee table is one of the primary objects that catch the eye in any living room furnitures. It is one of the central pieces that hold an entire room together. Garde Coffee Table in White Gloss with Diamante Inserts is one of those tables that cannot be left unnoticed. Its impeccable design, combining modern and classic styles, its light yet solid look, and its eye-catching diamante inserts will make this table the true center of attention.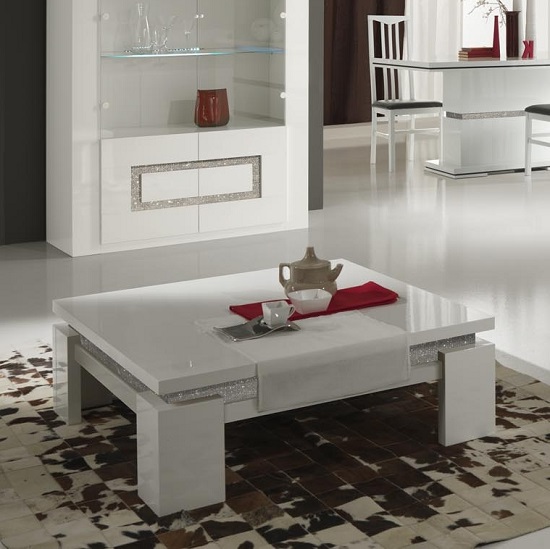 Garde is a series of French furniture that brings elegance and style into any environment. Among the distinctive characteristics of this series one cannot but notice compact size, elegant look, and memorable design themes. By choosing even one element of the series and integrating it into your home interior you get a chance to create the feeling of class, contemporary style, and exquisite design into any apartment.
Garde coffee table in white gloss will look simply astonishing in a contemporary apartment. Yet, its classy design makes it possible to combine this highly modern and exquisite piece with traditional-looking wooden furniture. The glossy surface of the table will provide the contrast you need to shift the center of attention from traditional wooden cupboards to sophisticated glossy coffee table.
Designed in white, Garde gloss coffee table will fit into any colour theme and design interior. It will be a natural element of a light room with large windows. It will create an impressive contrast in a room decorated with mostly dark, even better – black, furniture. It will look natural regardless of the main colour theme of your room – white gloss can be combined with any colour palette, and even the wildest colours, including red, blue, green, and purple, will benefit from such an arrangement.
Ideal rectangular shape of the table is easy to combine with various design schemes of your room. Unlike round tables that have additional furnishing requirements, this white gloss rectangular table will look great next to traditional and corner sofas; it will fit into any living room, regardless of the existing furniture arrangements; it will look amazing in the middle of the room and in the corner, etc.
18-mm particle board and 36-mm plate create a solid, yet light impression. Like most coffee tables, Garde white gloss table does not require a lot of space and will not clutter your living space. The dimensions are:
Width – 90 cm
Height -37 cm
Depth – 90 cm
The combination of modern and classic design elements in this table makes it practically timeless. Unlike highly modern items that quickly go out of fashion, Garde table has what it takes to be relevant regardless of the latest design trends. What is even more important – there are matching items available, which means that you can combine several Garde items and make your living room even more impressive. However, the table will look astonishing even without matching products from the collection.
Advantages of the product:
Fits into any room
Can be combined with different design themes
Has matching items
Does not take a lot of space