In the exciting new documentary, IS GENESIS HISTORY?, Dr. Del Tackett leads audiences on a remarkable journey through evidence from renowned scientists and Bible scholars that supports historic claims in the Book of Genesis.
"Millions of people have sincere questions about the origins of the earth and humanity," Tackett said. "And there are contrasting views of our history, one of which is in the book of Genesis. The question is, which view is accurate? IS GENESIS HISTORY? makes a positive case that the Bible is historically reliable."
Traveling across the continent, Dr. Del Tackett talks to experts in geology, biology, astronomy, archaeology, the Bible and more—seeking answers to centuries-long questions surrounding the book of Genesis:
Was the universe created in six literal days?
Did humans evolve?
Were Adam and Eve real?
Was there a global flood?
What happened to the dinosaurs?
From immense available evidence about our origins, two histories arise. But which is correct? IS GENESIS HISTORY? presents a positive, evidenced-based case for the Bible's historical reliability.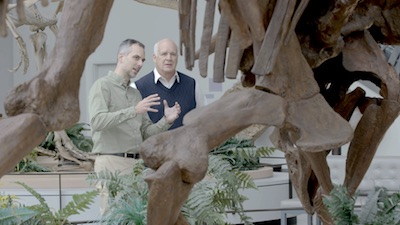 WITH TOO MUCH 'US VS. THEM'–A CIVIL CONVERSATION IS POSSIBLE 
On both sides, discussions of life's origins quickly turn "us vs. them." In the exciting new documentary, IS GENESIS HISTORY?, Director Thomas Purifoy Jr. takes another road, making a positive case for the Book of Genesis as history based on specific, understandable evidence. Ask Purifoy and Dr. Del Tackett about the overdue need to make life's most important questions a positive conversation.
A 10-YEAR-OLD'S QUESTIONS SPUR A FEATURE-LENGTH DOCUMENTARY
As filmmaker Thomas Purifoy Jr. watched his 10-year-old daughter struggle with arguments for and against the Bible's reliability as history, he had a challenging revelation. On this subject, he couldn't clearly explain his own beliefs. From that "Ah ha!" came the feature-length documentary IS GENESIS HISTORY? Talk to Purifoy about the seminal conversation with his daughter and his discoveries as he explored the evidence for and against the Book of Genesis as history.
HOW TO BUILD A CASE
The evidence isn't new, but our ability to analyze and decipher it grows at the speed of technology. How do new techniques send us back for another perspective on longstanding evidence?
IS GENESIS HISTORY? comes to movie theaters nationwide for a one-night event, Thursday, Feb. 23, 2017, from Compass Cinema and Fathom Events. Following the film, there will be a moderated on-screen discussion with Tackett and a panel of scientists and theologians regarding Genesis' impact on Christians today.