Get ready for Black Friday with Find&Save
This post may contain affiliate links or I may have received the product free in exchange for my honest review. See full disclosure for more information.
Find&Save site as the perfect destination for finding and browsing Black Friday sales. 

Find&Save is the perfect destination for Black Friday, helping shoppers to plan and maximize their shopping experiences this Black Friday shopping season.
Find&Save arms you with the tools they need to research local sales, products and retailers in your area, find the deals that are important to you.  You can also map store locations, create shopping lists and receive deal alerts sent right to your iPhone or iPad.
Whether you are a night time deal-seeker or the early bird line waiter, Find&Save is the best place to get the latest information on Black Friday deals.

I am a total Black Friday shopper.  At age 41, I consider myself to be a seasoned shopper on Black Friday.  I am a classic combination of the night owl/early bird shopper.  Traditions have changed over the years with shopping as more retailers open earlier, digital media allow you to really plan and prepare for where you want to shop and save.  Gone are the days of excitedly getting the paper on Thanksgiving and preparing your rush shopping the next day.
I prefer today's method as it takes away the hassle of stress planning and last minute rushing to get the best deals.  With an amazing app like Find&Save, I get the latest savings information and deals with a simple alert on my smartphone.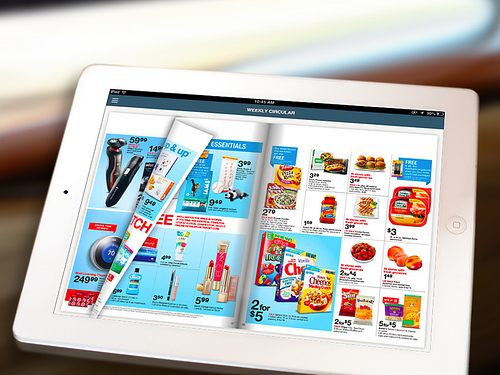 From stores like Walmart & Target to Best Buy and Meijer, I have all the latest information I need for my shopping this Black Friday.  No more stress of last-minute planning and rushing to get all the best deals.
The best part is that you can use Find&Save way beyond Black Friday.  It is convenient for holiday shopping and every day shopping for grocery, clothing and other types of shopping you do throughout the year. You can browse various stores, brands or categories.  Looking for a specific item, simply search for it using Find&Save search feature to find the best deals in your area.
Find&Save is available across all tablet, mobile and web browsers, as well as on Find&Save® for iPad and Find&Save for iPhone.  I have added this app to my iPhone and iPad and am ready for Black Friday, thanks to Find&Save.
Be sure to "Like" them on Facebook & Twitter