Give Them Healthy Back to School Snacks with Manuka Honey Snacks #SnackToSchool #ShopPRI #ManukaHealth
This post may contain affiliate links or I may have received the product free in exchange for my honest review. See full disclosure for more information.
By now your kids are preparing to head back to school or maybe they have already started. What better way than sending them with healthy Manuka Honey Snacks like honey sticks, lollipops, crisps and honey caramels from New Zealand to put a smile on their faces?! It's also a great time to get them in the habit of taking care of their teeth with a toothpaste made especially for kids and to teach them frequent hand washing with Manuka Honey soap to clean up the stains and dirt!
As a Pacific Resources International (PRI) ambassador, I'm excited to tell you that I have a great discount that you can use to try out a few of the amazing PRI products yourself! Right now, you can get 15% off and FREE shipping! To shop, go to shoppri.com and use discount code: School15 at checkout. But first, I can't wait to tell you about all the wonderful items I got to try out this month!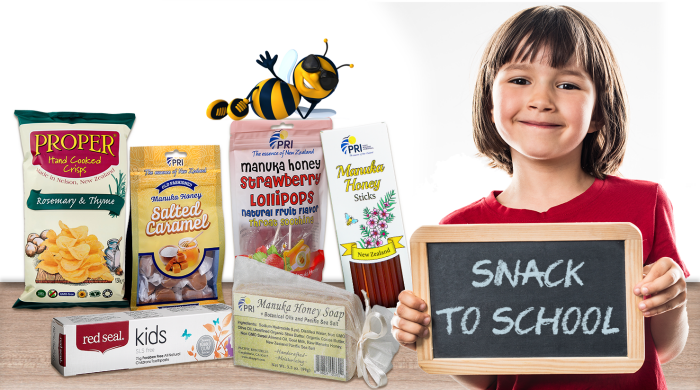 What Makes PRI Manuka Honey Products Special?:
Pacific Resources International is an exclusive importer of various New Zealand Manuka Honey, health and beauty care products. Their award winning products include Manuka Honey, Pacific Sea Salt, Propolis Lozenges, Proper Crisps Chips, Manuka Caramels, and Manuka Honey Health and Beauty Products!

Pacific Resources International (PRI) was the first company to introduce Manuka Honey to the U.S. and owner David Noll has dedicated his career to bringing native and natural New Zealand wellness products to U.S. soil. David works closely with a variety of New Zealand companies to ensure that products are made with pure, natural, and quality ingredient.

Snacks for Back to School from PRI Manuka Honey products!
Red Seal Kids Toothpaste
Manuka Honey Lollipops – Strawberry
Manuka Honey Sticks
Proper Crisps – Cider Vinegar & Sea Salt (40g)
Proper Crisps – Rosemary & Thyme (40g)
Salted Manuka Honey Caramels
Manuka Honey Soap with Pacific Sea Salt
Manuka Bites.
Snack to School with YUMMY Manuka Honey Snacks and More!
We love Red Seal Kids Toothpaste! Knowing that kids sometimes swallow toothpaste, we prefer Red Seal Kids Toothpaste which is a natural toothpaste that's safer for young children to swallow when they brush. It is free from sodium lauryl sulphate, fluoride, parabens, and other harsh chemicals and is naturally flavored and sweetened. It comes in Fresh, peach, and banana 'bubblegum' flavors!
Manuka Honey Lollipops are always a favorite for the kids and the PRI Children's Strawberry & Manuka Honey Lollipops are great tasting and have the benefits of Propolis, Manuka Honey, and Menthol to help fight off infections and keep the immune system strong. It's like a treat that keeps on giving!
Another favorite for kids and adults is Manuka Honey Sticks! PRI's Manuka honey sticks are great for those on the go! It is an easy way of taking your daily dose of Manuka! Simply enjoy it directly from the stick to give your immune system that extra boost during the day or you can put in tea, coffee, or even on your morning yogurt, granola or oatmeal! It is also the perfect snack to include in your child's lunch box!
Crunchy snack lovers will love Proper Crisps! And, if you love the tang of vinegar, you will love Proper Crisps Cider Vinegar & Sea Salt chips! They have a yummy crunch and are genuinely mouth puckering with a taste of real cider vinegar. You will be proud to know that Proper Crisps are 100% Natural, Gluten Free, GMO Free, 100% High Oleic Sunflower oil, Suitable for Vegetarians, Dairy-free, and No added MSG.
The Rosemary & Thyme Proper Crisps are French-inspired and created with real rosemary and thyme which is dried and ground just prior to the cooking process. This releases the natural oils, ensuring the freshest taste and flavor possible. Proper Crisps are 100% Natural, Gluten Free, GMO Free, 100% High Oleic Sunflower oil, Suitable for Vegetarians, Dairy-free, and No added MSG.
Are you looking for a healthier sweet treat? Look no further than PRI's mouth-watering Salted Manuka Honey Caramels! They are the perfect after dinner or anytime treat. You will enjoy the soft chewy caramel and the pure New Zealand sea salt that brings out the delicious Manuka Flavor! Add a few in your child's lunchbox! These delicious caramels are produced right here in the USA.
Back to school brings plenty of germs and makes handwashing of utmost importance. You can bring out the best of your skin and keep them clean with PRI's Manuka Honey and New Zealand Sea Salt Soap. It is a handcrafted, moisturizing soap that brings together the healing power of Manuka Honey, nourishing Botanical Oils and all natural New Zealand solar-dried sea salt.
ShopPRI on Amazon.com.
Ready to try these amazing products for yourself?
Head on over to shoppri.com to shop and remember to use discount code: School15 at checkout to receive 15% off your order and FREE shipping!
Connect socially with Pacific Resources International