Disclosure: I was provided with an all-expense paid trip as part of a press Junket with Marvel to cover this and all Guardians of the Galaxy media.
THIS POST IS FILLED WITH MAJOR SPOILERS
Picture it – you are on a press trip, you are stoked about meeting cast from one of your favorite Marvel releases and the first thing that happens is you ask a question and get phonetically corrected by one of the major cast members. Yes, that was me and Yes, I was corrected by Michael Rooker (Yondu). But for a moment, let's talk about them.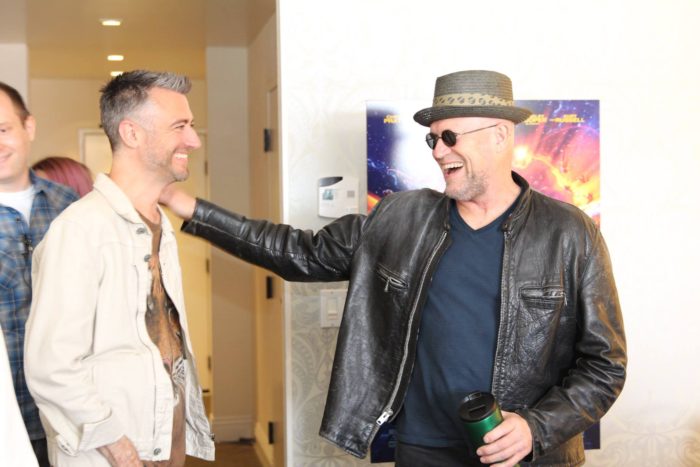 THEIR ENTRANCE WAS GRAND
We always try to show the talent how much we love their respective roles and how we appreciate them and their work. We started with some much respect and the ravager beating on the chest, along with clapping as they entered the room. Michael was immediately smitten with us.
Michael Rooker: Oh, this is fancy schmancy stuff.  Look, we actually have a table this time around.  Last time we did this, we were like, squatting on a bucket.

Sean Gunn: What do I have to do get one of these figures made of me?  (Referring to the Funko Pop figures on the table in front of them.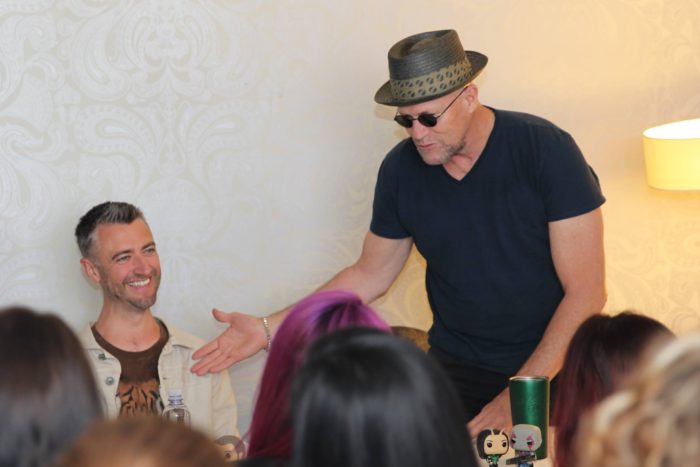 Now comes my blunder, but what followed was the most amazing compliment. I was going to ask Sean Gunn about a scene at the end of the movie where he is using the Red Fin that belonged to Yondu. Maybe it is my Midwest twang, maybe I actually pronounced it wrong. I was asking about Kraglin using the fin in one of the final scenes and if it would tie into Volume 3. I used a long "ā" and Michael promptly corrected me that it is used with a short "ă". Needless to say, here is what transpired.
Michael Rooker: Krăglin.  Krăglin. Stand up.  Stand up so we can see your beautiful face.  You're lovely.  
Sean Gunn: I don't know anything other than where I'm supposed to stand and what I'm supposed to say.

Michael Rooker: Good answer, dude.  You're good at this sh$%. 

Sean Gunn: I mean, honestly, I'd like to think there's more in store for that character, but I don't know anything.  I mean, really, so I don't know if anyone knows anything, actually.  I don't know if any of the story is.  Yeah, he knows it all, but he forgets everything. Referring to Michael Rooker.

Michael Rooker: I know everything.  I know it all.  Five minutes after I know it, it's gone. 
THE DEATH OF A BELOVED CHARACTER
Since you have already seen the movie or are not afraid of spoilers, you know that our beloved Yondu dies at the end of the movie. The Ravager funeral was nothing short of beautiful and heart-wrenching. I cried, I admit it. You become so entranced in the movie, the characters and learn to love them, as much as they love playing the role. We asked Michael, candidly, on his thoughts of dying off in Volume 2.
You know what?  I'm used to dying.  I've died several times.  Many times in different movies and different TV shows and it doesn't hurt at all.  It's okay. I'll be back, somewhere.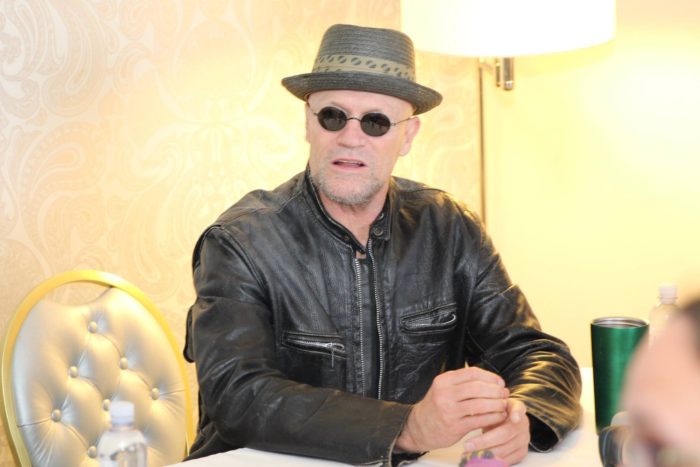 LET'S TALK MAKEUP AND COSTUME – WHEW WHAT A PROCESS!
Michael Rooker: Oh, you know what?  Yeah, the makeup process is awesome.  We have, actually, we have a makeup artist in this room that was part of the makeup.  My makeup crew, she was awesome.  Awesome makeup process.  It took about, maybe a three hour process to put on and, four or five, six layers of different shades of blue and gold and silver and yellow flakes and all kinds of stuff.

I'm like, 'What color is this?'  It's gold, you know, and they just sometimes flick it on with a brush.  You know, they put it on the brush and they just go and they just flick it and it's like little spackling all over your face, but tiny little dots that helps to bring out the depth of the paint so it looks like real skin and I mean, it feels like real skin, too.
OH THE CHOMPERS – THOSE TEETH WERE GNARLY
The teeth props they had to wear was nothing short of large and hideous. I can image the struggles of trying to give strong, well-spoken lines in the movie, but coupling that with gnarly teeth can be difficult. We asked each of them about it.
Michael Rooker: We both could answer that stuff.  Oh, we both had some grills, baby.  Do we not? Yeah.

Sean Gunn:   Yeah, the teeth can be tricky.  I tried to get the teeth made a good several months before we started so that I could just put them in and work with the, the talking.  I think talking through the teeth was like, in the first movie, it was one of the most difficult things.

Michael Rooker:    It was, but I didn't have a problem with it because my, you know, everybody's different.  Sean can speak English.  I cannot. He uses consonants.  I do not almost never and my quality is more throatal and glottal.  His is not.  I mean, he can do that, of course.  

You know, this is just my quality in that's how I do it, so thereby, the teeth are up in the front, so I form my words and my consonants and sounds more back, so it didn't' bother me at all with the speaking.  What it did do, was it's very difficult for the whistle. A whistle's all in the front right where the stupid teeth are.  These, we got to fix these because I got to whistle. So they did.  They did and they did pretty good and I had to relearn a little bit of where I focus.  Where I focus the sound for the whistling and stuff.
And yes, that whistle is all Michael. While they may enhance the sound for movie quality, the whistle is all his. He even whistled for us after our group photo.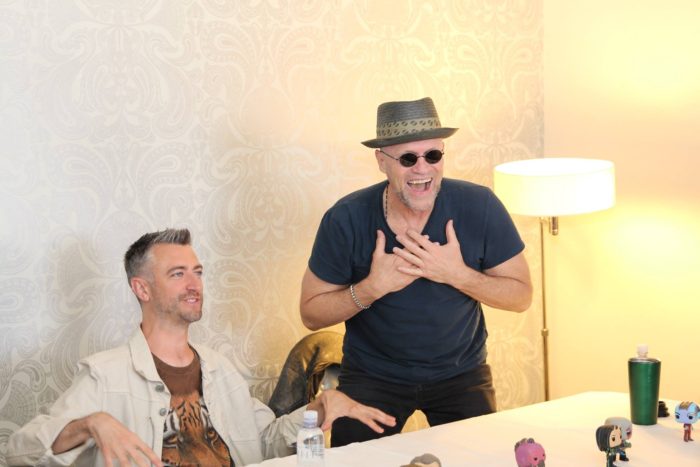 LET'S TALK CHARACTER – WHO IS THEIR FAVORITE?
Sean Gunn: I don't know.  I like 'em all in different ways.  I love Drax.  I mean, I think, I just, I loved sort of the journey that I've seen Dave take from his audition for the first movie through this, like, I think, magnificent performance he gives in this movie and so I don't know.  I guess if I had to choose, I'd say Dave, but I love all the characters in the movie.
Michael Rooker: I would say, I don't like working with real humans.  Never have.  I'm going to go with Rocket and Baby Groot are my favorite.  But that being said, Rocket is my friend right here and we worked together day and night doing this, doing this.  He does all the vocals and all the voice stuff for Rocket. Referring to Bradley Cooper as the voice of Rocket.

And I mean, several times, we, we go through like, how many times when we're doing a scene, it takes like, four or five times good ones to layer all that stuff and you can probably talk a little bit more about that layering stuff. (Referring to Sean Gunn).

Sean Gunn: Yeah.  We have to do several takes  for anything that Rocket is a part of.  We do a reference take.  We're in there and we make sure we get one or two good ones of those and then we have to do one with like a light.  I'm doing the lines from just behind the camera.

Michael Rooker: That's right.  Got to do one with a stick.  With a piece of tape.

Sean Gunn   :    Got to do one that's totally empty.  Yeah, all that.  All that kind of stuff. So it's all, it's a whole process.

Michael Rooker: So, the process for doing this kind of movie with such heavy CGI and also characters that don't truly exist, you know, is like doing five movies, for God's sake.  For this kind of movie, but if ever I do, trust me, guys.  Producers out there, you better know, you better come with your best offer, because I know how this sh(* works now.  It is hard.  It's difficult.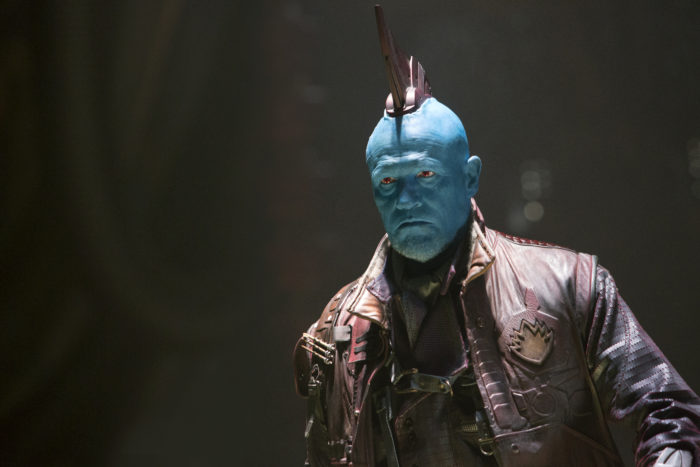 Guardians Of The Galaxy Vol. 2..Yondu (Michael Rooker)..Ph: Chuck Zlotnick..©Marvel Studios 2017
WILL YONDU HAVE A BACKSTORY MOVIE? MICHAEL'S THOUGHTS
Well, any kind of extension and of Yondu would be good.  I wouldn't mind that at all.  I'm used to the makeup.  I'm used to the character.  I already know it.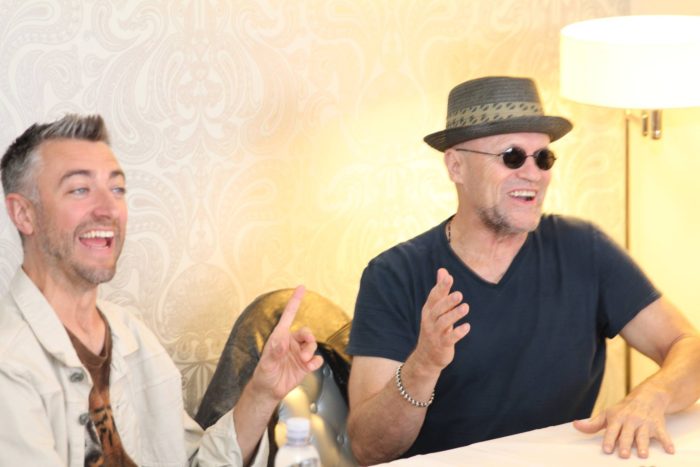 THEY TOO LOVE THE MOMMY BLOGGERS
Michael Rooker: This is, have you ever spoke with these ladies before? (Talking to Sean Gunn)

Sean Gunn: No, I don't think so.

Michael Rooker: This is the, like, (the) best, this is the pinnacle of all the interviews that we have done.

Sean Gunn: I agree.  I know.  We should just do this all day.

Michael Rooker: Oh, I could totally do this all day.  
THE EMOTIONAL DEATH SCENE
The cast all knew of the death of Yondu was forthcoming during the filming of the movie. We asked what is was like for each of them, as well as the rest of the cast and crew, on set.
Michael Rooker: You know, it was emotional.  Very, very emotional for everyone but me.  I was mostly, I was sleepy. It's true.

Sean Gunn: Well, when we're doing the funeral scene at the end where like, and there Chris has his big speech and we're all there.  We're all super sad and all of the sudden you hear [MAKES SNORING NOISES].  Rook was out.  I would forget that.  So funny.

Michael Rooker: Absolutely.  I don't know why.  I have no idea what put me to sleep. 
Will we see a back story movie of Yondu? Will be make some sort of pivotal cameo in Volume 3? Who knows what the future holds for these two great guys, but they both had great roles in the movie and were such a joy to chat with, even if Michael Rooker corrected me – hey, he called be beautiful, so that was all worth my blunder. 🙂 

Here is the extended trailer – get to theaters now to see it!
"Guardians of the Galaxy Vol. 2" is written and directed by James Gunn and stars Chris Pratt, Zoe Saldana, Dave Bautista, featuring Vin Diesel as Baby Groot, Bradley Cooper as Rocket, Michael Rooker, Karen Gillan, Pom Klementieff, Elizabeth Debicki, Chris Sullivan, Sean Gunn, Tommy Flanagan, Laura Haddock, with Sylvester Stallone, and Kurt Russell.
Kevin Feige is producing, and Louis D'Esposito, Victoria Alonso, Jonathan Schwartz, Nikolas Korda and Stan Lee are the executive producers. Marvel Studios' "Guardians of the Galaxy Vol. 2" blasts into theaters now!
Get social with me AND GUARDIANS OF THE GALAXY VOL. 2 
and be sure to use #GotGVol2
*(Interview Photos by Louise Bishop)