Gwen Stefani's animated TV Show KUU KUU HARAJUKU on DVD June 13
This post may contain affiliate links or I may have received the product free in exchange for my honest review. See full disclosure for more information.
Superstar Gwen Stefani's animated series KUU KUU HARAJUKU will be coming to DVD on June 13, 2017.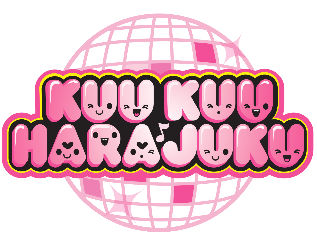 The first installment, KUU KUU HARAJUKU: MUSIC, BABY!, contains 14 episodes from Season One and will be available on DVD on June 13th 2017. Initial shipments of the DVD contain a code to download the KUU KUU HARAJUKU theme song (while supplies last).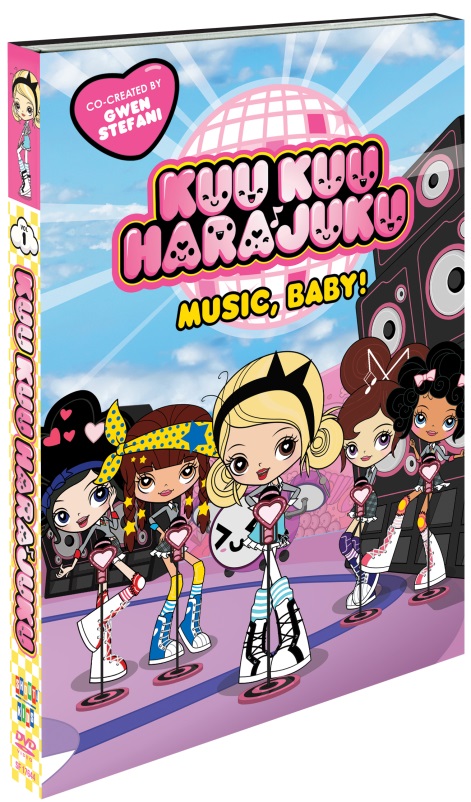 The animated series KUU KUU HARAJUKU follows the fun-filled adventures of the band HJ5 – Love, Angel, Music, Baby and G – through their super kawaii (cute) world of music, fashion and style.
The inspiration for this popular animated series came from Grammy® Award-winning musician Stefani who wanted to create an animated series for girls that encourages and celebrates creative self-expression, imagination and individuality.  The show's setting is inspired by the exuberant street fashion and creative youth culture of the Harajuku district but it takes place in a magical fantasy world like nothing you've ever seen before.
G is the lead singer of HJ5. She's a natural leader and an amazing friend. She's positive and enthusiastic, and fond of saying "Tick tock, time to rock!" Love is a fashionista, a great dancer, and cute as a button. She's also a genius who often saves the day with her inventions. Angel is super chic, fun and enthusiastic. This fashionista has 325 pairs of shoes, and even her accessories have accessories! Music has a tough girl attitude, and is brutally honest. She brings a hint of edge and attitude to the group, and is fiercely protective of her friends. Baby sees the kawaii in all things: babies, puppies, rattlesnakes… She sees the good in everything, and also knows how to take care of herself. As G says, "Baby can charm the fire out of a dragon."
Then, there is Rudie Rhodes, HJ5's well-meaning but semi-incompetent manager. He books the band on all sorts of gigs, and they are happy to play anywhere, but dealing with villains, aliens and general Harajuku weirdness makes it impossible for them to ever finish a concert!
KUU KUU HARAJUKU is co-created and produced by Moody Street Kids (Australia), Vision Animation (Malaysia) and Gwen Stefani and commissioned by Network Ten with investment funding from Film Victoria (Australia) and MyCreative Ventures (Malaysia). DHX Media handles international distribution for the series, and licensed the series to Shout! Factory.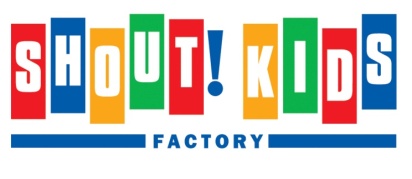 KUU KUU HARAJUKU™ and device are trademarks of Harajuku Lovers, LLC. Authorised users Vision Animation Sdn Bhd and Moody Street Kids Pty Ltd.
Episodes Include:
Totally Teen Genie / Angel's Flight
Music, Baby / Wanted Audience
Game Over / Phony Ponies
Hello Puppy / G, This Is Awfully Deep
Baby's Birthday / Labor Of Love
Bad Boy and Little Girl / Yummy Bear Nado
Drums of Doom / Adventures In Housesitting
Special Features 
About Shout! Factory
Shout! Factory, LLC is a diversified multi-platform media company devoted to producing, uncovering, preserving and revitalizing the very best of pop culture. Founders Richard Foos, Bob Emmer and Garson Foos have spent their entire careers sharing their music, television and film favorites with discerning consumers the world over. Shout! Factory's entertainment offerings serve up feature films, classic and contemporary TV series, animation, live music and comedy specials. In addition, Shout! Factory maintains a vast entertainment distribution network which delivers culturally relevant programming, movie and audio content to all the leading digital service providers in North America and across multiple platforms. Shout! Factory owns and operates Shout! Factory Productions, Scream Factory, Shout! Factory Kids, Shout! Factory Films, Mystery Science Theater 3000, Timeless Media Group and Shout! Factory TV. These riches are the result of a creative acquisition mandate that has established the company as a hotbed of cultural preservation and commercial reinvention. Shout! Factory is based in Los Angeles, California. For more on Shout! Factory, visit shoutfactory.com.
KUU KUU HARAJUKU: MUSIC, BABY! is available now for pre-order at Amazon.com and ShoutFactory.com. The 2D-animated series currently airs on Nickelodeon in the U.S. and on Family Channel in Canada.