Harry and David make Holiday Shopping Easy and Sweet with Special Savings (and Win $300 Amazon Gift Card)
This post may contain affiliate links or I may have received the product free in exchange for my honest review. See full disclosure for more information.
One of the favorite things that I love to send family that lives out of town are delicious gift baskets filled with gourmet food and beverages. Harry & David is a great resource for this, especially during the holidays!

Their gift baskets and gourmet foods are perfect for entertaining, gift giving, and your holiday menus. Harry & David now offers a wine club, wine, cheese, and fruit club, Moose Munch club, and more. Their gifts include delicious goodies as well as a keepsake container.
I want to make sure that my mom, who lives in Florida, something unique and delightful to adorn her table on Christmas morning, even when we cannot make the trip down. She entertains with her sister each year and they prefer to have something other than a traditional Christmas ham. That is why I love sending her something juicy and sweet like this Pork Loin Roulade with Cherry Herb Stuffing. It is the perfect main course for her and my Aunt Barb and they just love the savory taste of the pork coupled with the sweet cranberry dressing center filling. It is delivered in a cooler box with ice packs to ensure that it arrives cold and fresh and ready to store for Christmas dinner. They also have a Lamb Roulade with Lemon-Rosemary Pesto and Beef Tenderloin Roulade with Blue Cheese Stuffing that I cannot wait to try.
This perfectly sized Pork Loin Roulade with Cherry Herb Stuffing is sure to be the highlight of any dinner gathering this holiday season. Delight family and friends with a feast for the senses by serving this juicy, flavorful pork loin, seasoned to your liking with salt and pepper and stuffed with an impressive cherry bread stuffing filled with celery, cherries, farm-style bread with a hint of honey, onion, and parsley. Note: Bake at 350°F until meat is 158°F throughout, and enjoy this exquisite dinner gift accompanied by a delectable gourmet side, like our honey balsamic-glazed green beans.
Another one of my favorite selections on Harry and David is their delicious Christmas Cheesecake Duo. I love having holiday themed dessert that are unlike traditional pies and cakes that everyone serves. These Christmas tree shaped cheesecakes are the perfect and delicious. What is even better than their delightful appearance and sweet taste is the fact that they are delivered right to my door and takes the hassle out of baking for me. I am busy enough with shopping, wrapping, cleaning and cooking dinner, that this is the perfect solution and everyone loves the taste.
Have a gourmet dessert delivered this holiday season. The Christmas Cheesecake Duo is a pair of New York-style cheesecakes shaped like Christmas trees. The cheesecakes are covered in velvety, rich chocolate ganache and tastefully decorated for the season. Each is topped with an icing wreath. 
Finally, on my list of things to get are these cute Peppermint Drinking Chocolate tins filled with sweet mix. I will be giving these to all of my co-workers this Christmas and it is a unique gift that no one else will get them. It is filled with sweet, dark chocolate drink powder mixed with hints of Harry and David's signature peppermint bark. This is symbolic of a cool, crisp wintertime drink and my co-workers will love it.
Delivered in a decorative oval-shaped paperboard container, this delightful peppermint treat sends you to a wonderland of sweet holiday indulgence with just one sip. Created using our own premium peppermint bark shavings and dark chocolate or white chocolate with the perfect amount of pure peppermint oil, this drinking chocolate can be dissolved into warm milk to create a sweet holiday sipping-treat.
Whatever tasty or unique gifts you are looking for this holiday season, check out Harry and David first. It will be your one-stop-shop for all your gifting needs.  Right now, you Get 15% off if you spend $75 or more with the code SNOW15 (Exp. 1/15) . Offer is available from 12/1-31/15.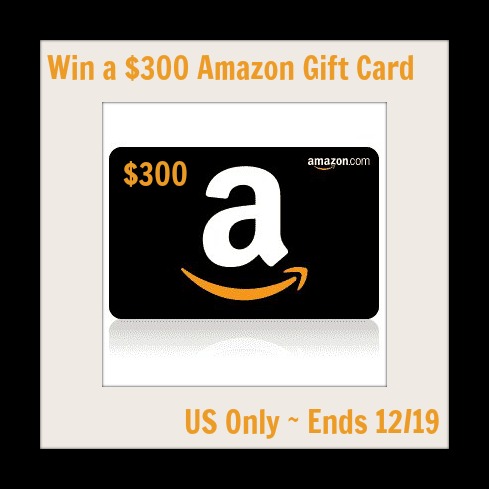 Enter for your chance to win a $300 Amazon Gift Card
Giveaway Dates: 12/4 – 12/19 (ends at 11:59pm ET)
Disclaimers or Restrictions: Open to U.S. residents ages 18 and up only.
a Rafflecopter giveaway
Disclosure: Product purchase is exclusive of taxes and shipping and processing charges and offer excludes sale, discounted, and clearance priced items as well as the purchase of gift cards, wine products, chocolate-dipped fresh fruit, Surprise & Delight gifts, Stock Yards® products, and The Cheesecake Factory® products. Shipping and processing charges are based on the regular price of merchandise. Offer may not be combined with any other promotional discount or offer and cannot be used on previous purchases. Not valid on orders of $2,500 or more; for orders of $2,500 or more, contact the corporate sales division at 800-248-5567. No cash value.