There is no doubt that we all love our furbabies! Some may say we even spoil them with toys and treats. That's alright! However, did you know that toys also play an important role in your dog's life? Dog toys stimulate them by encouraging active play. By encouraging them to run, romp, tug, play, and chew you are contributing to their overall health, along with their mental health. Chew toys also work double duty in providing not only a fun chew, but dental stimulation to keep their teeth and gums healthy. With all that said, Hartz Dog Toys are a staple in our home.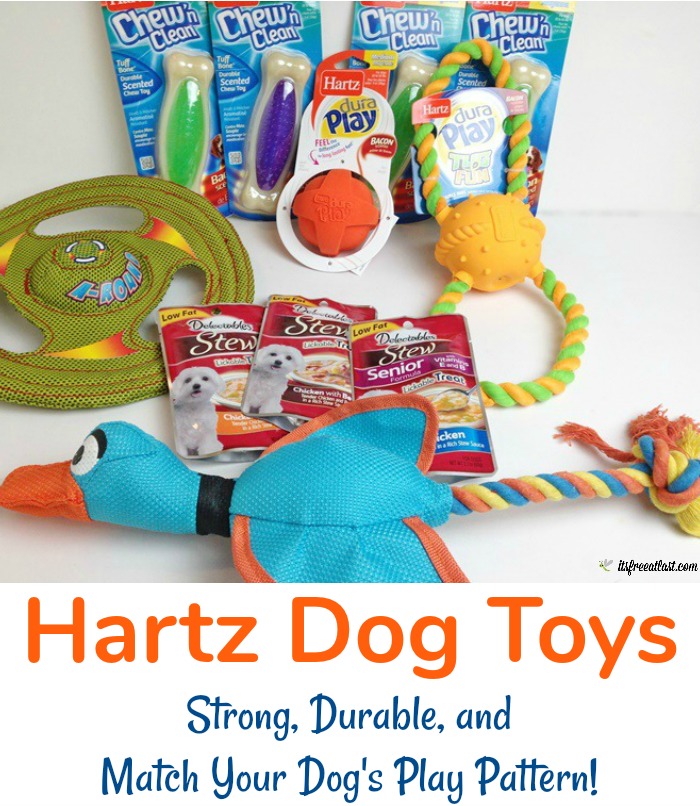 Dogs have 4 primary play patterns – Toss & Retrieve, Tug, Comfort & Security, and Chew. Some dogs may only like one way of playing, while others love them all, or alternate among them. Whatever, your dog prefers, Hartz has you covered with a wonderful variety of dog toys for all size dogs. Before we see a few of their fun toys, let me introduce you to them.
About Hartz
At Hartz they love their pets and their products prove it! For over 90 years, Hartz has made pet products with love, for people like you who love their pets.

They offer over 1,500 products (more are breeding all the time!), with products catered to dogs, cats, parakeets, canaries, parrots, cockatiels, finches, goldfish, tropical fish, reptiles, ferrets, chinchillas, guinea pigs, hamsters and rabbits.
The great thing about Hartz products is they make toys for dogs of all sizes and whatever kind of play they like to engage in! The pack has been enjoying a variety of their toys. I mean TRULY enjoying them! Let's take a look at the different kinds of Hartz dog toys and see who liked what!
For Dogs that like Toss and Retrieve Play!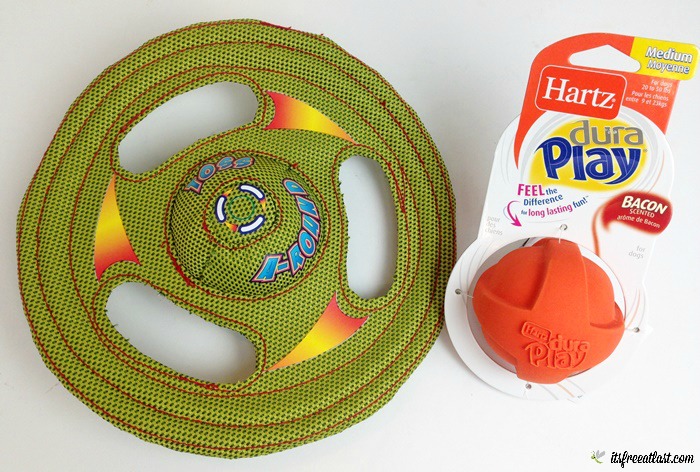 Dogs that like to engage in Toss and Retrieve play enjoy the Hartz Dura Play Ball and the Hartz Tuff Stuff Flyer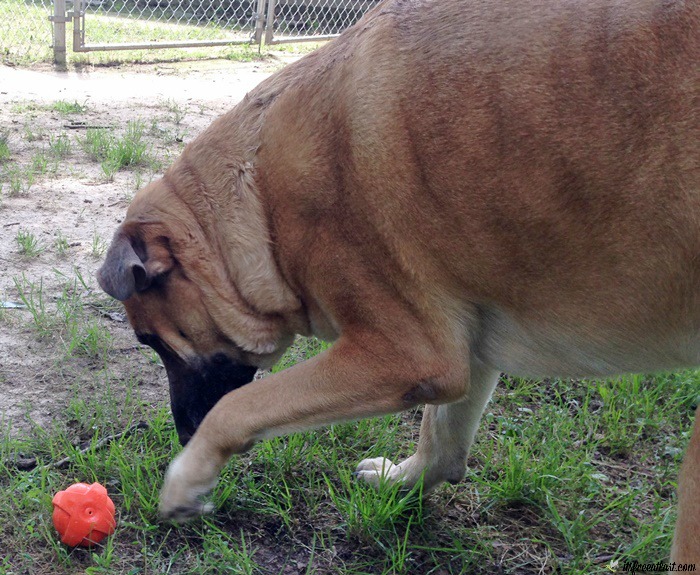 Feel the difference with Dura Play® natural latex dog toys. Each toy provides long lasting fun with a unique foam technology that enhances durability, creating an unmatched chew experience. The ball has an enticing bacon scent! Fun to throw and bounce, Dura Play® toys even float. It is soft and flexible to the touch and perfect for dogs of all ages, even senior dogs and teething puppies.
Brandi received the large size Hartz Dura Play ball and she couldn't be happier. I had doubts about the soft feel as far as it holding up to her chewing. However, I shouldn't have worried. She carries the ball EVERYWHERE – even to bed with her! Her brother loves it too, but she lets him know it is hers!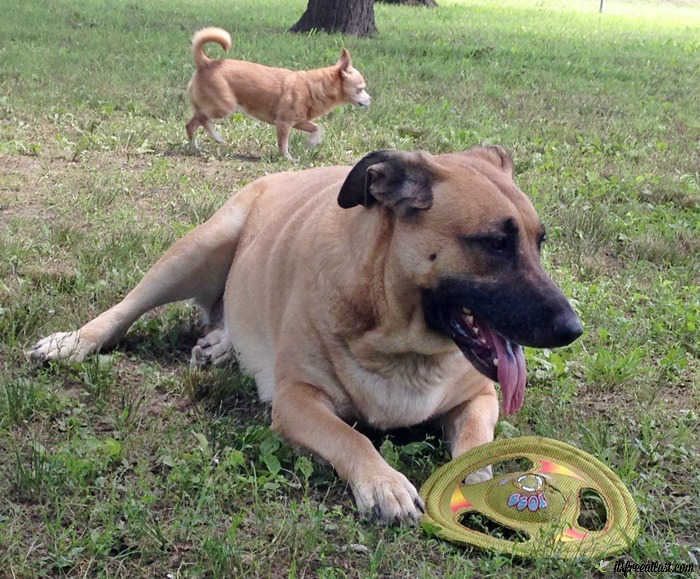 The Tuff Stuff Flyer is a great alternative to rigid plastic discs. Their durable, yet flexible, flyers travel long distances and are easy on your dog's teeth. It is constructed of super-durable ballistic nylon and double stitched seams and can stand up to even the toughest chewers. Grips throughout the disc also make this a great tug toy, and the squeaker in the center will keep your dog interested during solo play. They even float.
None of the pups are Frisbee catchers, but that did not stop them from enjoying playing tug with the Tuff Stuff Flyer. They also like to just walk and carry it around with them.
For Dogs that like to Tug!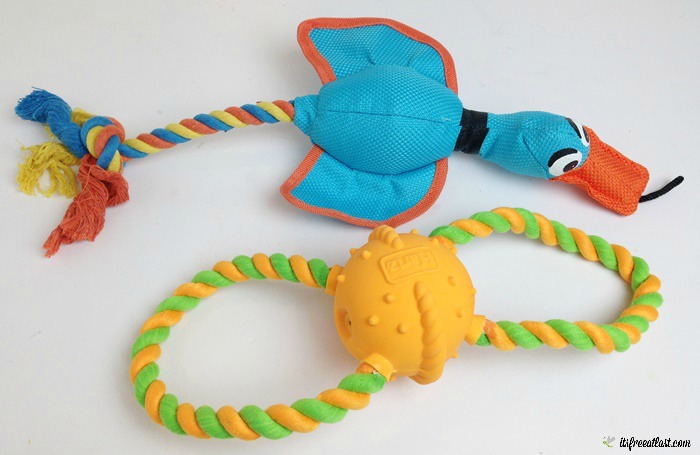 For dogs that love to Tug, Hartz offers the like Tuff Stuff Nose Divers and Dura Play Tug of Fun Double Ring.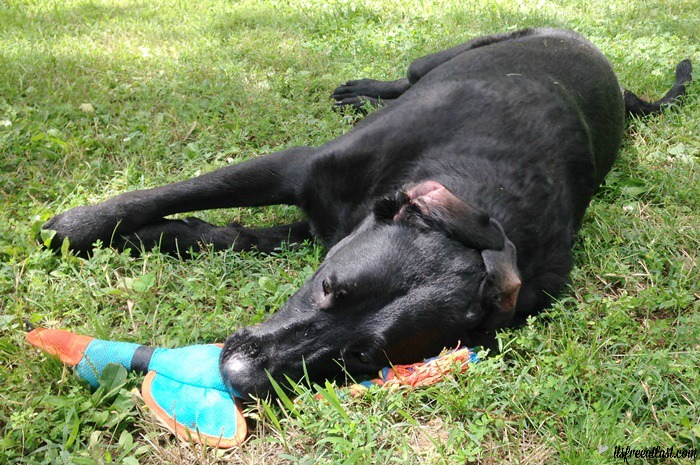 This fun dog toy is made from ballistic nylon. It is durable and made for strong play and chew. The rope adds interactive play value between owner and pet – they even float! Our big guy loves the Tuff Stuff Nose Divers! He has literally worn himself out playing with it and is now taking a little breather!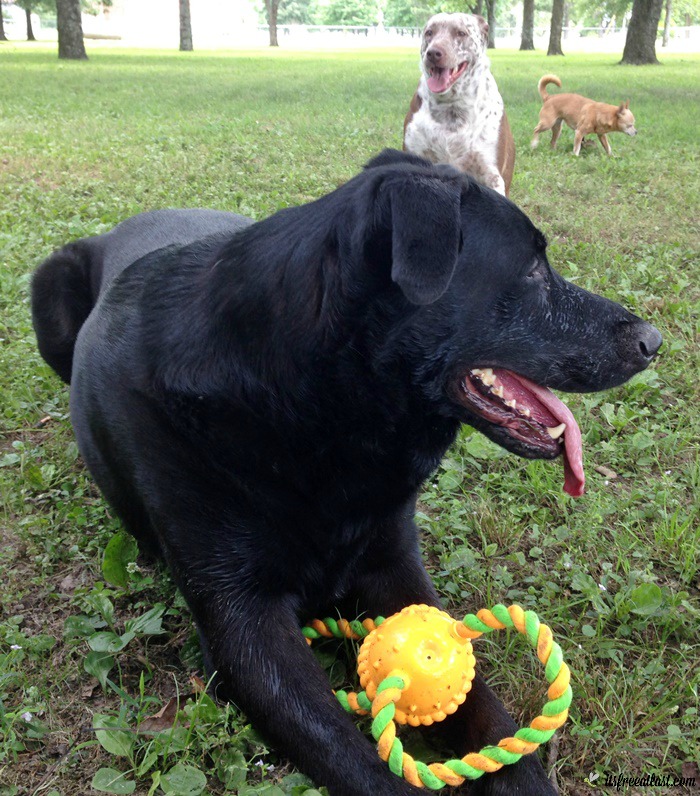 His other favorite toy is the Dura Play Tug of Fun! The ball's tough latex shell and foam filling make for a desirable chew, while the sturdy rope running through the toy offers enjoyable hours of tugging and tossing. The Double Ring toy consists of a ball at the center and two rope loops that are easy to grasp on both ends of the toy. Owner and pet will enjoy a challenging game of tug! The toy is bacon-scented, too.
For Dogs that love to Chew!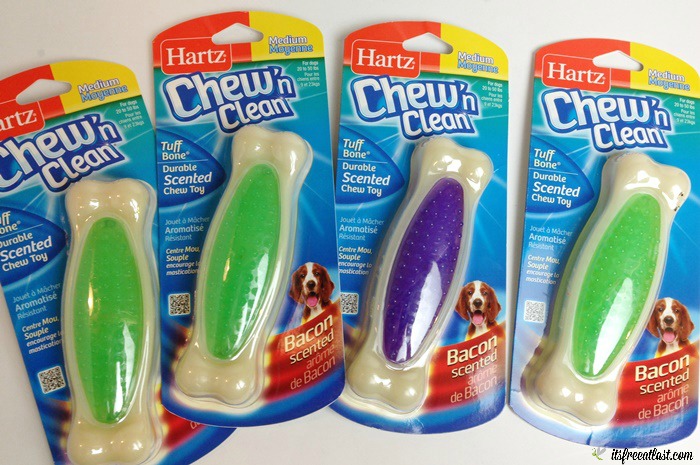 For dogs that love to Chew, the Hartz Chew 'n Clean Tuff Bone is perfect! It comes in different sizes. We received the Medium and it is sufficient in size for the big mouth of these German Shepherd/Lab mixes!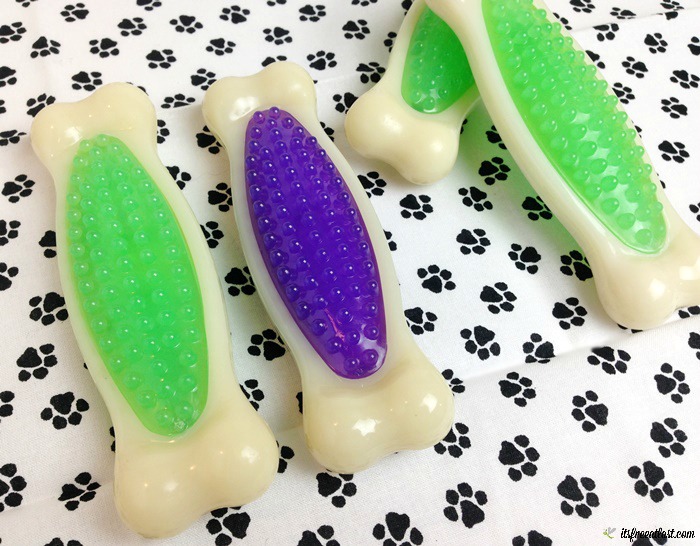 The Chew 'n Clean Dental is a chew toy and treat all in one. It is a safe and long-lasting chew with a durable nylon shell combined with a tasty bacon flavored treat. Not only does this toy satisfy the natural desire to chew, it also gently massages your dog's gums while helping to minimize plaque and tartar.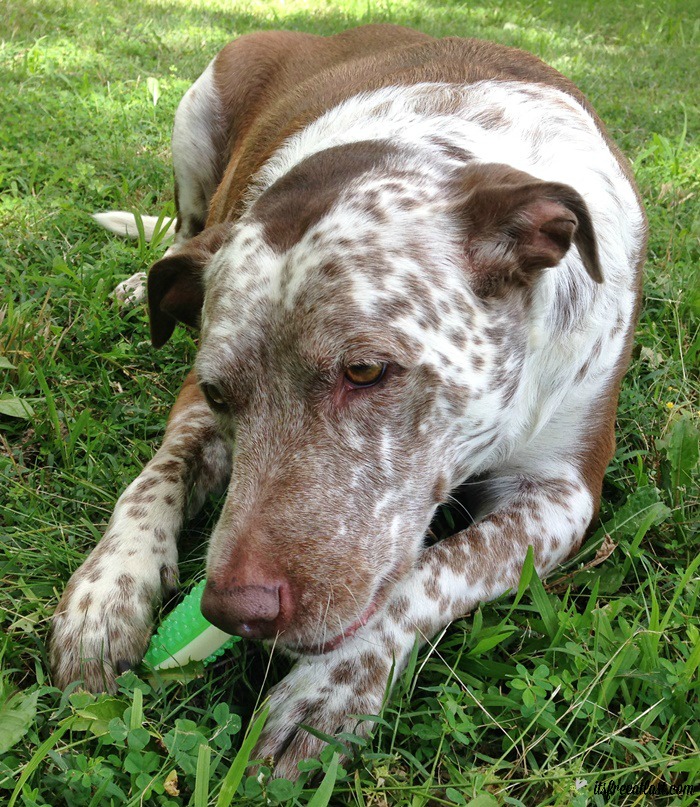 I am not sure who loves this one more – the dogs or me 🙂 It keeps them entertained, busy, AND helps clean their teeth and gums!
For Dogs that Crave Comfort and Security!
For dogs craving Comfort and Security, Hartz offers plush toys such as the Quackers. These dog toys will quickly become a dog's favorite toy with their realistic plush designs and great sounding squeakers!
We skipped these toys because to be honest, these big lugs immediately tear into the plush toys and shred them.
Of course, Dogs love Lickable Treats!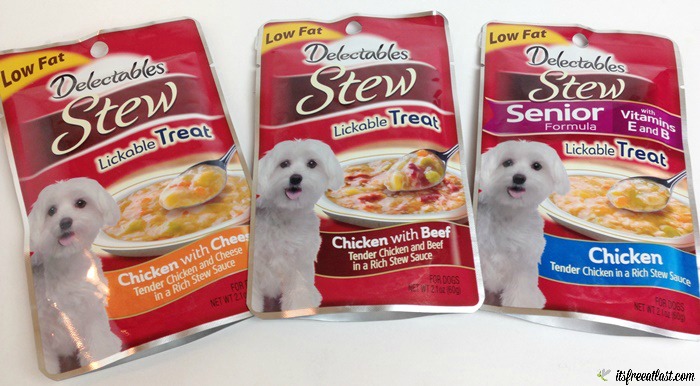 The Delectables Stew Lickable Treats is a treat they can all agree on! These tasty treats are made with, real meat, real cheese, and real veggies. They are low-fat and the perfect size for that in-between meal treat.
Simply open the pouch and pour into a bowl for a perfect in-between meal treat your dog will love! You can also use as a dry food topper to add extra flavor and goodness! It comes in several flavors and even has a Senior formula!
Dogs and Dog Moms Love Hartz Dog Toys!
As a dog Mom I love the durability of the Hartz Dog toys. These are tough toys built to last and are sold at a reasonable price point. I also enjoy seeing the pups running, tugging, chewing, and working off excess energy! The pups love them because they are fun and, well, they love being spoiled with new toys. It's nice to find toys that match up to their personality and way of playing.
How does your dog like to play? Do they prefer Toss & Retrieve, Tug, Comfort & Security, or Chew? Visit Hartz and get your best friend a few new toys that match their personality and play pattern!
Connect socially with Hartz