Heroes of the City Prize Pack Giveaway (Ends 05/17/14)
This post may contain affiliate links or I may have received the product free in exchange for my honest review. See full disclosure for more information.
First off I have to say is I loved working with this company. They were very fast to respond, and fast to send me the app. They were vey easy to talk with and very willing to help me any chance possible!
About Heroes of the City
Heroes of the City is a television cartoon about rescue vehicles in a small town where everyone can be a hero!
Follow the fantastically exciting adventures along with friends in town. Meet Paulie Police Car and Fiona Fire Engine as they help the townspeople find thieves, put out fires, and solve one of the many mysteries that happen in the otherwise quiet town. You will also get to know Calamity Crow, the most unlucky bird in town.
Emphasizing friendship, Heroes of the City contains a great deal of warmth and what may be accomplished by helping each other. The cartoon is primarily targeted at children age 3 – 7.
Heroes of the City Movie App
The Heroes of the City Movie app! An all-in-one, safe and fun children's application.
This is a perfect app for children 2-6 year. The app includes both movies and games.
The content is fully adapted to the target audience and is based on the popular television series Heroes of the City
Features include:
More than six hours of entertaining movies!
Nine exciting games!
Air Play function for your Apple TV!
Collect trophies to unlock your own secret surprise!
One full movie episode, 3 games and a music video for free.
I was given Hero's of the City app to review. My youngest wanted me to tell you this is VERYYYYYYY fun "In her own words." I really liked this app. I know my youngest really did love playing this app! This is one of the best apps I've seen in a very long time. I trust my daughter sitting here playing it for a while and know that she isn't going to wander somewhere she shouldn't be.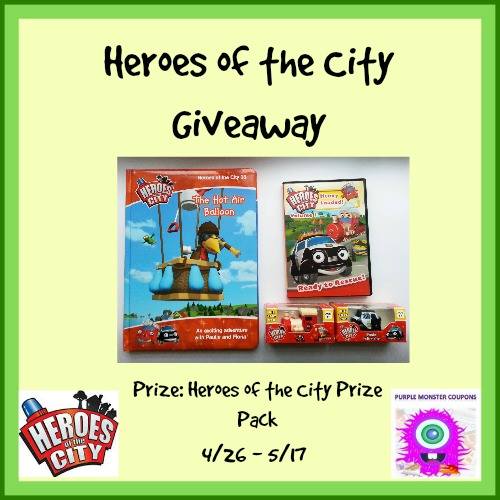 Purple Monster Coupons has partnered up with a few other bloggers to be able to give our awesome fans a chance to win a very cute Hero's of the City prize pack!
Open to USA/CAN 18+
ends may 17 at noon est
Disclaimer: I did receive a app to review but ALL opinions are my own! Purple Monster Coupons and the other bloggers are NOT responsible for the prize in anyway! This giveaway has nothing to do with Facebook! If your interested in working with Purple Monster Coupons email us at [email protected].