Honey Bunches of Oats Tropical Blends #Review
This post may contain affiliate links or I may have received the product free in exchange for my honest review. See full disclosure for more information.
Honey Bunches of Oats is one of my top picks for great-tasting cereal.  When I was chosen to review their newest flavor, Honey Bunches of Oats Tropical Blends, I was really excited.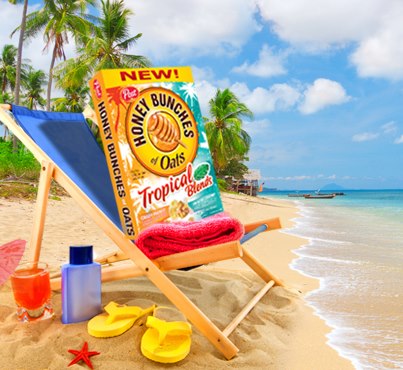 Crispy mango flavored flakes combined with real coconut shavings and coconut flavored granola clusters in NEW Honey Bunches of Oats Tropical Blends. This stuff is DELISH!!!!!
Just the right amount of flavor between the coconut and mango flakes makes this a very delightful and tasty breakfast treat.  I thoroughly enjoyed it and the box didn't last a day between everyone in my household.
Containing 9 essential vitamins & minerals, this is a cereal I feel confident in serving my family.  It contains 4 nutritious grains including rice, wheat, oats and corn.  At only 160 calories when served with 1/2 cup of Fat Free Milk, this is filling and low in fat.
Want the chance to win a FREEBIE coupon to try NEW Honey Bunches of Oats Tropical Blends out for yourself? Click HERE for your chance to enter the giveaway.
BONUS!!!! Purex and Honey Bunches of Oats have teamed up to bring you their "Escape to the Tropics Sweepstakes" – Go HERE for details on how to enter and win many prizes, including a grand prize of a trip to Waikiki Beach!!!
Purex Insiders provided me with a sample of Honey Bunches of Oats Tropical Blends in exchange for a product review.  However, all the opinions expressed here are completely my own. I only recommend products or services I personally use.  I am disclosing this in accordance with the Federal Trade Commissions 16 CFR, Part 255 "Guides Concerning the Use of Endorsements and Testimonials in Advertising"