Iconic Production of "NOAH" Come to Theaters for Limited Time
This post may contain affiliate links or I may have received the product free in exchange for my honest review. See full disclosure for more information.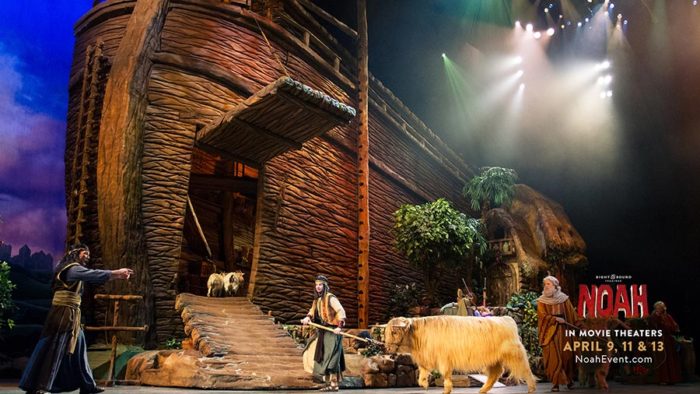 One of the Bible's best-known stories comes to life on movie screens for a special nationwide event April 9, 11 and 13. Filmed in front of a live audience, Sight & Sound's NOAH is the dramatic, musical version of the man who trusted God in the toughest circumstances. More than 5 million people have experienced the live performance of NOAH at Sight & Sound's theaters in Lancaster, PA, and Branson, MO, – making it Sight & Sound's most-attended show in their 42-year history.
"NOAH offers a truly spectacular entertainment experience that audiences have cherished for years," said Sight & Sound Chief Creative Officer Josh Enck. "More than the story of an ark filled with animals, this is the epic tale of how one man faced a monumental decision that led to an enormous task and a world changed forever."
Audiences at the nationwide Fathom Events screening will also get a behind-the-scenes look at Sight & Sound Theatres' four decades of live stage shows that have been seen by more than 23 million visitors worldwide. NOAH takes you on history's best-known voyage as you board the enormous ark—along with two of every kind of animal!
Filmed before a live audience, NOAH captures the panoramic scope, spectacle and grand scale that are signatures of a Sight & Sound musical production.
This is the third Sight & Sound production to make the journey from stage to screen, including MOSES in 2018 and JONAH in 2017.
Show Times (**All Times Local**):
Tuesday, April 9, 2:30 p.m. & 6 p.m.
Thursday, April 11, 6:30 p.m.
Saturday, April 13, 12:55 p.m.
For tickets and more information, visit NoahEvent.com