If It Barks Dresses Your Dog in Style with Durable Collars and Leashes!
This post may contain affiliate links or I may have received the product free in exchange for my honest review. See full disclosure for more information.
Any dog parent can tell you that dog collars and leashes are very important in keeping our pups safe. However, just because they are a necessary item does not mean they have to be dull and boring. Actually, it is quite the opposite! Collars and leashes can be BOTH stylish and functional! Since Poco arrived as a rescue, he has been wearing hand-me-down collars from his sister. According to him, it was a bit embarrassing for him to be sporting a pink collar – just what are the other dogs thinking, sigh. Who says fashion doesn't matter in the dog world! So, we went on the hunt for a stylish new collar and leash that would fit HIS personality! We found just what we were looking for at If It Barks! Now, he is proudly strutting and holding his head high while wearing his new collar and leash!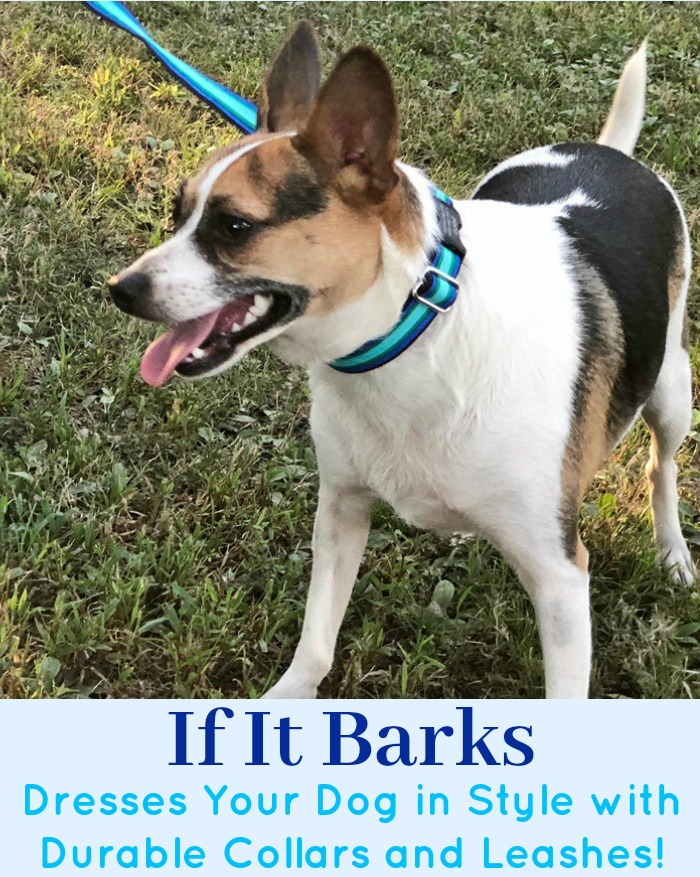 If It Barks offers handmade dog collars, leashes, and more made just for your dog. They high quality materials (sustainable when possible) and they carefully design dog products that meet the needs of you and the dogs you love. Their mission is to bring style to active dogs without compromising functionality. Every product is washable and designed with comfort and longevity in mind. Whether he's running, training, performing, or sleeping, he shouldn't have to compromise his style.

If you don't see something that fits your need or your tastes, get in touch. They work one-on-one with clients to create designs tailored to you and the dog you care about. There is no extra design fee – it's just good, old-fashioned service.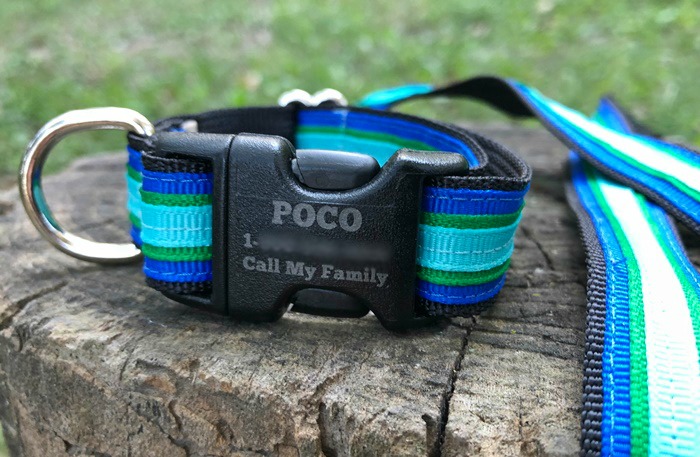 You will love the cute Original Stripe Dog Collar from If It Bark! It is a layered dog collar that uses standard thickness webbing, yet has a very soft feel. The Stripe Dog Collar is heavy-duty and has an adjustable range. The bright colors are PAWSOME and you have options for different buckles too. They come in Black Plastic, Metal/Plastic, or Aluminum. TheOriginal Stripe Dog Collar and the matching leashes are perfect for outfitting your well-dressed pooch!
Original Stripe Dog Collar features in a nutshell:
Heavy duty .075″ strong nylon webbing.
All collars are adjustable. The longer the collar the greater the adjustable range.
Choose your webbing color and two layers of durable grosgrain ribbon.
An extra D-ring option is available. It will be located on the long loop next to the metal slide.
Our dog collars are machine washable.
Handmade to order in the USA
Let's see how easy the collars and leashes are to order!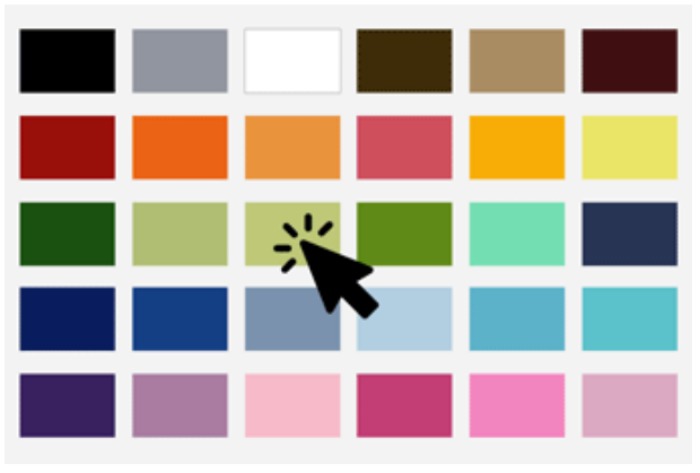 Choose Your Colors
You have several selections to choose from. You can choose your favorite colors, whether it's a sports team, a holiday, or just your own personality. For Poco, I wanted bright and colorful to match his personality. So, I chose the colors Electric Blue for the base, Emerald for the middle, and Navajo Turquoise for the top.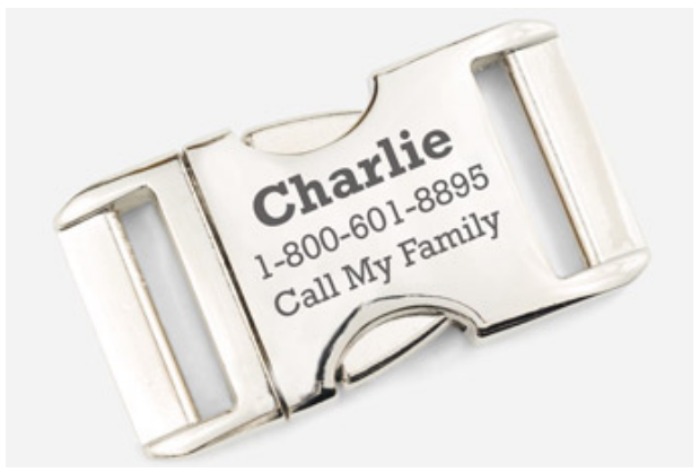 Personalize Your Buckle
If you hate those jingle tags, but also want to keep your dog safe by wearing personalization and phone number, you will love the stylish buckle choices! The buckles are available in Black Plastic, Metal/Plastic, or Aluminum.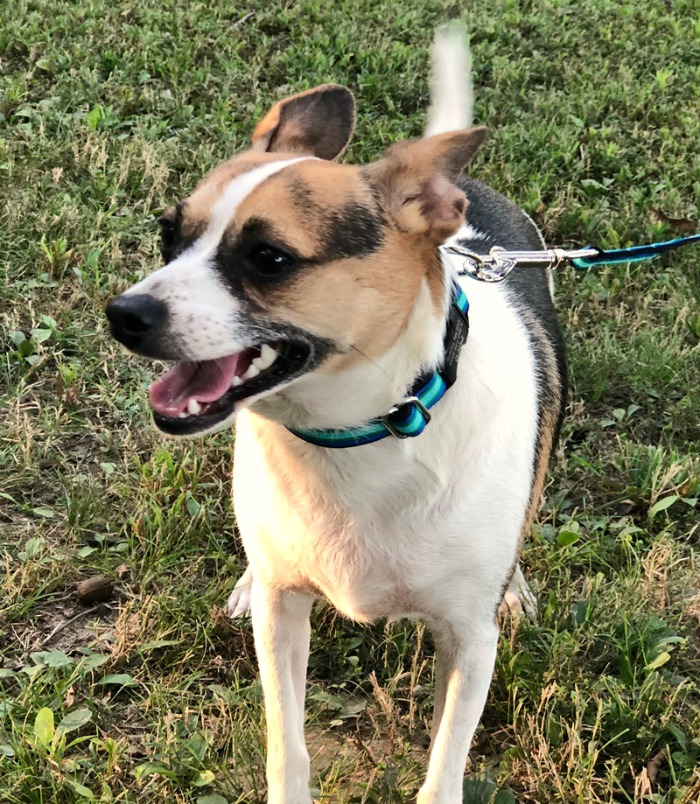 I chose the Black Plastic Buckle with Poco's information in the typeface "Chunk Five". I love the "Call My Family" for my third line of text. With my little Houdini, I never know when that might be important.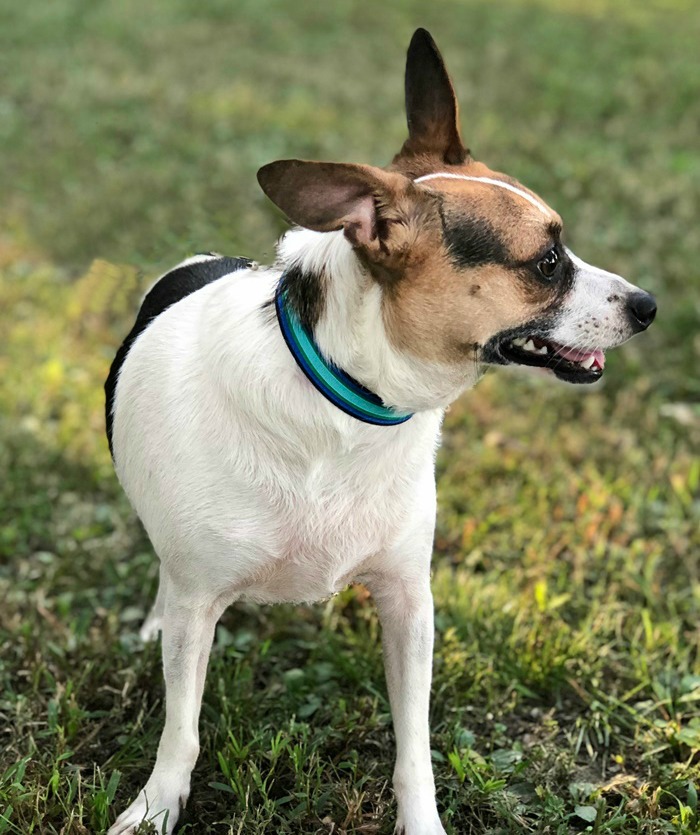 Collar Widths and Ordering Tips
I chose the 3/4″ widths for my little 10-pound guy. The 3/4″ are made with the center stripe pattern due to the small width and are better for small dogs.
However the, 3/4″ width collar is not recommended for neck sizes greater than 18″. For larger dogs, the 1″ or 1.5″ width would be a better option.
You would not want a skinny collar for big dogs and a wide collar for small dogs would be uncomfortable for them.
Another thing to be aware of when ordering for a small dog is to consider the extra weight when adding metal buckles or an extra D-ring, hence the reason I chose the Black Plastic buckle and to skip the extra D-ring for Poco.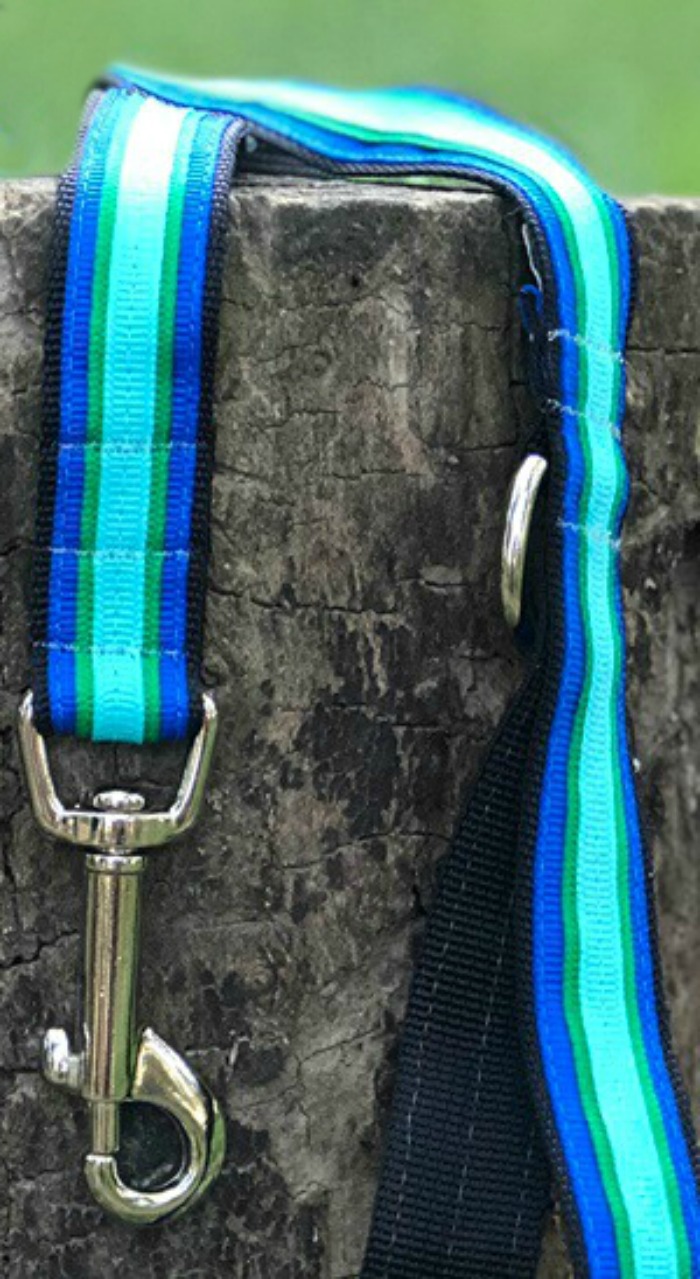 Of course, to complete the look, you have to have the matching Striped Dog Leash! The matching leashes are available in 3 widths and 4 lengths, including a traffic-lead length to keep your dog safely close to you in high traffic areas. The traffic lead length is also great for use in the vehicle to restrain your dog.
I chose the 3/4″ x 4′ long leash for Poco. It is the same width as his collar and I like having a shorter leash for my pups. The shorter leash helps me control the dog in they decide they want to pull, flip, and flop. In my opinion, the longer the leash, the less control you have.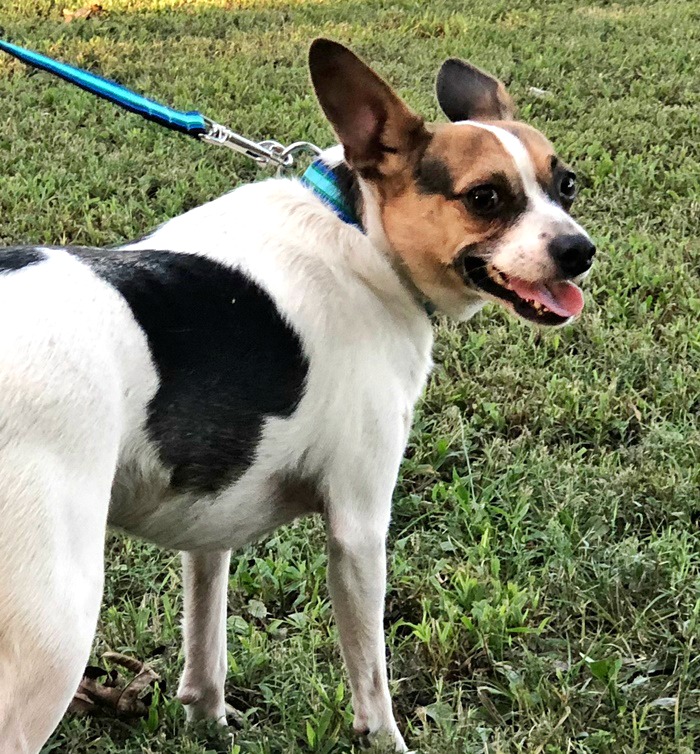 Poco and I are loving his new collar and leash. I think he looks devilish handsome and if his high stepping is an indication, he thinks so too!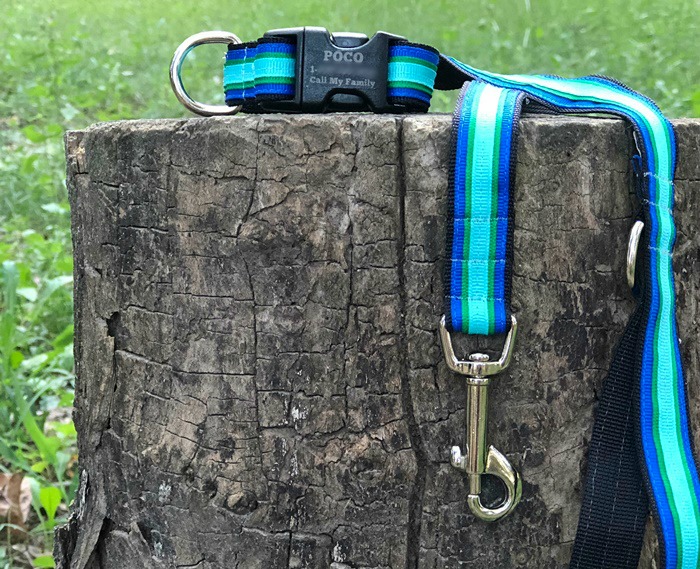 If you are looking for a stylish, durable collar and/or leash be sure and visit If it Barks! They offer a large variety of dog collars, Martingale Collars, leashes, and tags to help your dog be the best-dressed pooch of the neighborhood!
Connect socially with If It Barks