Instagram Creative Feed: How to Make Posts and Reels Stand Out
This post may contain affiliate links or I may have received the product free in exchange for my honest review. See full disclosure for more information.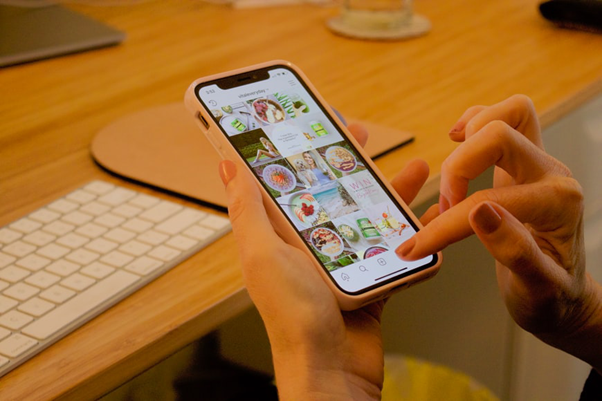 Image @Gabrielle Henderson from Unsplash
Instagram users are constantly on the edge searching for new ways to attract new followers and keep them entertained on their pages. While creators are working on their part, the Instagram management also launches new features periodically to add dynamism to the app.
One of the newest features, which many brands and users have quickly adopted today, is Instagram Reels.
Everyone on the gram uses reels now. Especially since Adam Mosseri, head of Instagram, stated that the app will promote reels more.
However, since that particular feature is seeing a lot of traction, it has become harder to stand out.
There are lots of ways to craft your posts and Reels to differentiate yourself positively from others . In this article, we'll explain first-hand tips to help in your content development and give you content ideas that'll help grow your account. Ready?
● Start With the Perfect Strategy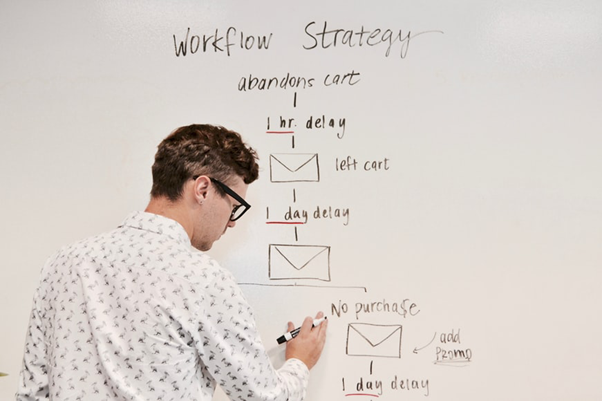 Image @ Campaign Creators from Unsplash
As a brand, your page's operation tactics should be distinct from those of a random person. Why? It's easy for the latter to get new followers by liking and connecting with other people's postings, but it's not so easy for brands. As a result, conscious effort is required to reach your objectives.
One of the most underrated ways to boost your Instagram success is to first craft and use a proven content strategy. The main goal of developing a content strategy is to help you be consistent and organized enough to attract new audiences.
There are three important things to note when creating your strategy:
Consistency of posts
Style and Themes
Brand's goals and objectives
The first step is to set a goal, then conduct research and choose a content marketing management system. Next, list your content ideas and then implement them. You need to have a content calendar to make all these work.
Also, stick to your brand niche. For example, if you're an entertainment brand, you can post about news and upcoming events in your industry. Remember to track your growth using either Instagram Insight or third-party tools.
● Get Familiar With Current Trends
Trends aren't stable at all. The fashion style in trend last year was way different from the one in trend now. You can say the same of technology, social media, entertainment and all other sectors.
If you're a constant user of Instagram, you'll notice that reels follow a particular trend. It may be in terms of music, dance steps, visual look, or anything. As a brand on the gram, ensure you understand current trends and follow suit.
Of course, even while you follow trends, ensure that your uniqueness comes into play when creating your reels and posts. Your goal should be to entertain your audience, and, at the same time, gift them value.
A little secret: Brands that work with current trends have a better chance of attracting more audiences, retaining them, and then converting them to raving fans. The key to success is right here, make good use of it.
The best part of the gist is that you can easily discover trends on the app. Simply check the explore tab and see the kind of reels or posts that keep coming up. Before creating any new reel, take some time to study others.
● Stick to Short, Witty, and Interesting Captions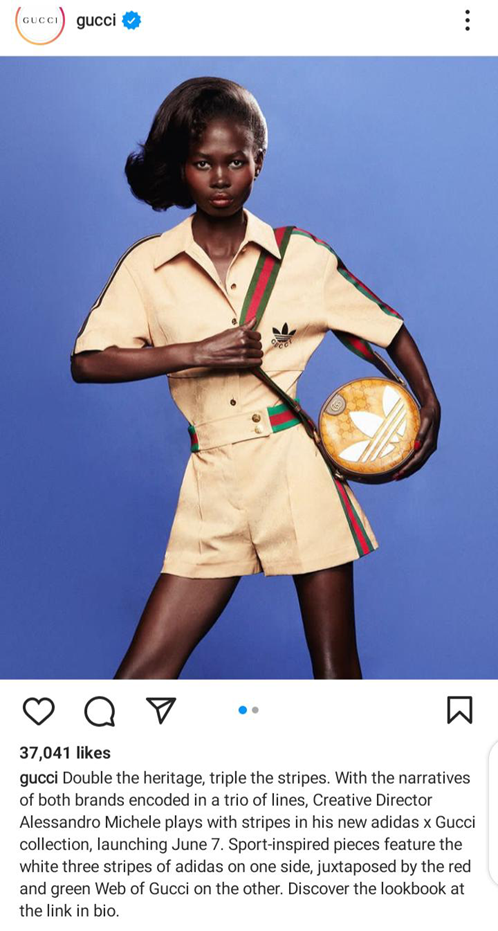 Image @Gucci
The length of your feed and reel captions is something you must decide for yourself. However, many consumers have a limited attention span. If your captions are too long, no one will read them.
Unless you get Instagram likes it can be difficult to get followers' engagement when they hardly read your captions. so keep this in mind while deciding on the length of your content, especially for reels.
Instagram captions for feed posts are limited to 2,200 characters, which equates to 300-400 words. Meanwhile, only 55 characters are permitted to appear on reels.
In a research conducted by Quintly, results showed that shorter posts drive more engagement than longer ones.
When creating your captions, be free to play with tools like:
Hashtags
Location tags
Emojis, etc.
All these add to the attractiveness of your content. Note that these tools, especially hashtags, also have to be sparingly used to avoid spamming.
● Use Transitions and Filters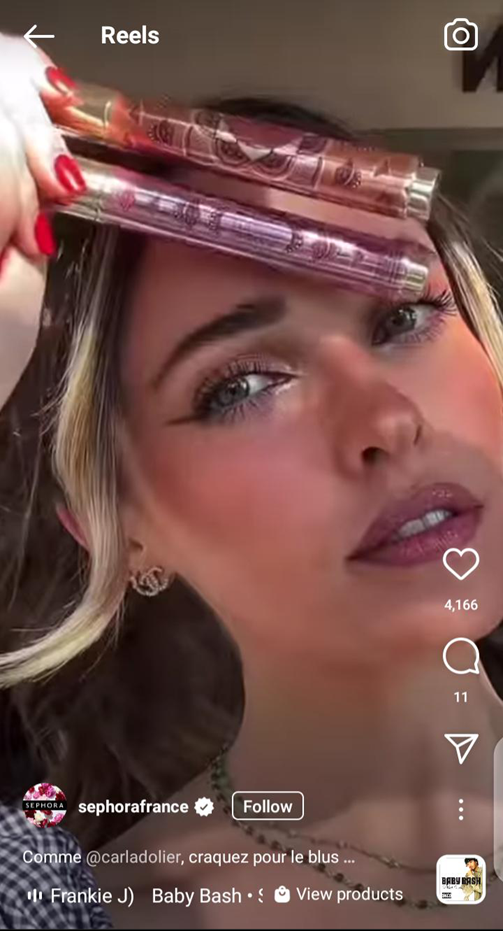 Image @SephoraFrance
A fun transition is one thing that Instagram users always want to see in a Reel. If you've been making videos for a long time, then you're probably familiar with transitions.
Reels keep people engaged and curious about what will happen next. They're great for capturing attention, which is why fashion-related Instagram accounts have been particularly fond of them. Keep an eye on the most popular Reels to discover which transition techniques are popular.
Asides transitions, filters are also a great asset when it comes to both reels and Instagram feed posts. Filter can improve the general appearance and performance of your post, while also helping you to maintain a consistent theme.
However, a little mistake can disrupt the plan. Avoid poor editing and excessive filtering. Instagram is a marketplace filled with lots of professionals. While many visit the app for entertainment and relaxation, they are quick to notice any mistake. So, make sure there is a perfect blend of all effects.
● Be creative
If you post the same (or similar) stuff to Instagram as everyone else, your followers will ultimately become bored and stop watching. Also, don't just repeat anything you've already posted on your feed or in Stories every time.
Original and fresh Reels are required to keep your audience engaged. Consider what you can do on Reels that your competitors aren't doing. How can you approach your topic/business area from a different perspective? It doesn't have to be revolutionary, but it should be more inventive than just another video, and that you can achieve with the help of online tools these days like an online reel maker.
● Be Natural
Creating content can be challenging. For a brand, the pressure to achieve results within a short while can overshadow your emotions and hinder your self expression.
But even you have your own uniqueness and the earlier you start letting it show in your posts, the better for your brand. Let your personality be obvious, and be as natural as possible. Customize your themes and upload pictures that work well with your brand goals.
● Choose Your Music Wisely
There's another dimension to the viewer's experience with Instagram reels, and that's sound. Choosing the proper music is crucial, especially in the opening few seconds. Someone browsing may be enticed to scroll on not only by the visual footage but also by the soundtrack.
Instagram reels allow you to upload your own music or choose from a variety of options provided by Instagram. Use sound to create a spooky mood, whether it's energetic and appealing music, dreamy acoustic music, or even a creepy tune. Also, use music that is in trend.
● Value Caps it All
Image @Charlie Firth from Unsplash
Your major aim as a brand is to attract and nurture lots of followers and make sales. While working to achieve these goals, never forget to always dish out value to your audience.
If there's anything that announces you and your work more, it's the value others get from you. Whether in your posts or reels, make sure there's something tangible to grab from the content.
For example, a baby ware store can decide to include tips for new mothers in their reels, and posts. Likewise, if you work with pets, posting tips about how to groom their pet is a way to give value. This will help someone avoid or resolve a problem.
Conclusion
What more can we say? It's time for you to DO. Customize these tips to fit your brand's goals, and work with a good content strategy.
Most importantly, have fun. Experiment without fear. Take advantage of all Reels' features and don't relent on giving value. Good luck!