It's So Me! Personalize-Your-Own Light Box
This post may contain affiliate links or I may have received the product free in exchange for my honest review. See full disclosure for more information.
School is starting back up and your daughters will love this item! They can express themselves by creating their own inspirational messages to get them through each day of the school year! This is a very colorful message board where they can write their own messages, decorate it anyway they want so they can Light Up with their daily messages!
Girls need to express themselves in more ways than one. It's so me! fashion activities are at the forefront of the trend scene ranging from jewelry, to room décor, to stationery. Not to be left out of our DIY equation are fashion faves such as nail art and hair wear. Each kit is hand selected and designed to achieve one goal for our girls – creative freedom. A signature brand for 10 years, it remains trusted for both quality and on trend fun that tweens love!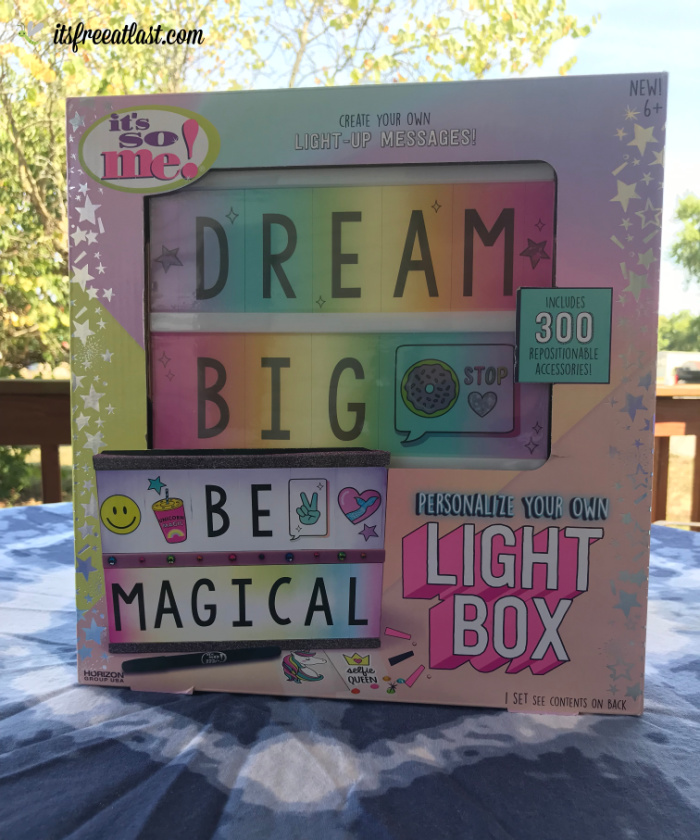 About Horizon Group:
We trace our history in crafts to 1912 when, as a small company in New York City, we supplied trim and ribbon items to light manufacturers in the area. Today we are America's leading supplier of Craft Components and Activity Kits for people of all ages- but especially children. Our brands are recognized and trusted for delivering high quality and innovation at an exceptional value and artistic exploration for children. The line uses vibrant graphics to inspire a strong call – to-action, whether by showing how easy it is to build and paint your own birdhouse, or how fun it is to get your hands dirty and mold your own stepping stone.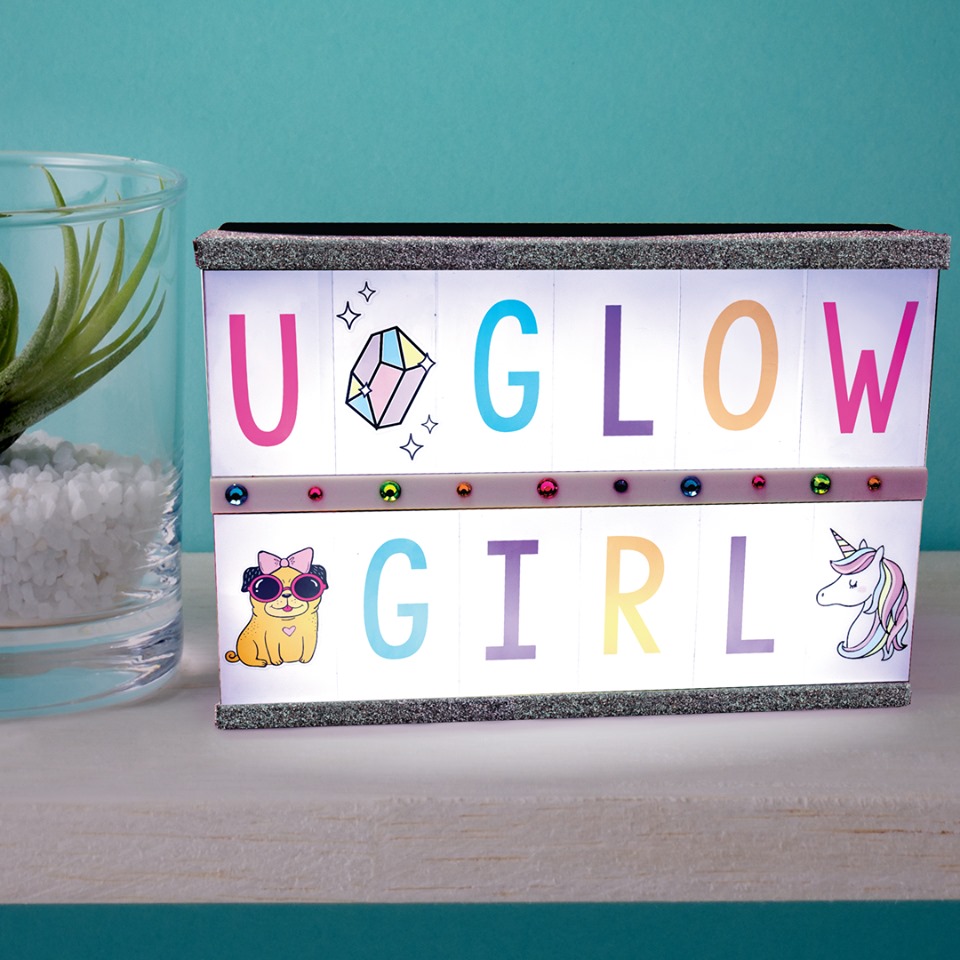 With the It's So Me Personalized Light Box you can create your own unique light up messages! Have hours of fun decorating and customizing messages with the 300 included repositionable accessories. You get colored light box strips, multiple colored letters, number and symbols, stickers, glitter tape, gemstones, blank customizable sheets and more!
Highlights
Create fun, personal and motivational messages that light up with the D.I.Y. Light Box
No message ever gets old with over 300 repositionable accessories
Use a permanent marker, stickers, sparkling gemstones and shimmery tape to enhance your message or drawings
Once every message is complete, turn on your box to watch it light up
Share fun messages that are encouraging and motivating
Brighten up your room with illuminating messages using the It's So Me! Personalized Light Box! Create and design important reminders or motivational quotes with repositionable accessories to make each light box display new, exciting and personal. Write message after message or fun drawings using the blank light box sheets and permanent marker provided! After your messages are completed, decorate your light box with stickers, sparkling gemstones and glittery tape. Then turn on your box and watch your message light up the room for all to see. Recommended for ages 6 and up.
Retail for $14.99   Available for purchase at Target.
You can stay socially connected with Horizon Group USA: 
Facebook/Twitter/Instagram/You Tube