James Gunn – The Mastermind behind Marvel's new Blockbuster "Guardians of the Galaxy" #GuardiansoftheGalaxyEvent
This post may contain affiliate links or I may have received the product free in exchange for my honest review. See full disclosure for more information.
James Gunn – The Mastermind behind Marvel's new Blockbuster "Guardians of the Galaxy"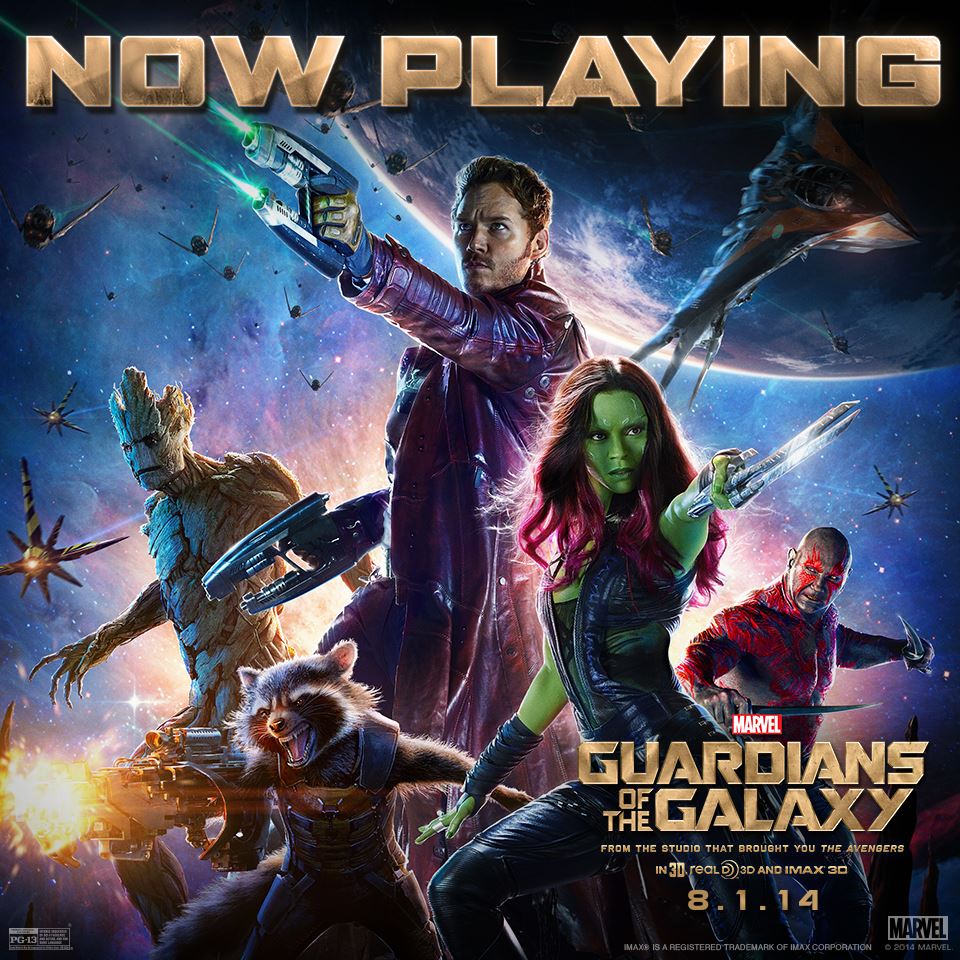 Photo Courtesy of : Marvel
If you haven't seen this summers Blockbuster, Guardians of the Galaxy, you MUST!  Breaking all types of records, the true big screen is the best way to experience all the monumental elements of this movie!
The mastermind behind this movie is none other than the director, James Gunn!  On a recent press trip to LA, I had the chance to sit down with James and talk with him about the movie and about him.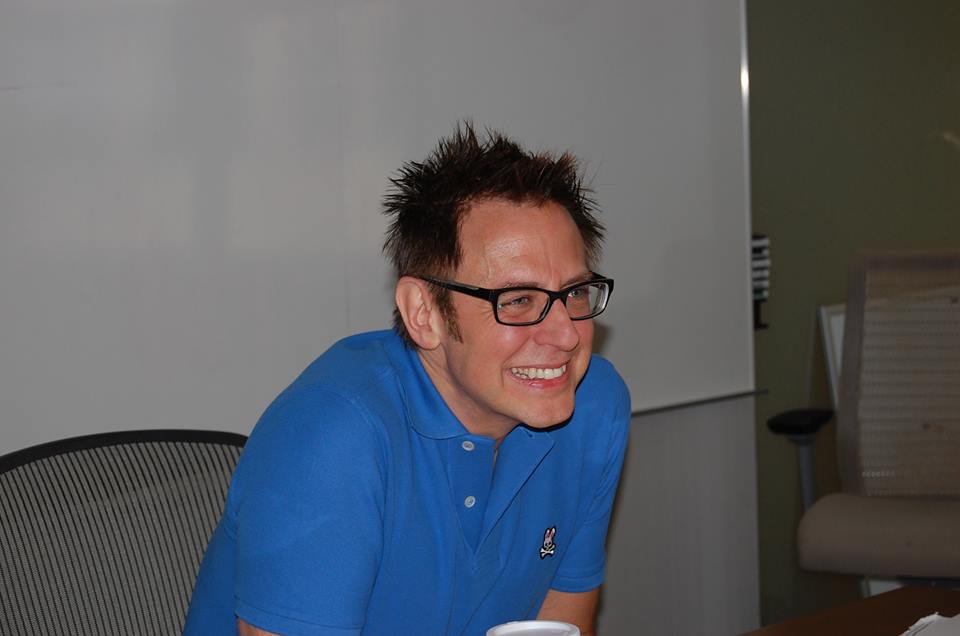 Photo Courtesy of : JustEnza.com & MeetKristy.com
James walked into a room filled with mom and dad bloggers and the sound of thunderous applause from all of us. He immediately noted our table was filled with all kinds of technology including laptops, iPads and cellphones.  He commented, "You guys have been tweeting me and I love it, I love it."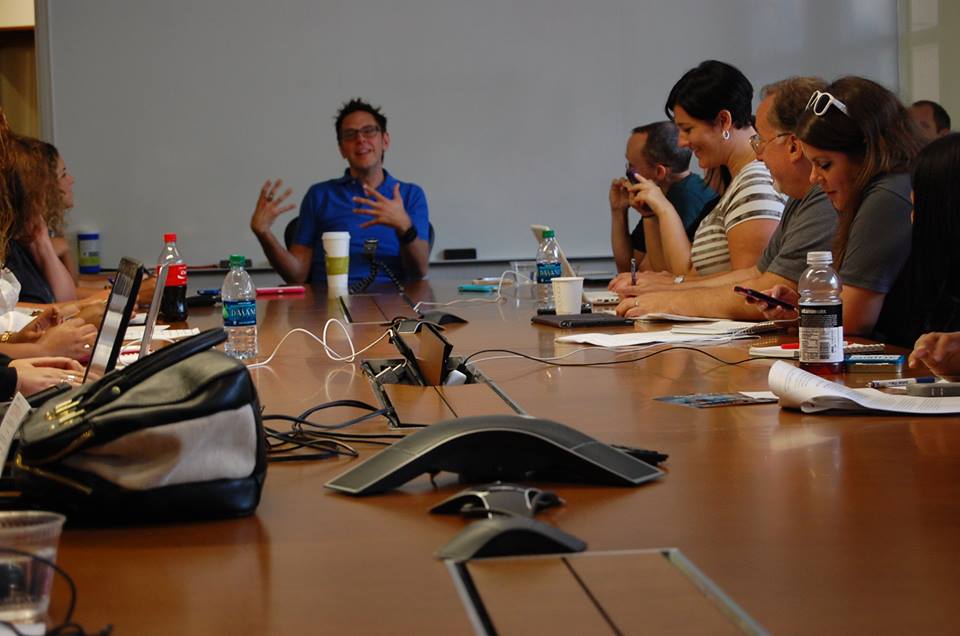 Photo Courtesy of : JustEnza.com & MeetKristy.com
The first question was posed and it was unlike anything he was probably expecting, based on the movie alone.
Q: I wanted to ask you something, do you have a love for dance? 

James Gunn:  Yeah, I do, yeah.  When I say, you know, Kevin Bacon is a great national hero, I mean it. I love pop music and I love super heroes and I love space adventures. And I love raccoons!  So I have all the things I love in one movie.  You know.
James has many credits under his belt, including acting and directing.  He seems to love directing more and elaborated on what he does best.
Q: Is there anything that you don't do? 

James Gunn:   Well, film making wise, I could never be a DP.  I mean I'm just not able to do it. There's a lot of things I could never do.  I think really what I do best is picking other people and finding what other people are good at, and sort of arranging those in a way that, you know, makes a good movie.  I think that's really what a good director is able to do.  I have a basic knowledge of most parts of filmmaking, so that I can have a conversation with those people, just sort of brings a film to the desired place.
Many wondered with the arsenal of Marvel story lines available, what really drew him to choose "Guardians of the Galaxy" most of all.
I think the main thing that drew me to GUARDIANS  was the ability to create a whole new wing of the Marvel Universe.  I would find a very difficult time, say, making a sequel to another Marvel movie. Even making another earthbound Marvel movie that's leading into, directly into The Avengers, because you're working so much within the world that's already been created. With GUARDIANS, I was able to create, not just a new world, but new worlds, new characters, new species, I found that to be just the most freeing thing ever.

When I was a little boy, I had a box. With this box, I was sort of obsessed with what was within it.  I would have a solar system and all the different planets. I would make drawings for each one of the different planets, of the species that lived on that planet, what their pets were and what their houses looked like.  Down to even what their water systems were like. This box became filled over time with this sort of universe inside of it, that I created. And that is, that's where my heart was. That's still where my heart is because that's what this movie is.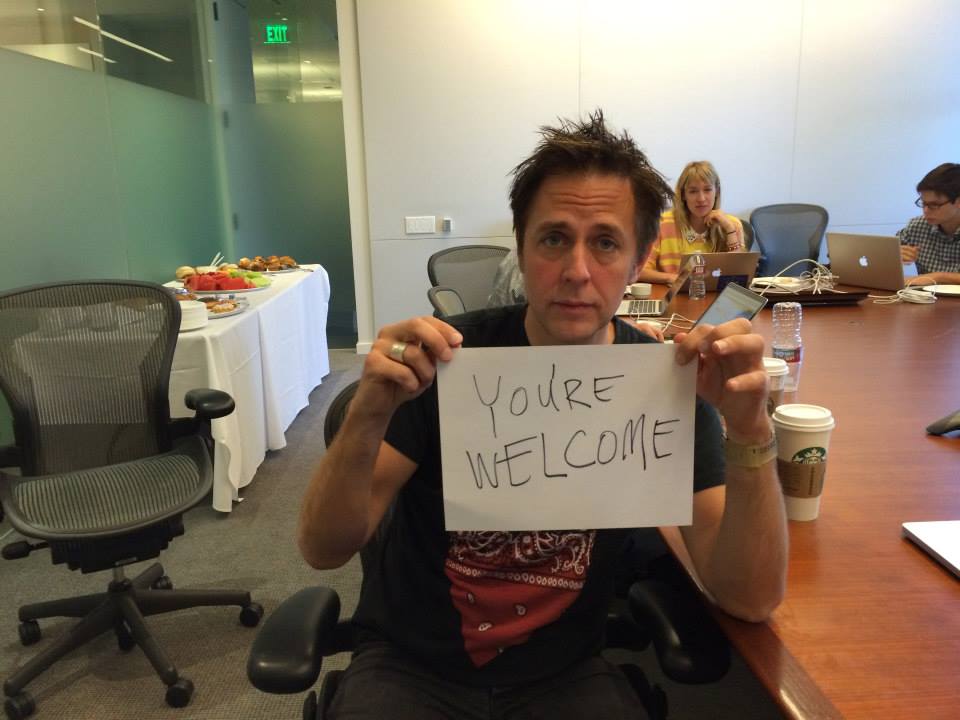 Photo Courtesy of : Marvel
James' brother, Sean Gunn, was actually the onset "Rocket Raccoon" during filming of Guardians of the Galaxy.  Sean also plays "Kraglin" in the movie.  James also noted that Rocket was his favorite Guardian for various reasons.
I feel the most connected to Rocket because I feel the outcast in Rocket. Although I think that Rocket is the meanest Guardian and the most selfish Guardian,  I also think he's probably the Guardian that learns the least at the end of the movie. He is the saddest. It's very strange I connected because I started to get emotional.

I just feel like he's this little mangled guy that is completely alone in this world.  There's nothing else like him, he's been torn apart and put back together again. He was originally an innocent little animal, and I love animals to begin with, so he's just, you know, I've come to love him. I think probably also because I probably had the greatest time in creating Rocket over any of the other Guardian.   Rocket and Groot both because they are really unlike Star-Lord.  

I have to be on the same level and see that we see things in the same way. I write his dialogue, he says it. I pull this stuff out of him, he adds  stuff.  We're creating a character together, with Rocket, and there's a lot more people involved. It's, it's much more like conducting a symphony, within one character. To make somebody alive and so they tend — you know, it tends to become more of a real character to me.  

Noting that he really wanted to create a film that adults and kids alike would love and appreciate was important to him.  Showing the use of great imagination and creativity was what really inspired him to take on Guardians of the Galaxy.  James' personal love of comics, writing and the traditional outcast vibe  really resonates in every element of this movie, down to the most miniscule detail of the music and set.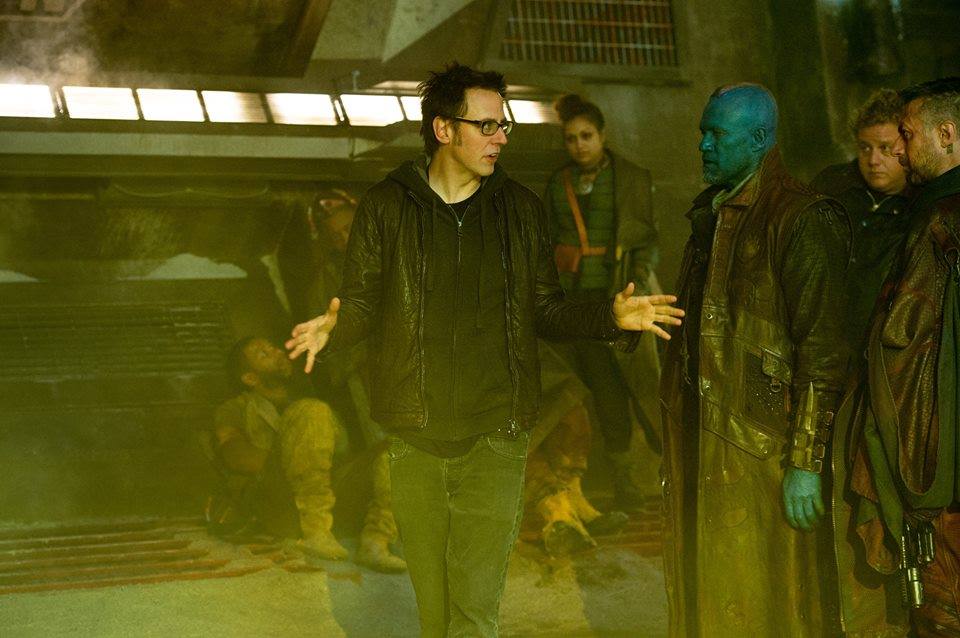 Photo Courtesy of : Marvel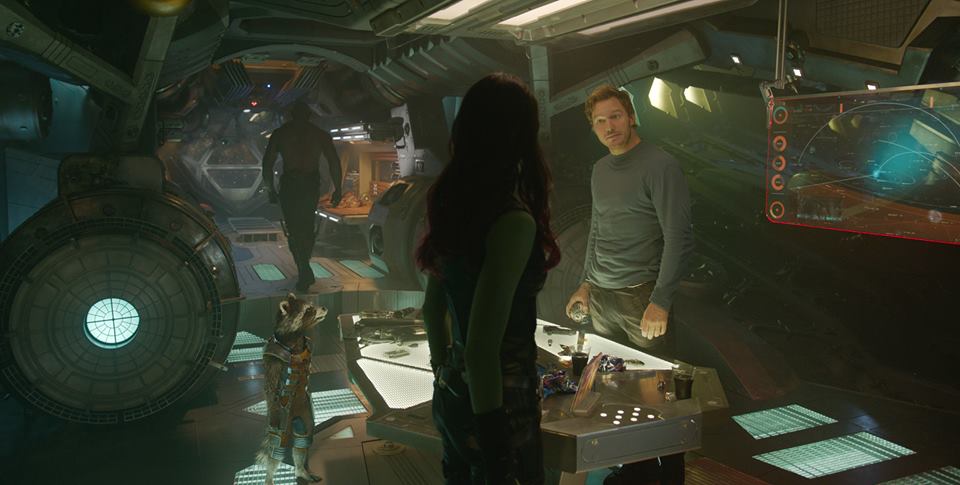 Photo Courtesy of : Marvel
During this interview, we could tell James put a lot more thought and heart into this film because it was some of his life's tales coming to fruition.
I think in the world, everybody's perception is it's so important to be cool and so important to be hip and show how you don't care. This movie is the exact opposite. It's a movie about caring. It's a movie that allows emotions into a spectacle film, which is extremely rare, you know. Real characters, real people with flaws. You know, not exactly real people, real aliens, monsters and that stuff.
Really a powerful statement that most everyone can relate to, if you ask me.  Personally, I believe that element is what has made GUARDIANS such a colossal success from the beginning.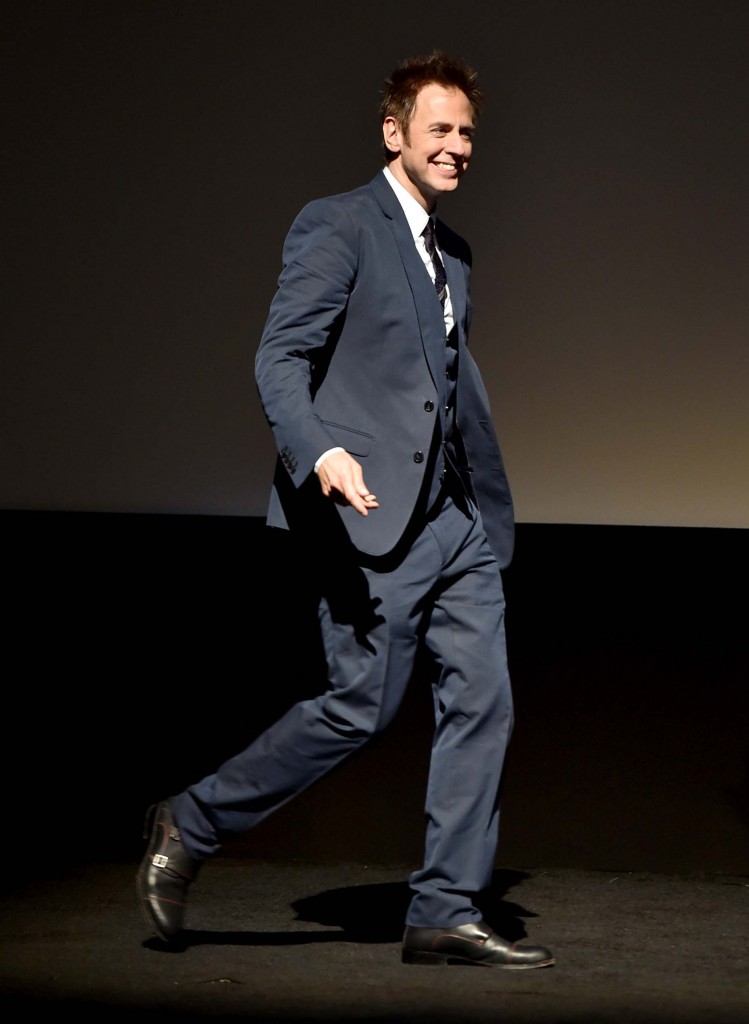 GUARDIANS was a two-year project for James and he noted that a lot of sleepless nights, dedication and heart are what went into making it such a huge success.  Everyone did their part to bring GUARDIANS to life.  One of the more difficult elements was the CGI portion and using to find "life sized" fill ins on the actual set (see above, Sean Gunn).
With long filming schedules, the set is bound to be filled with its share of comedic moments and antics.  We asked him the most memorable moment and he relayed the same moment that Dave Bautista did during his interview.
Any hilarious antics? Well, one of our great moments was in the dance off.  We didn't tell Dave Bautista. I went up to Chris, Zoe and Lee Pace, and said, "When Chris challenges you (speaking to Lee Pace) to a dance-off, you know, take him up on it."

So Chris started dancing and then Ronan goes, "You got it, pal, you're on!" He throws down his hammer and he's doing this ridiculous dance that his 6'5″ frame in this gigantic metal object could do. So he's dancing, and then Gamora starts dancing.  Then they turn it over to Dave and Dave is like, "Oh, no."  And he just started dancing and then, we had about 200 extras on set or something, and so all of them started dancing, even my brother who plays Rocket on set, started dancing. And I have it all on film.  It's one of my favorite things.  It'll be on the DVD, for sure.
There is definitely an open end to this movie paving the way for many sequels, or even individual story lines, which James noted he would love to do. At the end, James posed for a friendly picture with the group.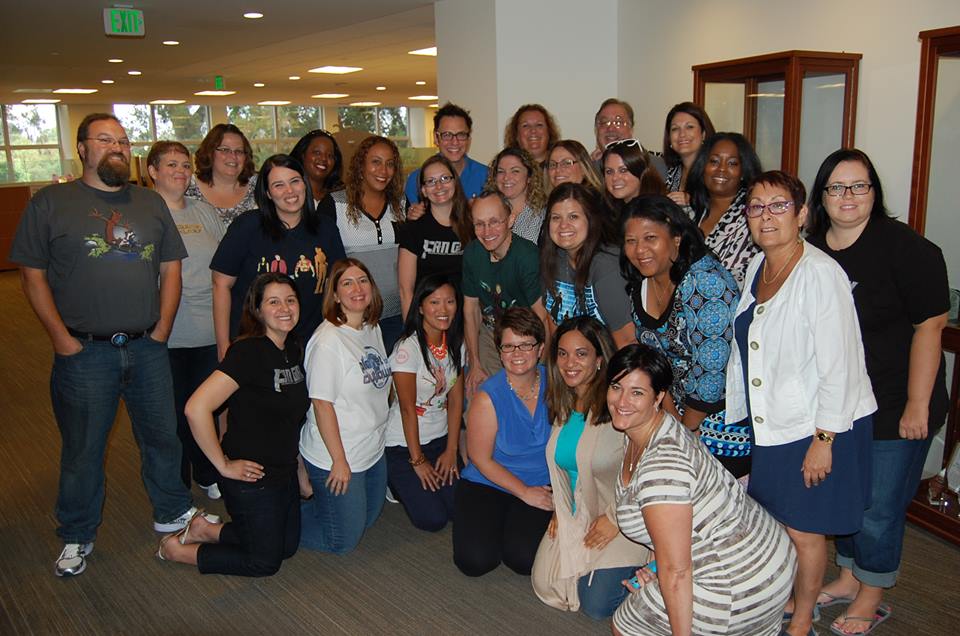 Photo Courtesy of : JustEnza.com & MeetKristy.com
The best part is James Gunn has taken an aged story line that has been around (in comics) since 1969 (Marvel Universe) and brought this world and team of misfits, or "A-Holes" as they have been referred to, onto the big screen and made them lovable, relatable and even inspiring!  
From a score of amazing music, to comedic performances throughout the movie, James Gunn's personal stamp on "Guardians of the Galaxy" is prevalent and makes it one of his best works, to date!  I can't wait to see the sequel, James (July, 2017!)
Stay social with James Gunn
Also, remember to get social with GUARDIANS OF THE GALAXY 
and be sure to use #GuardiansoftheGalaxyEvent
GUARDIANS OF THE GALAXY is in theaters NOW!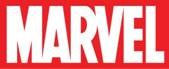 Disclosure: I was provided with an all-expense paid trip as part of a press Junket with Marvel to cover this and all Guardians of the Galaxy media.