Jumanji Heads Back To The Big Screen With A Difficult Sequel
This post may contain affiliate links or I may have received the product free in exchange for my honest review. See full disclosure for more information.
It's kind of fashionable in movie critic circles to sneer at Dwayne 'The Rock' Johnson. He doesn't meet most people's definition of what a movie star is supposed to be. While his peers all spent years of their lives at expensive acting schools, Johnson was learning to act in the circus-like environment of the World Wrestling Federation. He mostly plays similar characters in every movie he appears in, and with his larger-than-life physique, he looks like he's walked out of the pages of a comic book movie. None of those things change the fact that he's the highest-earning movie star in the world.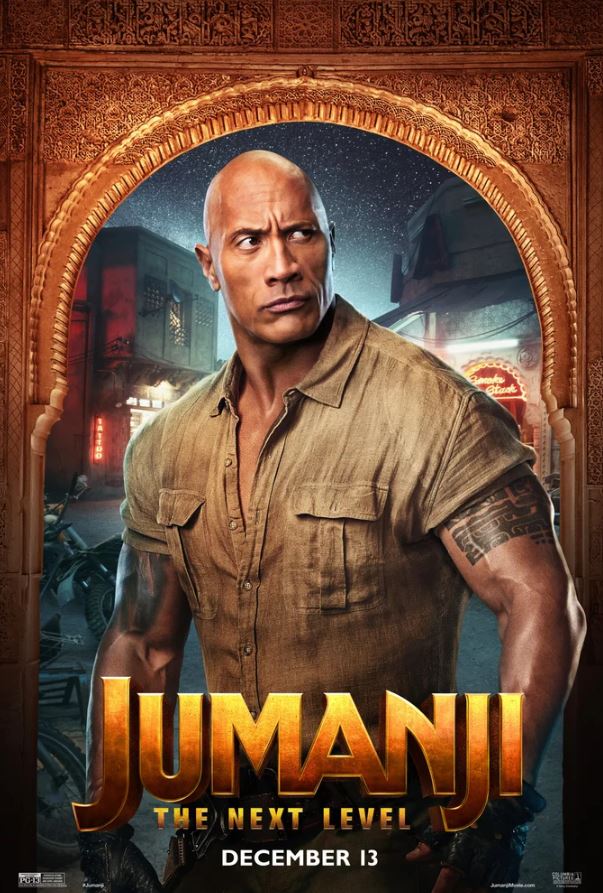 Because Johnson is such a box office star, almost everything he touches turns to gold. He has a loyal fan base who are happy to pay to see anything that he appears in, and even the most innocuous-looking Johnson film can turn into a box-office smash just by virtue of his presence. That fact was underlined when 'Jumanji: Welcome to the Jungle' was released in 2017, and made almost one billion dollars worldwide from a budget of less than $100m. The producers of the film were planning on making a profit, but it delivered more than their wildest dreams.
With that kind of success it was inevitable that the crew would be back for another go, and so here we are a small number of days away from the release of 'Jumanji: Welcome To The Jungle.' The bulk of younger viewers will believe that this is the second 'Jumanji' film, but the over-30s among you will know that isn't the case. The first 'Jumanji' movie was released way back in the 1990s and starred the much-loved and much-missed Robin Williams. The films are officially connected on the grounds that the name of Williams' character from the first film is referenced in the 2017 film.
Without ever seeming to get much in the way of mainstream publicity, 'Jumanji' has become quite an entertainment empire. Aside from the two successful movies, there has also been a well-received 'Jumanji' video game, and an official 'Jumanji' online slots game on website like RoseSlots.com, too. Typically speaking, movies only become online slots when they've reached a wide audience and thereby demonstrated that there's a large audience out there willing to spend money on the brand. Someone out there in the world of online slots, designers must have been paying attention to the success of the first Rock-led 'Jumanji' movie in a way that the media in general really weren't.
Given that the last film was so successful, we would expect to see plenty of attention and expectation being foisted upon the new movie before its release, and yet here we are this close to it, and it feels like there's almost nothing. Perhaps it's because the new 'Star Wars' film is also due to be released in November, or everybody's been distracted by the Emilia Clarke movie 'Last Christmas' – or perhaps it's just yet another case of a movie with Dwayne Johnson in it being overlooked. There's a third possibility though – and that's the possibility that the film might not be very good.
We say this because official pre-screenings for journalists and selected critics took place well over a week ago, and yet so far, there's been almost nothing published to let movie theater-goers know whether or not this new film is worth their money. Normally we would expect to see at least a few significant publications offer us their thoughts on the matter, but currently, only Digital Spy has bothered to weigh in with their opinion. They've been broadly positive about the film, but is there a reason that everyone else seems to be holding back?
In any event, almost the entire cast of the last film has come back again for this one. We've mentioned The Rock more than enough times for you to know he's featured front and center, and he's once again joined by Kevin Hart, Karen Gillan, and Jack Black. Kevin Hart, as you might recall if you follow showbusiness news, hasn't had the most favorable twelve months of headlines. The general consensus about Jack Black is that he isn't as funny as he used to be. Karen Gillan, however, is every bit as lovely and wonderful as she was in her 'Doctor Who' years as Amy Pond. Nick Jonas is also reprising his role, and so if the bulk of the cast is entirely unchanged, has anything new been brought to the story?
The answer to that question might rest on the presence of Danny DeVito, who's been cast in the role of Eddie Gilpin. DeVito is enjoying a golden twilight of his career and rarely puts a foot wrong. Perhaps more reassuringly, it would also be unlike DeVito to accept a lousy script, and so just his mere presence ought to reassure us that the film might be worth seeing. Some people on Twitter who claim to have seen the movie (and therefore ought to be viewed with suspicion) have also had good things to say about Kevin Hart's performance, which channels and echoes Danny Glover. 'Surprises' is a word that's been thrown around a lot, too, although how far a narrative with so little established continuity could go to surprise its audience remains to be seen.
Our instincts tell us that this film won't make as much money as its predecessor, but then we've already established that everyone's instincts are generally wrong when it comes to Dwayne Johnson films anyway. He's been paid a reported $24m for his performance, and the studio's projections are for a $40m return from its opening weekend at the box office. We therefore presume that the combined cost of every other actor and the making of the movie came in at less than $16m! Given the fact that it's a film aimed at a family audience and it has the benefit of a Christmas release, it could outperform all expectations – especially if the reviews are positive when they eventually appear. Will it be the surprise hit of the festive season? Stranger things have definitely happened, and they frequently do when the Rock's involved.