Keep Your Little Ones Safe with Claro Baby Shopping Cart Cover
This post may contain affiliate links or I may have received the product free in exchange for my honest review. See full disclosure for more information.
Whenever I took my kids shopping with me when they were little I always wanted one of these to put over the cart seat so that I could protect them from all those germs that are on carts. I know you are able to wipe down the carts with wipes but it just isn't the same as covering it completely up. Also, since they are so comfy and soft it helps protects their legs from getting pinched, or if the cart is cold your child won't have their legs or arms touching the cold metal. It makes for a great high chair cover. Claro Baby has got your covered!
This would make for a great baby shower gift, or a gift for yourself.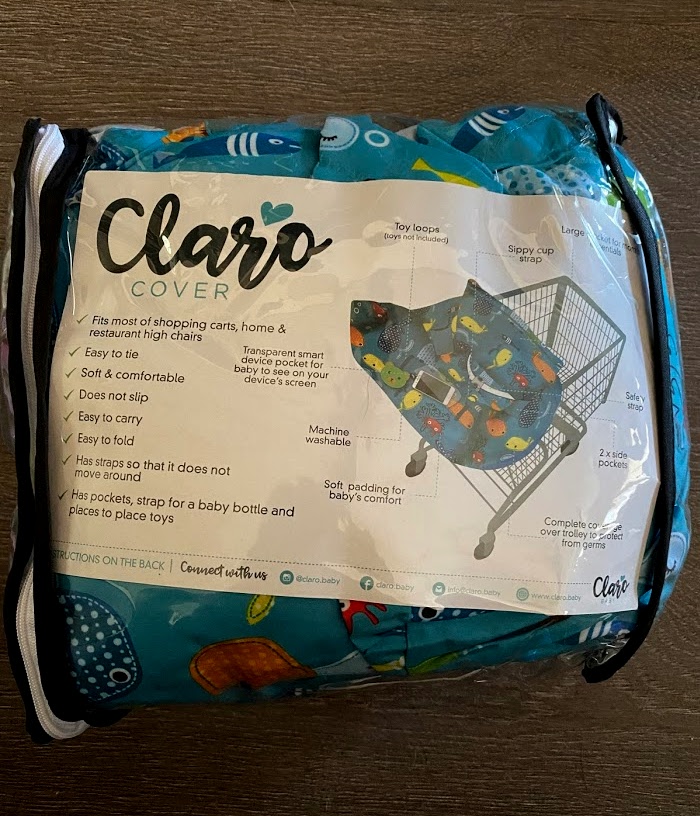 About Claro Baby:
Claro Baby is a small family run business which sells high quality, value for money baby and parent products via the Amazon marketplace. The brand was founded in 2015. The name of the company came from the names of the two daughters of the company owners.

Since the foundation of the company, Claro Baby has been on a singular mission: to offer high quality and safe products for babies and their parents at exceptional value and affordable prices.

The success of Claro Baby is driven by the core values the company holds:

Product Safety and Quality: Claro Baby prides itself on the quality and safety of its products, aiming to surpass customers' expectations. Products are made of premium materials making them completely safe for the babies.

Easy to use: Claro Baby provides a fantastic user experience. All of its products are easy to assemble, understand and use regularly.

Baby and parents comfort: Claro Baby constantly innovates to ensure it's products are a comfortable experience for both babies and their busy parents.

Claro Baby was born with the baby's best interest in mind striving to bring value to babies and their parents around the world.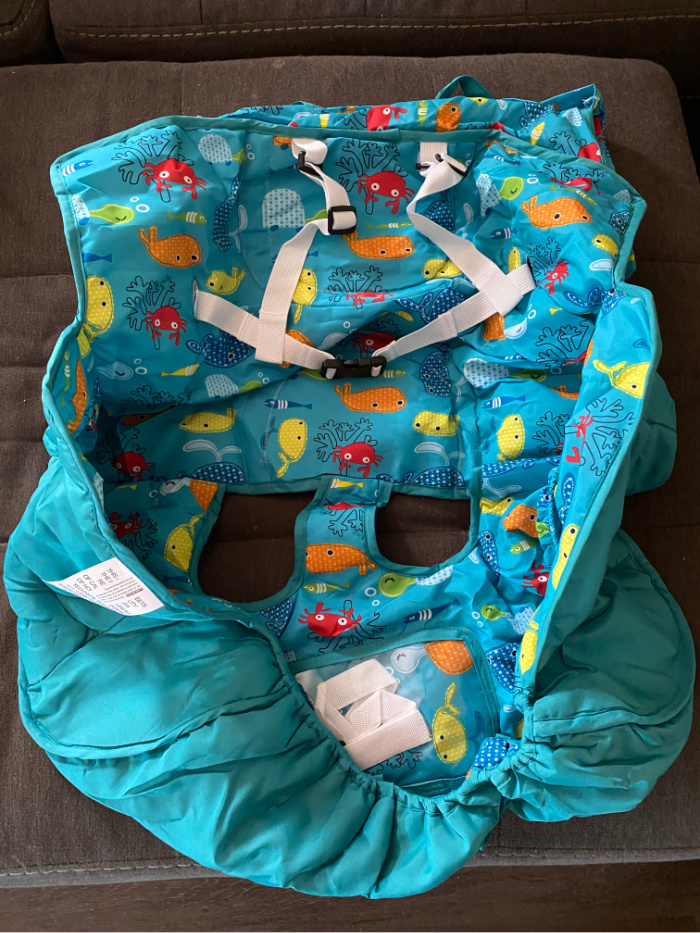 EXTRA-LARGE SHOPPING CART COVER – Most shopping cart covers on the market are too small to fit shopping carts at some major retailers. Unlike them, this extra-large cover fits carts of all sizes

ULTRA-SOFT HIGH CHAIR COVER – Thanks to the use of stretchy elastic materials, this shopping cart cover also works as a high chair cover for babies and infants. Whether you're taking your baby to a restaurant or starting them on solid foods in a high chair at home, you can use this cover to keep them comfortable. With our baby cover, you get two products for the price of one.

PROTECTS YOUR BABY FROM DIRT – Used by thousands of people each day, shopping carts and restaurant high chairs are known to be prone to dirt. Thanks to its large size, our baby cover provides complete coverage of the surface, thus keeping your baby safe and clean. The Velcro closures, leg holes, and safety harness provide extra protection for your baby girl or boy.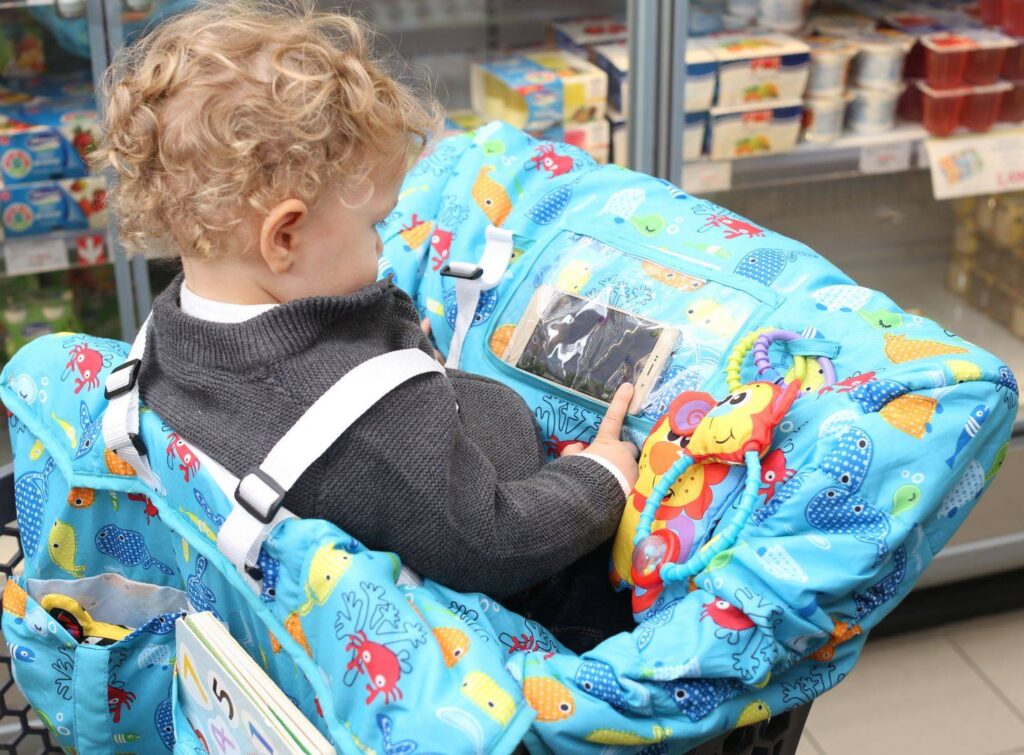 MADE OF HIGH-QUALITY MATERIALS – This 2-in-1 shopping cart and highchair cover is made of high-quality polyester that is completely safe for your baby or infant. Soft and durable, the cover has additional padding for extra comfort. The use of elastic bands and Velcro allows for easy, no-tying setup, as well as a custom fit for high chairs and grocery shopping carts of all sizes.

ADDITIONAL POCKETS AND LOOPS – With this unique cover, you have everything you need to keep your baby entertained. There are two loops for their favorite toys, a strap for their bottle, as well as a transparent pocket for your smartphone so they can watch cartoons while you shop. In addition, you get two small side pockets and a large back pocket for all your baby essentials.

EASY CLEANING AND STORAGE – Made of stain-resistant polyester, this high chair and cart cover is very easy to clean. All you need is warm water and mild soap. Whereas most other chair covers on the market are bulky and take up a lot of storage space, our cover rolls into a compact carry pouch in a matter of seconds, thus allowing for easy storage and portability.
Purchase your own Claro Cart Cover on Amazon.
Stay socially connected with Claro Baby for all their latest products and baby tips: