My Little Pony Equestria Girls: Rainbow Rocks on DVD 10/28!
This post may contain affiliate links or I may have received the product free in exchange for my honest review. See full disclosure for more information.
From Shout! Factory Kids in collaboration with Hasbro Studios comes the new full-length film My Little Pony Equestria Girls: Rainbow Rocks debuting October 28th on DVD and Blu-ray/DVD/Digital Copy combo in US and Canada!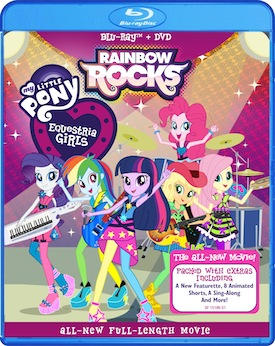 In My Little Pony Equestria Girls, released in fall 2013, Twilight Sparkle's crown was stolen from the Crystal Empire, and she pursued the thief, Sunset Shimmer, into an alternate world where she finds herself turned into…a teenage girl! To regain her crown and return to Equestria, Twilight had to learn how to fit into this strange, new world and defeat Sunset Shimmer in a competition to become crowned Princess of the Fall Formal at Canterlot High.
Now, the girls of Canterlot High are back, and this time they're rocking guitars! In My Little Pony Equestria Girls: Rainbow Rocks, Canterlot High (CHS) is hosting a musical showcase, and Rainbow Dash, Applejack, Pinkie Pie, Rarity, and Fluttershy are going to be performing with their new band, The Rainbooms. But when The Dazzlings, a new girl group, arrive at CHS and convince everyone to turn the friendly showcase into a Battle of the Bands, tensions mount between the competing musical acts. A now-reformed Sunset Shimmer realizes that The Dazzlings may not be ordinary girls and are after something far more sinister than just being named Best Band at Canterlot High. The Rainbooms call on Princess Twilight to restore harmony to their world to help them perform a musical counter-spell so that they can win a battle that now determines the fate of the entire school.
My Little Pony Equestria Girls: Rainbow Rocks is now available for pre-order at Amazon.com, ShoutFactory.com, Target.com, and Walmart.com, and will be in stores everywhere October 28.
For more information on My Little Pony Equestria Girls: Rainbow Rocks, please visit www.mlpeg.com.
About Hasbro Studios:
Hasbro Studios is responsible for entertainment brand-driven storytelling for Hasbro across television, film, commercial productions and short-form content. It develops, produces and distributes TV shows based on Hasbro's world class brands, including TRANSFORMERS, MY LITTLE PONY, LITTLEST PET SHOP and FAMILY GAME NIGHT. Many of these shows air on Discovery Family Channel and on networks in more than 180 territories globally.  Since its formation in 2009, the studio has received seven Daytime Emmy wins.  On the film side, the studio has developed and produced a number of features based on Hasbro's brands.  Upcoming films planned for release include Ouija (Universal), CANDY LAND (Sony), G.I. JOE 3 (Paramount), JEM AND THE HOLOGRAMS (Universal) and MAGIC: THE GATHERING (21st Century Fox).
About Shout! Factory:
Shout! Factory, LLC is a diversified multi-platform entertainment company devoted to producing, uncovering, preserving and revitalizing the very best of pop culture. Founders Richard Foos, Bob Emmer and Garson Foos have spent their entire careers sharing their music, television and film favorites with discerning consumers the world over. Shout! Factory's DVD and Blu-Ray™ offerings serve up feature films, classic and contemporary TV series, animation, live music and comedy specials in lavish packages crammed with extras.  Shout's audio division boasts GRAMMY®-nominated box sets, new releases from storied artists, lovingly assembled album reissues and indispensable "best of" compilations.  In addition, Shout! Factory maintains a vast digital distribution network which delivers video and audio content to all the leading digital service providers in North America.  Shout! Factory also owns and operates Timeless Media Group, Biograph Records, Majordomo Records, HighTone Records and Video Time Machine. These riches are the result of a creative acquisition mandate that has established the company as a hotbed of cultural preservation and commercial reinvention.  Shout! Factory is based in Santa Monica, California. For more on Shout! Factory, visit shoutfactory.com