Summer is here and all you have to do is step outside to catch a drift of barbecue smells! It's enough to make your stomach growl! While I have been sizzling in the heat, I would much rather make my Summer Sizzle with Manuka Honey and PRI products and flavors! We will take a look at some yummy seasonings, snacks, sweets, and honey products, but before we do….
As a Pacific Resources International (PRI) ambassador, I'm excited to tell you that I have a great discount for you to try a few of the fabulous PRI Summer Sizzling products! Right now, you can get 15% off and FREE shipping! To shop, go to shoppri.com and use discount code: BQ15 at checkout. But first, I can't wait to tell you about all the wonderful items I got to try out this month!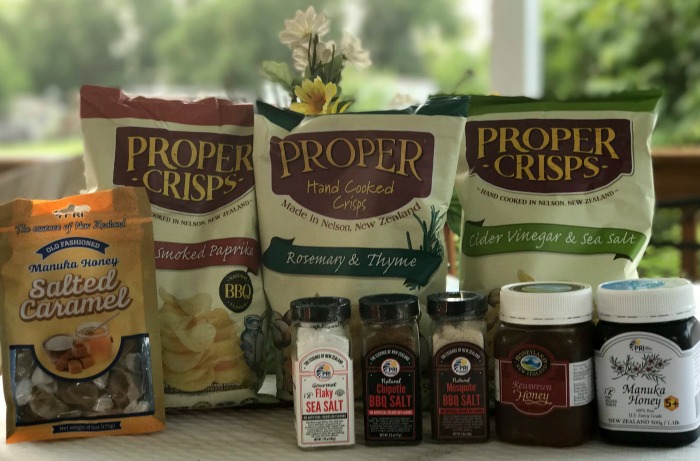 What Makes PRI Manuka Honey Products Special?
Pacific Resources International is an exclusive importer of various New Zealand Manuka Honey, health and beauty care products. Their award-winning products include Manuka Honey, Pacific Sea Salt, Propolis Lozenges, Proper Crisps Chips, Manuka Caramels, and Manuka Honey Health and Beauty Products!

Pacific Resources International (PRI) was the first company to introduce Manuka Honey to the U.S. and owner David Noll has dedicated his career to bringing native and natural New Zealand wellness products to U.S. soil. David works closely with a variety of New Zealand companies to ensure that products are made with pure, natural, and quality ingredient.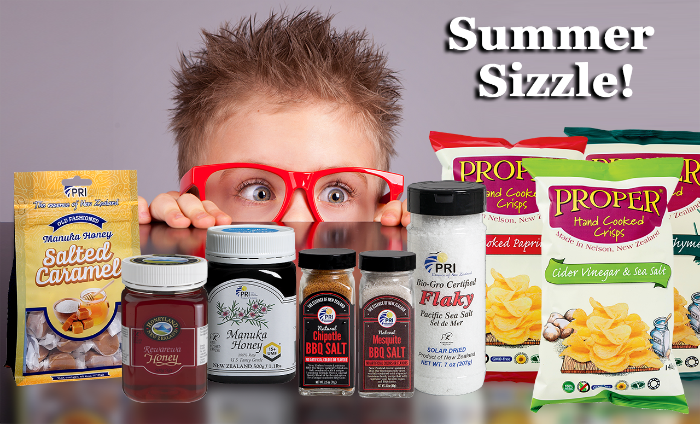 July brought us sizzling PRI Manuka Honey & More!
Manuka Honey – 5+ 1.1 lb.
Mesquite Smoked Pacific Sea Salt Fine Shaker
Chipotle BBQ Smoked Pacific Sea Salt Fine Shaker
Bio Gro Certified Pacific Sea Salt Flaky Salt
Smoked Paprika Proper Crisps (150g)
Rosemary & Thyme Proper Crisps (150g)
Cider Vinegar & Seal Salt Proper Crisps (150g)
BONUS #1: Salted Manuka Honey Caramels
BONUS #2: New Zealand Rewarewa Honey
Want to take a Peek at these Summer Sizzling Manuka Honey & PRI Products?
I'm sure by now that you know I am in love with Manuka Honey! It has so many benefits! Manuka Honey is a powerful digestive aid when taken internally or a potent anti-bacterial when used topically. It is also heat tolerant, enabling it to reach your digestive system without losing any of its beneficial properties. Whether you consumed to much of your favorite Summer BBQ or have skins and scraps, Manuka Honey has you covered!
Manuka Bites.
Manuka Honey can be used in delicious recipes like these yummy
Manuka Honey Bites 
and others! Take a look!
You can truly taste the difference with Pacific Sea Salt and reap the many benefits! Pacific Sea Salt from New Zealand is natural and organic. Pacific Sea Salt is obtained from solar evaporation of sea water. It is different from modern refined salt, and contains a variety of minerals that play a role in keeping the body's electrolytes in a healthy balance.
It comes in a variety of fine, coarse, or flaky and in a variety of flavors to enhance all your dishes. Take a look at a few of our favorites for Summer barbecues.
The Mesquite Smoked Pacific Sea Salt is a combination of Pacific Sea Salt and the secret Louisiana family smoked Mesquite process. It is a naturally healthy Sea Salt with that down-home Mesquite flavor that will enhance all your dishes. It is especially delicious for your favorite Cajun and BBQ dishes. Try it on a salad, avocado, or scrambled eggs to give them yummy twist!
The Chipotle BBQ Smoked Pacific Sea Salt brings New Zealand and Louisiana BBQ together. PRI's finest, naturally dried sea salt combined with a unique Louisiana formula from a special family blend of herbs and spices for a unique southern BBQ taste. Give it a try at your next family get-together and watch for smiles and yums! Nothing beats the flavors of Southern BBQ!
The light textured Marlborough Flaky Sea Salt is prized by the Epicurean palate for its flavor, soft texture and versatility. This flaky sea salt is produced by an age-old process of evaporation in an open pan which produces unique flake three-dimensional crystals. It is an excellent choice for sprinkling on top of foods and its light texture means it "sticks" better for use in cooking. It is perfect for salads, baking, BBQ meats, and even French Fries!
When it comes to snack foods, you shouldn't have to settle for over-processed, artificially flavored potato chips. Proper Crisps brings you great flavor, without all the nasty stuff! They are 100% Natural, Gluten Free, GMO Free, 100% High Oleic Sunflower oil, Suitable for Vegetarians, Dairy free, and No added MSG. Plus, they come in a variety of flavors perfect for Summer barbecues! Here are three of our favorites!
If you love the smoky taste paprika, you will love the Smoked Paprika Proper Crisps! Mature sweet bell peppers are naturally dried under the Spanish sun and then smoked over oak chips. Only then, are they ground to perfection for use.
Rosemary & Thyme Proper Crisps are French inspired with real rosemary and thyme, dried and ground, just prior to the cooking process. This process releases their natural oils, ensuring the freshest taste and flavor possible.
Do you love a chip with pucker power? Cider Vinegar & Seal Salt Proper Crisps features the puckering taste of real cider vinegar and the perfect choice for you! With no compromises and no nasties, it's the real deal in your bag!
PRI's mouth-watering Salted Manuka Honey Caramels are a favorite of mine! They are a perfect after dinner treat or have a couple in the afternoon when you need a little somethin' somethin'! Pure New Zealand sea salt brings out the delicious Manuka Flavor in these soft chewy caramels!
You do not want to miss a chance at trying the New Zealand Rewarewa Honey! Rewarewa Honey has a beautiful amber to red color, with an intense herbaceous, geranium/dandelion aroma. Its flavor is clean, sweet, smoky, and malt-like. Should I just say it is "yumminess"?
ShopPRI on Amazon.com.
Make your Summer Sizzle with Manuka Honey & PRI Products!
Head on over to shoppri.com to shop and remember to use discount code: BQ15 at checkout to receive 15% off your order and FREE shipping!
Connect socially with Pacific Resources International