My Robotic Pet Tumbling Hedgehog #MegaChristmas19
This post may contain affiliate links or I may have received the product free in exchange for my honest review. See full disclosure for more information.
Robotics are the in thing right now, and this Robotic Pet Tumbling Hedgehog by Thames and Kosmos will make a great gift for kids who love to build things, can teach them about electronics and engineering that can help them in the future. This is a great STEM kit that will have them experimenting with how to build the ultimate robotic toy. Build Your Own Sound Activated Tumbling, Rolling, Scurrying Pet Hedgehog.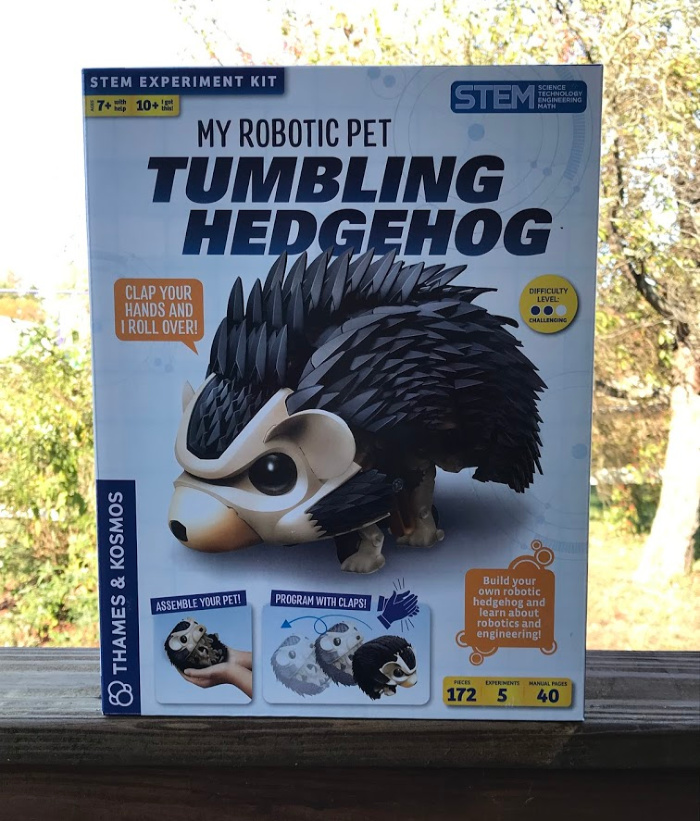 About Thames & Kosmos:
Thames & Kosmos was founded in 2001 by a science museum director and her son, who saw the great need and demand for better science education materials — resources for parents and their children that are more engaging, more effective, more relevant, and more fun.

Thames & Kosmos operates as the exclusive arm of parent company, Franckh-Kosmos Verlags-GmbH & Co. KG — Kosmos for short — based in Stuttgart, Germany. Founded in 1822, Kosmos operated solely as a book publisher until the 1920s, when the company published its first science kits aimed at explaining the world of science to children and young adults by bringing it to life with hands-on experiments.

Generations of European children have discovered their enthusiasm for science through Kosmos science kits. Since 2001, Thames & Kosmos and Kosmos have teamed up to develop science kits for children in the United States and other English speaking markets around the world.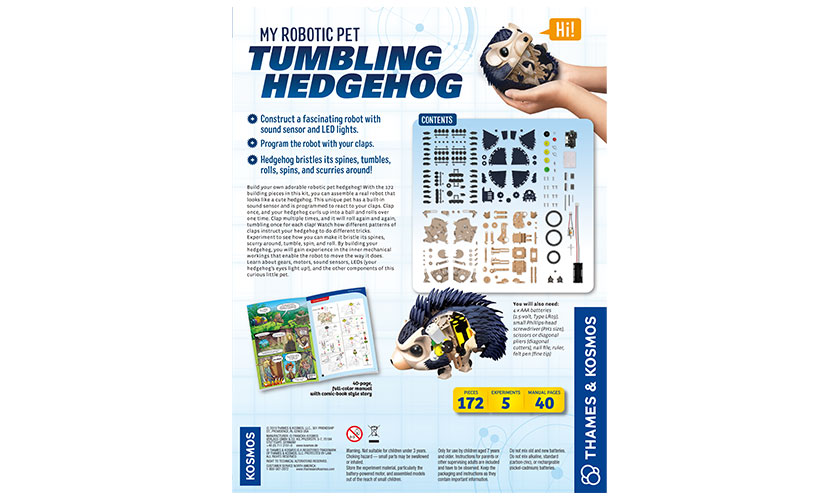 Build your own adorable robotic pet hedgehog! With the 172 building pieces in this kit, you can assemble a real robot that looks like a cute hedgehog. The robot has a built-in sound sensor and is programmed to react to different sounds. After you build it, you can play with it by making different sounds and watching it tumble, roll, spin around, bristle its spines, and scurry around.
Clap once, and the hedgehog will roll into a ball and tumble backwards. Clap multiple times, and the hedgehog will count your claps and tumble as many times as you instructed with your claps. You can also get the hedgehog to bristle its spines and act in a playful way with different patterns of claps. The hedgehog's eyes light up with LEDs. By building the robot, you will gain experience in the inner mechanical workings that enable the robot to move how it does. Learn about gears, motors, sound sensors, LEDs, and the other components of this funny little pet.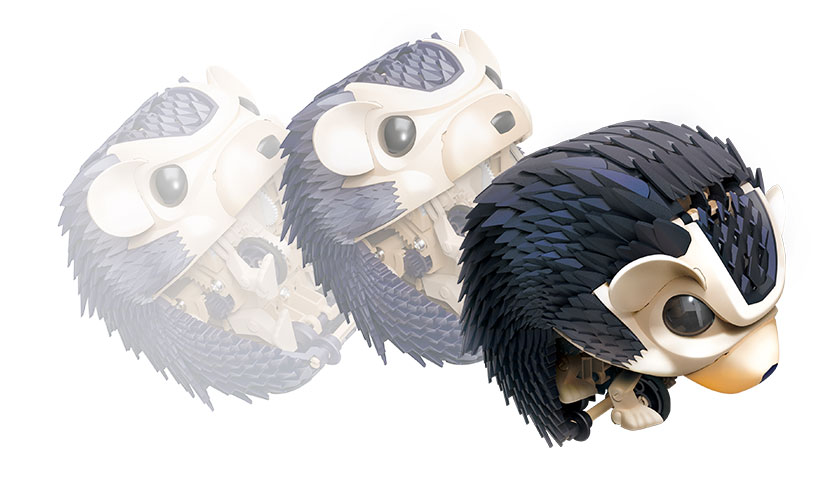 Before you can start playing and experimenting with your unique little pet, you have to build it! The kit comes with 172 building pieces to assemble your robotic hedgehog and includes a sound sensor which is located on the circuit board in your pet's head. It's this sensor that enables your hedgehog to move according to your clap commands. Like a real hedgehog, your robotic pet can run and curl up into a ball. Fortunately, though, the sound sensor enables it to listen to and follow your orders rather than immediately curling up when it feels threatened (like a real hedgehog would do).
By building your hedgehog from start to finish and getting a good look at all of its components, you will gain experience in the inner mechanical workings that enable the robot to move the way it does. In addition to a crash course in sound sensors, you'll also learn about gears, motors, and LEDs (your hedgehog's eyes light up!).
AGES 7+ with adults help, 10+ independent build
MSRP: $39.95.
You can purchase your hedgehog on Amazon,and Thames & Kosmos website.
You can stay socially connected with Thames & Kosmos for their latest products: 
________________________________________________________________________________________________
We have added this product to our 2019 Holiday Gift Guide