If you are like most pet parents out there taking care of your fur baby is something that you do without thinking twice about it. If you have a dog, especially, you probably have your daily routine down to a science from feeding times, to daily walks, play time, and of course bed time and everything in between.  Dogs are like an extended part of the family and they need their own attention from their busy pet parents! Aside from the daily routine however your pets surely bring you a sense of pure joy, love, and companionship all year round. If your dog's birthday is coming up anytime soon what better way to show your love and appreciation than with a personalised dog birthday cake! Yes, you heard right! Time to have a doggie birthday party!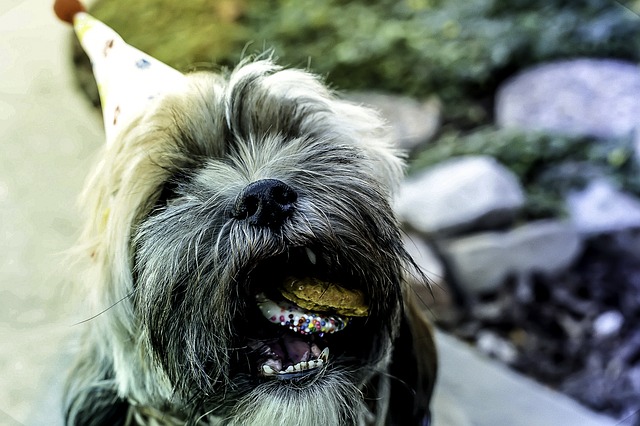 Planning Your Dog's Party
If you are planning a birthday party for your pooch you will have a lot to consider. Let's start with the guest list and some super cool dog themed invitations. Once you determine your guest list you will have to decide where your party will take place, how many of your dog's friends that you can really accommodate in that space, the theme of the party, the menus and of course the birthday cake! You will need to plan all of this out ahead of time of course to ensure that the party is nothing short of fabulous. Once you have all your party planning ducks in a row and you know how many people and pets are attending you can order the birthday cake. You can have your pet's name put on the cake, a birthday message or both. The cakes are usually made with simple ingredients and are strictly for the dogs! You can always order a separate cake for all the pet parents in attendance.
Personalised Cake Gifts
If you have a friend who is just as obsessed with their pup as you are, giving one of these personalised cakes for their own dog will have them swooning. Not only are they unique and different, they show that you are super thoughtful and that you don't often forget any detail about them or their pets! In addition to being personalised with your friend's pet's name, you can oftentimes choose different flavors and icing colors to give the cake that extra feel of customization. Depending on where you live and what it is that you are looking for you can probably find super cute options for all your pet loving friends!
Conclusions
Pet birthday parties are becoming more and more popular and they aren't just reserved for those "super obsessed" pet parents. There tons of ideas out there on social media, and DIY sites that you can refer to before planning your pet's party. Be sure to do your research first and take the time to pick out a theme that not only matches with your own personality but one that will match with your furry friend's personality too!